A 42-year-old woman who mounted a campaign of harassment against former Sinn Féin TD Jonathan O'Brien and community activist Laura O'Connell has been sentenced to three years in prison, with the final year suspended, at Cork Circuit Criminal Court today.
Judge Helen Boyle said Sonya Egan's conduct was "so extreme and so sustained" that it meritied a prison sentence, despite a request from her Defence Counsel that the judge consider adjourning any sentence for a significant period of time on foot of a psychological report.
Egan, a mother-of-three with an address at the Lawn, Lios Cara, Killeens, Co Cork, pleaded guilty last February to harassing Mr O'Brien between 17 January 2018, and 9 January 2019, and to harassing Ms O'Connell between 8 April 2018 and 26 June 2019.
Sentencing her today, Judge Boyle said the harassment continued over a long period of time, was repeated and sustained, and was pursued through multiple routes; online, by email, and involving the family members and children of the victims in this case.
She said it was clear the multiple acts of harassment and false allegations against both parties had affected them across all aspects of their lives, both emotional and financially, and both are in debt to the sum of €27,000 due to civil actions they were forced to take because of the malicious allegations made against them.
We need your consent to load this rte-player contentWe use rte-player to manage extra content that can set cookies on your device and collect data about your activity. Please review their details and accept them to load the content.Manage Preferences
The judge accepted that both had suffered seriously because of this harassment through no fault of their own, in their roles of public representative and community worker.
She said that despite Jonathan O'Brien's best efforts to overcome the sustained harassment, it had seriously impacted him emotionally, and equally financially.
But what was especially clear from his victim impact statement - what had affected him most, she said - was Egan's boasting about the medical treatment of his father. This, and the fact that his children were approached, caused him "an enormous amount of distress".
She said it was clear Laura O'Connell had to see a therapist and life has changed for the worst for her. Egan targeted and victimised her and spread malicious untrue rumours, saying very untrue things about her.
Judge Boyle said a forensic psychology report found that Egan said she had been subjected to physical assault and sexual assault and rape as a child growing up in care but gardaí had expressed scepticism about the report and the prosecution did not accept its finding.
Judge Boyle said she found it "somewhat perplexing" that the report did not set out any explanation for her offending behaviour.
She noted Egan had expressed remorse in a letter to the court for the "upset, anguish, and torment" that she caused to both the victims but said she didn't realise the impact that her behaviour was having on them until it got out of control.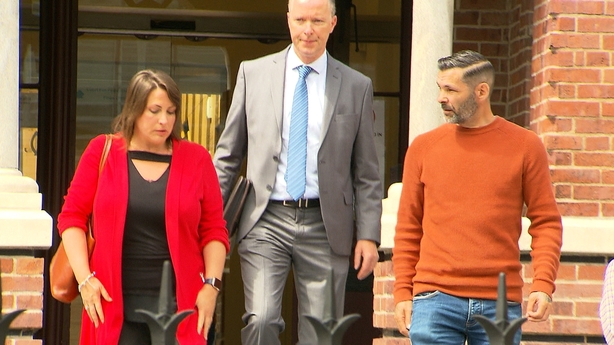 In deciding on the sentence with a maximum penalty of seven years, Judge Boyle said there were a number of mitigating factors; these included Egan's plea of guilty saving the State the cost of a trial, that she had no previous convictions, that she had made partial admissions to the gardaí when arrested, and that while the psychologist's report found she had suffered trauma resulting from a traumatic childhood, she is at low risk of offending.
She sentenced Egan to three years in prison, with the final year suspended if she remains of good behaviour.
Judge Boyle also ordered that she not communicate by any means whatsoever with either of the victims in the case and that she not come within 50 yards of their homes, for a period of seven years.
Mr O'Brien made no comment as he left the court.
Ms O'Connell said she hoped today would bring her "some peace and quiet", but she said there are no protections for people like them wrongly accused.
"Why was I forced to get an injunction, why was I forced to go to the guards? There is a lot of people here who need to take accountability and responsibility for their part in it as well. There are no laws, there is no protection and the system just doesn't serve people like myself and Jonathan, to be honest."