A trial at the Central Criminal Court has heard a 22-year-old man was shot dead while wheeling his four-month-old baby son in what the prosecution described as an horrific and "particularly callous act of violence and brutality".
The jury heard that Jordan Davis was repeatedly shot in "a brazen" attack in broad daylight near a school and a church and in front of people going about their daily lives.
31-year-old Wayne Cooney from Glenshane Drive in Tallaght has pleaded not guilty to the murder of Jordan Davis at a laneway beside Our Lady of Immaculate National School in Darndale in Dublin on 22 May 2019.
He also pleaded not guilty to possessing a 9mm semi-automatic pistol and to possessing ammunition.
In his opening statement to the jury, prosecuting counsel Bernard Condon said Jordan Davis was shot dead in a "particularly callous act of violence and brutality against another citizen".
He said Jordan Davis happened to be walking his four-month-old child in a pram at the time of the "horrific" attack which was captured on CCTV.
We need your consent to load this rte-player contentWe use rte-player to manage extra content that can set cookies on your device and collect data about your activity. Please review their details and accept them to load the content.Manage Preferences
Mr Condon said Jordan Davis had had difficulties in his youth and was involved in drugs and selling drugs.
On the day he was killed packets of drugs ready for sale were found on his body, Mr Condon said, adding that even if someone was engaged in something wrong they were still entitled to life and the protection of the law and respect for their life.
"He was as entitled to his life as anyone else and if there were difficulties in what he was doing that is a matter for the law and not a matter for someone to come along and shoot them dead," he said.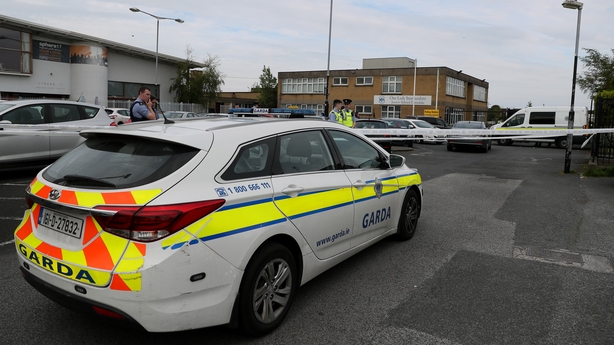 Mr Condon said one of the extraordinary things about the killing was the brazen way in which it was carried out, near a school, a community centre and a church.
He said the killing took place in broad daylight in the afternoon in front of teachers and people going about their daily life.
Mr Condon said Jordan Davis was hit three times and there were two fatal wounds; to the head and the body. About eight shots were discharged, he said.
A painstaking garda investigation began and CCTV footage was gathered. He told the jury it was the prosecution's case that Wayne Cooney was seen on a bike in the area on the day and in the two days previously. He had been noticed by people because he was not from the area, the jury was told.
Mr Condon said the person on the bike had a noticeable tattoo on his arm and photos of Wayne Cooney taken in custody showed he had several tattoos, some very prominent on his arm.
Mr Condon said the prosecution also says there was a connection between Wayne Cooney and a man who had fallen out with Jordan Davis. This man was associated with a phone number which had been sending threatening messages to Jordan Davis referring to money he owed.
One of the messages said "I'm on your case mate, it won't be long". Another said: "get off me phone soon, very soon… bang bang".
The prosecution says this was a threat to kill Jordan Davis by a man who Wayne Cooney had a connection to.
Mr Condon also said gloves found near the scene with firearms residue also contained DNA that matched that of Wayne Cooney.
The trial before a jury and Mr Justice Tony Hunt is expected to last three weeks.