Former solicitor Michael Lynn, who is accused of stealing almost €30m from financial institutions, has told a court he was greedy and too driven, but was not a thief.
Mr Lynn said he did not turn up in the High Court in December 2007 to be questioned about his financial affairs, following meetings with top bankers, Michael Fingleton and Seán FitzPatrick, who were concerned about what he might say.
Mr Lynn is giving evidence in his defence at his trial at Dublin Circuit Criminal Court.
He is accused of stealing just over €27m from seven financial institutions in 2006 and 2007 by applying for multiple mortgages on the same properties.
Mr Lynn claims he had flexible arrangements with senior people in the banks, under which they allowed him to use money advanced for mortgages in Ireland to fund property development abroad.
He claims the bankers knew about the multiple mortgages and that they were comrades in arms who got wealthy when he increased his business.
The former solicitor told Dublin Circuit Criminal Court he was on business in Portugal in September 2007, when he was told of a Law Society letter to the partners in his legal practice in Dublin.
The society had asked an inspector to examine the business, focusing on his borrowings, he said.
The following month, he said he was "stopped in his tracks" when the High Court froze his bank accounts and those of his companies. He was closed down overnight, he said, and he was ruined.
We need your consent to load this rte-player contentWe use rte-player to manage extra content that can set cookies on your device and collect data about your activity. Please review their details and accept them to load the content.Manage Preferences
Lynn says he intended to repay money
Mr Lynn said he started to get calls from bankers, concerned about his ability to repay.
He said he spoke to each of the banks to see if he could get some time to sort it out. His intention was "as it always had been", to repay the money he owed.
Mr Lynn said he realised he could not stop the "Law Society train" and knew he was finished as a solicitor. But he said the developer in him hoped he could turn things around and try to continue, and so he asked the banks for "breathing space" in relation to his loans.
He said he owed around €70m in Ireland and it was simply impossible to repay all those loans at the same time.
Mr Lynn said the then CEO of Irish Nationwide Building Society, Mr Fingleton, was concerned about the impact this story could have on banking. Mr Lynn said Mr Fingleton told him he was not going to be the one who would bear responsibility for it.
The Law Society had brought its concerns to the attention of the President of The High Court.
Mr Lynn said he was asked to give information about his bank accounts and his liabilities and assets. He said he did not try to hide anything. He was trying to get it sorted and hoped he could turn it around.
As part of this process, he was required to attend the High Court in December 2007 to be cross-examined about his financial affairs. Asked by his defence counsel, Paul Comiskey O'Keeffe if he attended the court as required, he said: "No, I didn't."
He said he had meetings with key individuals in the banks - those who had consented to and agreed to lending him money and he said it was indicated to him that he needed to "take the hit" and start again.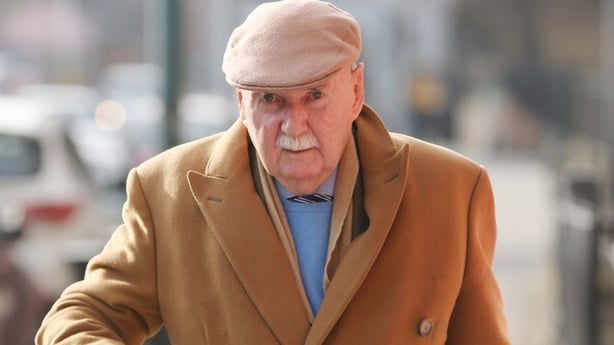 He said he met Mr Fingleton and Mr Fitzpatrick, who felt he was toxic. He told the court he met Mr Fingleton twice in November and December 2007. Mr Fingleton, he said, told him the lending would bring too much attention to him and to Irish Nationwide if he was to start revealing it.
Mr Lynn said he was told if he started explaining the lending culture of the previous three to five years, it would cause "inordinate difficulty" to Mr Fingleton.
Mr Fitzpatrick and Anglo Irish Bank were also very concerned about that, he told the court, which he was surprised about, as they were the one bank who had security over his loans. He said Ireland was still a Celtic Tiger in 2007, the money was still flowing.
Mr Lynn said Stephen McCarthy from Ulster Bank told him that the bank was not going to agree that they had allowed him what Mr Lynn called "this flexible lending" and told him he was on his own.
He said it became clear to him that he was going to be left holding the baby and he did not think he would ever be able to do business in Ireland again if he took on the banks.
Mr Lynn said Mr Fitzpatrick and Mr Fingleton indicated he should just move abroad and try to get something going and come back again and he took them at their word.
'Banks should have been honest'
He said the lending that the bankers allowed him, and that he willingly participated in, "was not right", but he objected to people doing a deal with him and then not having the courage to stand up themselves.
He said when gardaí went into the banks to investigate, the bankers did not put forward the correct people or tell the truth about the arrangement he had with them.
Mr Lynn claimed the key decision makers who approved his loans were not the people who turned up in court or gave information to gardaí. The banks should have been honest, he said.
He described meeting with Mr Fingleton in relation to getting a mortgage for Glenlion House in Howth. The court has heard Mr Lynn was given a loan of just over €4m by INBS to buy the property as a family home.
But Mr Lynn said the house was never intended as a family home as he was considering moving to Portugal. He said he had assessed the site and an engineer had given an opinion that they could build another three to four houses on it.
He said he had an arrangement with Mr Fingleton where INBS would give him a loan on Glenlion so he could expand into another site in Portugal. He said Mr Fingleton entered into a profit share agreement with him in relation to the Portuguese development.
Mr Lynn said he understood why people might be surprised that a loan offer for a house in Dublin would be used for development abroad, but he said it became culture and practice - he was honouring the loans and this had been happening since 2003.
It is the prosecution's case that Mr Lynn applied for three mortgages on the house from three different institutions totalling €11m. But Mr Lynn insisted the banks did not have any problems with multiple mortgages.
It was discussed and done openly, he said. He did not create a scheme, he said, and he worked alongside the banks. He said he gained from it and this was not right, but he had paid dearly for a long time.
Mr Lynn told the jury he wanted to make it clear that it was "always, always his intention to repay the banks as without banking you were 'just a person with ideas'". He said he accepted that in 2022 the lending to him was completely unconventional.
He said he accepted it made him look bad, "and worse". But he said he was not a thief. He never entered into these arrangements to steal money, but because he was greedy and "too driven". He said he allowed himself to be used by the banks because they made money off him.
Mr Lynn asked why if the banks were now claiming to be innocent of participating in these arrangements and consenting to them, they had not stopped him. He said he understood people listening to him would find it very annoying that an individual could get the privileges he got.
He said it was wrong but it was not right for the banks to claim he had been misleading them. They were comrades in arms, he said, as they enabled him to increase his business, and they got wealthy themselves, benefitting from his loans which they could bundle up and sell on as financial instruments.
His evidence will continue tomorrow.