A 49-year-old woman who was stabbed in the neck on her way home from work died because a main artery carrying blood to the brain was severed, cutting off the oxygen supply, the Central Criminal Court has heard.
A 16-year-old boy is on trial for the murder of Uransetseg Tserendorj in January last year.
The boy, who cannot be identified because of his age, admits killing her, but has pleaded not guilty to murder. He told gardaí he did not mean to do it.
The jurors have been told the case will turn on the boy's state of mind.
State pathologist Dr Heidi Okkers told the court she carried out a post-mortem examination on the body of Ms Tserendorj.
She said Ms Tserendorj was 1.65m in height and weighed 83kg. She had a horizontal partially-healed stab wound just below her right ear lobe, which was just 1.5cm long by the time she carried out the examination.
Dr Okkers said Ms Tserendorj's brain was swollen and the internal carotid artery, which supplies blood to the brain, had been penetrated. It had not been completely dissected, she said.
Dr Okkers explained to the jury that this type of injury does not cause immediate collapse and it can take up to two hours. She said this explained why Ms Tserendorj was able to walk to Connolly Station from the walkway where she was stabbed.
She said the cause of death was brain death, due to the cut off of blood supply and oxygen. There were no other contributory factors she said.
Under cross-examination from defence counsel, Michael O'Higgins, Dr Okkers agreed there were two arteries - an external carotid artery and an internal carotid artery. The external artery supplied blood to the face, while the internal one supplied blood to the brain and head.
She said that in her experience, injuries to the internal artery were not as common as those to the external artery. She agreed that the main part of the injury in the case of Ms Tserendorj was in the muscle to the left of the artery.
She also agreed that the injury on this occasion involved an element of misfortune.
We need your consent to load this rte-player contentWe use rte-player to manage extra content that can set cookies on your device and collect data about your activity. Please review their details and accept them to load the content.Manage Preferences
Husband received call from wife in distress
Ms Tserendorj's husband Ulambayer Surenkhor, also known as Umba, gave evidence to the court, with the help of a Mongolian interpreter.
He said he came to Ireland around 15 years ago to work and his wife joined him nine months later. They had two children.
He said they both worked as cleaners, but in January 2021 he was not working because of Covid-19 restrictions.
His wife was working at a company called State Street and usually worked Monday to Friday from 5pm to 9pm.
On 20 January 2021, he was at home with their daughter and their niece at around 9.30pm, when he got a telephone call from Ms Tserendorj, who was in distress.
He rushed to meet her, still wearing his slippers, and found her at the taxi rank near the Luas stop at Connolly Station. A taxi driver was helping her and she was holding her neck.
An ambulance arrived but she was not able to swallow tablets the paramedics gave her and she had difficulty swallowing water.
Mr Surenkhor told the court he was not allowed to go with his wife to hospital, because of Covid restrictions, and had to go home and wait.
He was later contacted at home by members of An Garda Síochána, who told him his wife's condition had worsened and brought him to the hospital.
He agreed he was updated about what had happened and told she had not recovered from her injuries.
Taxi driver Egolin Gompe told the court he was at the rank outside Connolly train station when he saw a woman coming towards him. There was a man behind her and he believed this was her husband.
Mr Gompe said the woman had her right hand to her neck and waved at him and knocked at the window. He could see blood flowing even though she was applying pressure to her neck and he told the man to call 999.
He agreed the man did not seem to understand so he took the phone and dialled 999 himself. He said gardaí arrived first followed by the fire brigade and an ambulance.
The woman eventually left in the ambulance and the man who had been with her, did not go in the ambulance. Mr Gompe saw him walking away across the road.
The court has heard Ms Tserendorj remained on life support at the Mater Hospital and her death was confirmed on 29 January.
Hospital staff give evidence
The trial also heard from medical staff who treated Ms Tserendorj at the scene and at the Mater Hospital.
Firefighter and paramedic James Eagers said when he arrived at Connolly station, Ms Tserendorj appeared calm. She did not have a lot of English, he said, and was struggling to speak.
She indicated there was a problem with her neck. Mr Eagers said the wound was the size of a five cent piece.
He said her heart rate, oxygen levels and blood pressure were all normal, but she became more distressed in the ambulance.
Mr Eagers had called ahead to the hospital and he said she became agitated as they arrived. He saw her lips were starting to turn blue as they went into the resuscitation area.
The nurse who brought them in said Ms Tserendorj was alert and her eyes were open when they initially arrived, but as they went into the hospital, she noticed her face was purple and her eyes were closed.
Dr Elizabeth Little, who was the most senior doctor at the emergency department, described how she assembled a trauma team in advance of Ms Tserendorj's arrival.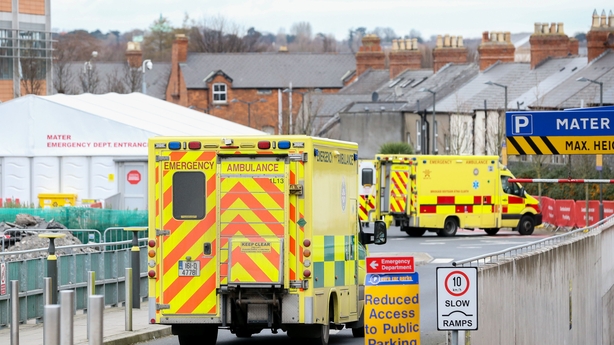 She described the efforts of the team and told the court Ms Tserendorj's heart stopped beating as they were trying to intubate her, and give her blood products.
They transferred her to theatre for surgery to see where the stab wound had penetrated and try to repair the wound.
Intensive care consultant Jennifer Hastings gave evidence of the brain scan carried out on Ms Tserendorj on 25 January.
She said it showed the extent of her brain injury. Her brain had swollen so much it was extending out of its normal cavity in the skull.
When they tried to stop her sedation her heart rate and blood pressure became unstable. She was not reacting to light or breathing on her own and they were concerned there was no blood supply to her brain.
On 29 January, they carried out two series of tests on her brain function and declared her dead that evening. Dr Hastings said her husband was by her bedside the whole time.
The jury will see CCTV footage tomorrow.