The Central Criminal Court has lifted an order preventing the identification of an 11-year-old boy who was murdered by a relative in November 2019.
Brooklyn Colbert, from Ballynanty in Limerick city, was named at the time of his death but in later court proceedings his identity could not be made public because of a court order in an unrelated case.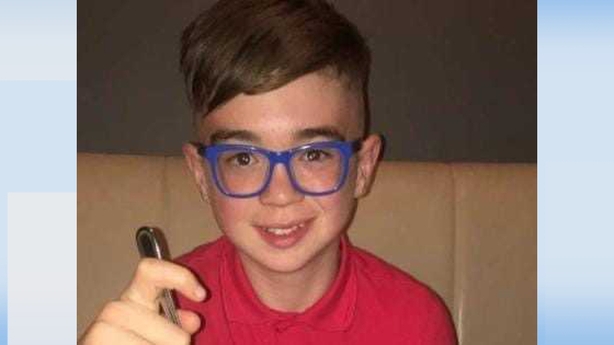 Patrick Dillon, from Dalgaish Park, in Moyross, Co Limerick, was jailed for life last February after pleading guilty to the boy's murder but at the time could not be named either because it would have identified Brooklyn.
After the trial the boy's mother Sonia Alymer called for a change in the law, which she said had protected her son's killer and silenced her family.
That change came into effect last Friday but she had to wait until today for the court order in Brooklyn's case to be lifted so she could speak about him publicly once again.
In an interview with RTÉ News, she said not being allowed to show her son's photographs or say his name in media interviews after the court case added to the stress and trauma of their ordeal.
"I was confused, I was horrified I just couldn't understand it ... I had only heard about the law that week," she said, adding that she had to "hide herself" and could not show her face in media interviews.
'It's therapy in itself, to be able to speak about our children.'

Sonia Alymer, whose son Brooklyn Colbert was murdered by a relative in November 2019, has welcomed the lifting of an order preventing the identification of the 11-year-old boy | Read more: https://t.co/bgVsZExWBV pic.twitter.com/DSk8pF1Eut

— RTÉ News (@rtenews) May 10, 2021
Asked if it would have made a difference if she had been able to speak about Brooklyn, she said "it would have made a difference and we would have been able to acknowledge Brooklyn and acknowledge the killer for who he was. I feel that this law protected him and it silenced us and other parents.
"I'm happy that (the law) has been changed and I'd like to say thank you to the Minister for replying to me so quickly and it's a relief now that I can speak about Brooklyn because it's therapy in itself to speak and we have to speak about our children you know we need to be able to talk and talk about our children.
"Brooklyn's identity was taken from him and our ability to speak about it was taken from us as well ... so it's a weight lifted, it is not going to bring Brooklyn back but it's a step forward for us and a little bit of healing process I suppose."
She described her son as "such a lovely child" and how her house was "always full with his friends, there was never a dull moment, there was always someone at the door. He left an impression on everyone that met him.
"He was a loving child he was funny and there is just so much I could say about Brooklyn, he was very talented."
She said she sees the change in the law as another part of Brooklyn's legacy and said she he would be very proud of that.
The reporting restrictions blocking the publication of Brooklyn's identity had its roots in an entirely different case. In October 2019, the Central Criminal Court made an order preventing the publication of the name of a woman who was on trial for the murder of her three-year-old child.
She was suffering from severe depression and psychosis in February 2018 when she smothered her daughter because she had a fixed false belief that her child, who had autism, had no future. She was found not guilty by reason of insanity.
At the outset of her trial an application was made to the judge for an order banning the reporting of her name, citing the Children Act which prevents identification of children in criminal proceedings.
They said naming the woman would identify her child.
Up to then child victims of crime were only afforded anonymity if they were alive. Victims of murder or manslaughter were usually named.
Other cases had come before the courts involving the deaths of children but no application had been made before or after this case to prevent those children being identified.
The order for reporting restrictions in the case was appealed by a number of media outlets including RTÉ but last October the Court of Appeal ruled that the strict interpretation of Section 252 of the Children Act, despite the practice up to then, meant no child victim of any crime should be identified, even if the child was dead.
The reporting ban comes into effect once criminal proceedings are under way. The ruling had wide ranging and immediate effect.
A number of child victims of crime had to be immediately anonymised in media reports, even those in some high profile cases whose names had been widely reported in the past such as Ana Kriégel.
In some cases it also meant the alleged perpetrator could not be named either, if in doing so it would identify the child, for example where family members were involved.
The ruling also affected child victims of sexual abuse or rape who are now adults and wish to come forward publicly or who want their abuser to be publicly named. In the intervening time a number of children whose deaths have led to criminal charges had to remain anonymous in media reports.
There are at least four other court cases involving children who have died where specific orders imposed by the courts still prevent their identification in public.
These include the original case which eventually led to the law being changed, as well as three others where people have been charged and are before the courts.
None of the accused can be identified in these cases because doing so would identify the children.
Additional reporting Orla O'Donnell