The Courts Service has begun using Croke Park for criminal trials to avail of extra space needed to conduct cases during the Covid-19 pandemic.
The first case got underway at the GAA stadium this morning.
Most of the cases to be heard there are expected to be sex offence cases which will be held in camera and not open to the public.
Three of the stadium's conference rooms have been adapted to mirror the layout of a courtroom with additional space between jurors, lawyers, registrars and judges.
Perspex screens have been placed around desks.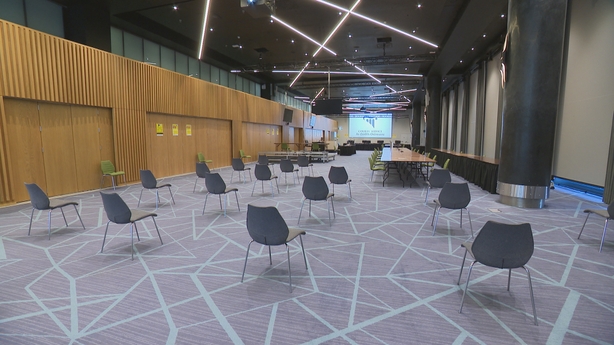 Jury trials are also resuming at the Courts of Criminal Justice in Dublin and elsewhere around the country this week.
Last December the Courts Service announced that it would be using Croke Park for the first three months of 2021 at a cost of €437,000. However the use of the facility did not start until today.
In December the Courts Service said Croke Park provided the "optimum solution" to run trial hearings "so as to continue to provide access to justice during the pandemic".
At the signing of the contract at the stadium in December Courts Service CEO Angela Denning said: "We have been challenged across the country to try and facilitate criminal trials, in suitable and safe locations amidst our responsibilities to keep courts operational and staff, the Judiciary, jurors and court users safe.
"Outside Dublin we have being using 12 venues across the country and feedback from jurors and others has been very positive.
"We will use Croke Park to ensure this track record of safety is continued as we provide access to justice in safe and suitable conditions.
"The facilities provide a venue which is respectful of the importance of the proceedings which will take place there, and which respects the professional needs and the security, privacy and dignity of all court users."