Chief Justice Frank Clarke has said waiting times for hearings at the country's highest court are now at an historic low and "shorter than in living memory".
The third annual report of the Supreme Court said that despite Covid-19, its work was not delayed in any significant way by the pandemic.
The court switched to remote hearings 40 days after the announcement of public health measures last year. All but one case was heard remotely.
However, the number of applications for leave to appeal to the Supreme Court dropped by 38% because of the work of other courts was reduced by the restrictions. Applications are expected to increase this year.
The report describes the court as having continued to operate in an "unprecedented and challenging year" which saw a transition to remote hearings.
It highlights "significant improvements" in waiting times for appeals to be heard to what is described as "an historic low of 14 weeks". This compares to waiting times averaging 12 months in 2019.
Court Registrar John Mahon said hearings were not delayed in any significant way during last year and a backlog was not allowed to develop. Mr Mahon said: "In fact at year end all scheduled appeals had their hearing."
Last year, 142 new applications for leave to appeal cases were lodged while 58 applications for leave were resolved by the end of the year. 117 remote sessions were held through video conferencing and the court delivered 89 written judgments.
Remote hearings along with revised rules and practices to narrow down points in cases which would need to be determined by the court have contributed to a speeding up of waiting times, the report said.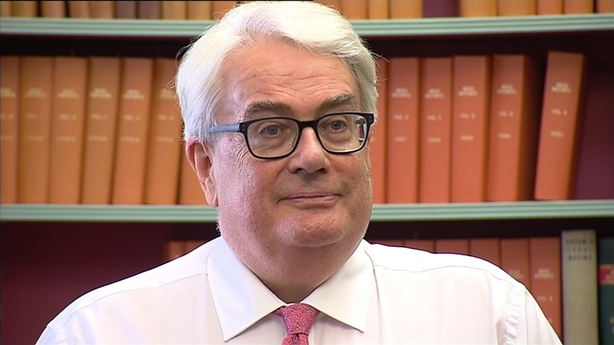 The Chief Justice said in a "truly unprecedented year the Supreme Court moved quickly to conducting its work remotely, ensuring continuity in the court's core function - the determination of cases that come before it."
However, Mr Justice Frank Clarke warned that remote hearings were not as effective as traditional physical hearings because of a reduced ability to fully interact with counsel.
He said most questions had to be left until the end of submissions or dealt with on paper, adding "suggestions that dealing with matters of any complexity on paper might save time and costs is misconceived.
"A brief period of effective questioning in a live or even remote courtroom has been shown to bring much greater clarity to issues than a written procedure."
He said while dealing with matters on paper might reduce the court hearing, it will not reduce the amount of judicial time required to resolve the case nor would it reduce the work of legal teams or costs.
He added: "These reservations, both about remote hearings and dealing with matters on paper, do not mean that both may not have a future in the post-pandemic world."
Mr Justice Clarke also pointed out that the number of applications for leave to appeal brought to the Supreme Court reduced by approximately 38% in 2020 in comparison with the figure for 2019.
The reduction directly from the High Court was much more significant than the reduction in applications from the Court of Appeal.
He said this may reflect the fact that the High Court was more significantly affected by Covid-19 restrictions. He said it was reasonable to assume applications will increase this year.
The Chief Justice made no mention of the unprecedented scandal to hit the Supreme Court last year involving the newly appointed Mr Justice Seamus Woulfe who became embroiled in controversy after attending a golf dinner, leading to calls for his resignation which he refused.