A man charged with the murder of journalist Lyra McKee has been granted bail.
Paul McIntyre, from Kinnego Park in Derry, will remain in custody in Maghaberry high security prison in Co Antrim until the outcome of an appeal by the Public Prosecution Service.
The 52-year-old appeared in Derry Magistrates Court via video link this morning.
He is charged with the murder of Lyra McKee, possession of a firearm and membership of a proscribed organisation, the IRA. He denies all the charges.
The journalist was shot dead while observing rioting in Derry's Creggan estate on 18 April last year.
In court, a PSNI officer said police believe they can establish that images of a man seen picking up objects around the time of the shooting are Paul McIntyre.
His lawyer strongly rejected that claim.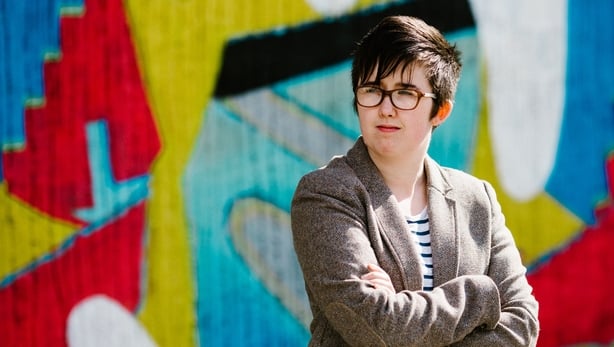 Questioning the quality of the prosecution case against his client, solicitor Derwin Harvey said there was no reason why he should not be released on bail and there was no possibility he would try to flee Northern Ireland.
He told the court his client had previously been released on bail for four months and had not breached the conditions of his release or tried to leave the jurisdiction.
"It is unimaginable that he would take to his heels and flee somewhere else," he said.
"This case is crying out for Mr McIntyre to face the music and seek an acquittal."
District judge Barney McElholm said there was "almost universal condemnation" of the killing, and that those who failed to condemn it "are hardly human in my view".
But he said he had to consider that Mr McIntyre had been advised by his lawyer that he had a strong possibility of acquittal, and that it was not in his interests to flee.
Granting bail, he said: "Society is demanding justice for Lyra McKee. But justice is no good if it is seen as one sided or biased or not seen to be unscrupulously honest."
The public prosecution service immediately announced that will appeal the decision.
Paul McIntrye will remain in custody in Maghaberry prison until the outcome of the appeal, which is expected to be heard next week.
He is due to appear in court again on 26 March.
We need your consent to load this rte-player contentWe use rte-player to manage extra content that can set cookies on your device and collect data about your activity. Please review their details and accept them to load the content.Manage Preferences