Two men who sailed a boat along the River Liffey and into a shipping lane while drunk have been sentenced to three months in jail, with one month suspended.
The captain Brian Stacey from Derry Drive in Crumlin in Dublin insisted it was his "God given right" to sail on the River Liffey while his friend, Ronan Stephens from Captains Road in Crumlin, stripped off on the quays when the RNLI and the gardaí got them to shore.
The men were convicted of careless and drunk sailing and a breach of the peace under Maritime Law, but have been released pending an appeal to a higher court.
They went for "an early morning cruise" on the Liffey on 1 June 2017, sailing the 26ft pleasure craft into a shipping lane, at 6am.
They refused to get out of it for either the RNLI or the Harbour Master.
This delayed the arrival of a 4,000 tonne cruise liner.
The sailors were seen on CCTV drinking from bottles but denied it was beer. They were drinking water, they said, from "foreign brand glass bottles".
When the gardaí arrived they were told to f*** off. Brian Stacey insisted it was his "God given right" to sail down the Liffey if he felt like it.
Garda Paul Moody had to jump from one boat to another without a lifejacket to defuse the situation.
He arrested the captain, Brian Stacey, who then commanded deckhand Ronan Stephens to moor the yacht.
But while Stephens was a motorbike racer, he never sailed a boat before and when he and the boat got to Sir John Rogerson's Quay he had to be helped ashore. This, he said, was because of his arthritis.
However once on dry land, he took off all his clothes because he said there were armed gardaí there and he did not want to get shot. He was also arrested.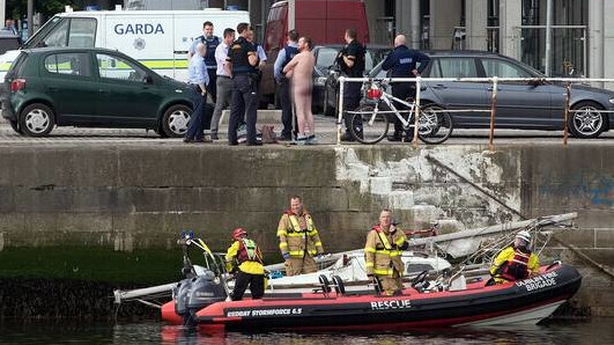 Judge John Hughes said the two men showed a total disregard for the lawfulness of the Harbour Authority and described their actions as reckless.
He also cited their lack of remorse and sentenced both men to three months in prison with the final month suspended.
Stacey and Stephens were also ordered to complete an alcohol awareness programme within three months and pay a fine of €1,000 each within six months.
Both men immediately lodged an appeal and were released pending an appeal to the Dublin Circuit Criminal Court.