A woman accused of impeding the prosecution of the man accused of murdering her mother told gardaí she did not harm a hair on her mother's head.
The jury is hearing details of interviews carried out by gardaí with Louise O'Connor, whose partner Kieran Greene denies murdering 61-year-old Patricia O'Connor on 29 May 2017.
Mrs O'Connor's body was found in 15 parts in nine locations in the Wicklow mountains in June 2017.
Louise O'Connor, as well as her daughter Stephanie and Stephanie's father Keith Johnston, deny impeding the apprehension or prosecution of Mr Greene.
Stephanie O'Connor has pleaded not guilty to disguising herself as her grandmother to conceal the fact that she was already dead.
Louise O'Connor denies acquiescing in or agreeing to this. Mr Johnston denies helping Mr Greene to buy certain items to be used in concealing Mrs O'Connor's remains.
He also denies refurbishing the bathroom at the house to destroy or conceal evidence.
The jury heard that Louise O'Connor was arrested on 2 September 2017 on suspicion of the murder of her mother.
She told gardaí she did not really understand why she had been arrested. She told them they had someone for the murder and he had put his hands up. Her partner and father of three of her children, Kieran Greene, had already been arrested for murder.
Ms O'Connor said her mother told her and her own daughter, Stephanie, every day that they should be aborted. She said they were walking on eggshells every day.
She said her father never raised a finger to her mother. She said her mother tried to beat the head off her with a teapot on the day she went missing.
She said her mother would tell her she was useless and retarded and her kids were useless. She said her mother did not smoke but "lashed the weed out of it all day".
Louise O'Connor told gardaí she had been diagnosed with Graves disease and she said there was a symptom called "Graves rage".
She said her mother had told her she could use that to kill her dad and they would split the proceeds but she said "no way" she was not going to prison.
She said she took the kids to the park on the evening of 29 May as she did not want to fight with her mother.
Two weeks later she said they found out Mr Greene "was after killing her".
She told the gardaí she did not harm a hair on her mother's head and would go to her grave knowing that.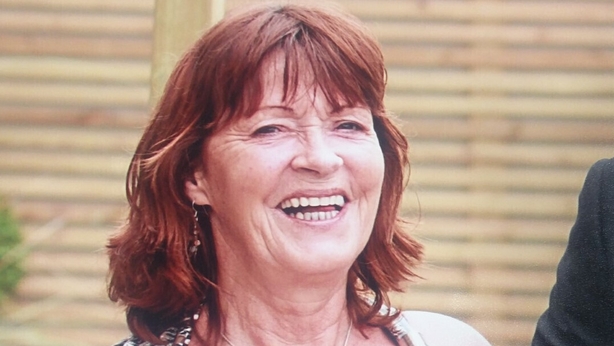 The court heard her father was also in the garda station, under arrest for the same reason. She told gardaí her father would not hurt a fly.
Gardaí showed her CCTV footage of people entering and leaving the house at Mountainview Park in Rathfarnham on 29 May 2017.
Ms O'Connor said she was aware her next door neighbour had a camera at the front of the house.
Shown footage taken from the back of the houses, she asked if it was not against the law for her neighbour to be videoing into the back of the house. It was an "invasion of privacy" she said and "f***ing disgraceful".
The trial will continue tomorrow.