Ryanair boss Michael O'Leary has told the High Court he was "taken aback" when the airline's COO Peter Bellew informed him that he was joining rival airline Easyjet.
On Wednesday Mr O'Leary said last July Mr Bellew informed him that he was resigning from his role as Ryanair's Cheif Operations Officer, citing lack of sleep and stress, and "would probably go travelling".
Several days later Mr O'Leary said Mr Bellew informed him that he was joining Easyjet as its COO in early 2020 having served out a six month notice period.
Mr O'Leary said that it was not possible for Mr Bellew to go to Easyjet given the 12-month non-compete clause. He said if he was joining an airline that wasn't operating in the low fare sector or outside of Europe that Ryanair probably won't be seeking to enforce the clause.
He said he tried to be reasonable and offered Mr Bellew the option of ending his employment with Ryanair after three months notice, which meant he could join Easyjet sometime in September 2020 after the commercially sensitive Ryanair summer schedules had been completed.
That offer he said was not accepted, and Mr Bellew had informed him that the non-compete clause did not apply and that he was entitled to join Easyjet after completing his notice.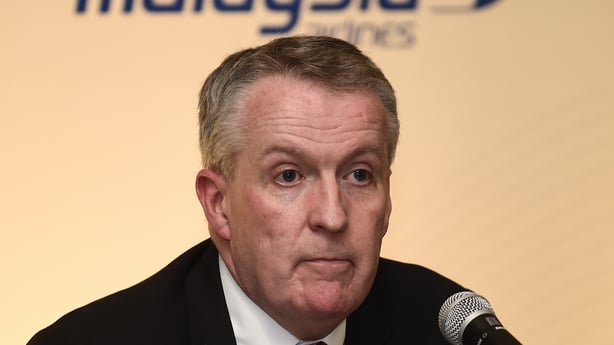 Mr O'Leary said he criticised Mr Bellew's overall performance as COO's in his annual review in March 2019, but denied trying to force Mr Bellew out of Ryanair.
He said if he had "wanted to get rid of Mr Bellew", who he brought back to Ryanair in late 2017, "he would have been gone".
However, under cross-examination by John Rogers SC for Mr Bellew, Mr O'Leary accepted that he had praised Mr Bellew in the COO's annual review, which was compiled in March 2018.
He agreed that Mr Bellew had handled a serious issue, that had been brought to the attention of the Irish Aviation Authority, over aircraft maintenance certificates regarding over 160 planes in Ryanair's approximately 500-strong fleet "extremely well" and had re-organised Ryanair's engineering section.
Mr O'leary denied describing Mr Bellew as being "too nice for Ryanair" and that the COO "was a lover and not a fighter".
He also accepted that he had stopped Mr Bellew from dealing directly with unions following a meeting with a German union because he had "basically given them everything that they wanted".
Also under cross-examination, Mr O'Leary denied Mr Roger's suggestion that in contrast to Mr Bellew the CEO ran and made decisions with regard to the running of the airline on an ad-hoc basis.
He also denied "kicking up a ruckus" or ever shouting and being abusive at a meeting in November 2018 after seeing that arrangements regarding new Ryanair passenger baggage conditions were not in place at Faro and Dublin airports.
Mr O'Leary also rejected counsel's suggestion that the careful manner in which Mr Bellew went about his job was not to the CEO's liking.
He accepted asking Mr Bellew to return to Ryanair from Malaysia Airlines in late 2017, primarily to deal with issues concerning pilots at the Irish airline.
He denied Mr Roger's suggestion that he was asked back because of the good work Mr Bellew had done while working for Malaysia Airlines after it had suffered the extraordinary losses of two aircraft in the preceding years.
Mr O'Leary said that at the time he had hoped Mr Bellew could help stave off Ryanair having to recognise trade unions given that Mr Bellew was "a friendly face to pilots" given his previous role in training and recruiting pilots for Ryanair.
In addition to a good salary and bonus Mr Bellew was paid €1.1 million arising out of a share option scheme in June 2019, some three months after the critical review was conducted.
Had he (Mr O'Leary ) wanted him out of Ryanair that money would not have been paid.
He said Mr Bellew, who worked for the airline between 2006 and 2015, was rehired to deal with certain operational difficulties and with a view to dealing with pilot issues.
He compared that recruitment as being akin to signing Manchester City star forward Sergio Aguero but added that he did not expect to have to tell his "goalscorer" what part of the goal to score in.
While there were some successes he said there were areas where Mr Bellew had performed poorly, which Mr O'Leary said he tried to have addressed so there would be improvements.
Mr O'Leary was giving evidence on the second day of Ryanair's proceedings against Mr Bellew arising out of his decision earlier this year to leave the company at the end of this month and join Easyjet as its chief operating officer.
Mr O'Leary accepted that arising out of issues identified in Mr Bellew's March 2019 review that his COO was told that he would not be included in a 2019 share option scheme.
Mr O'Leary said that it was made clear that this situation would be reviewed.
In reply to Mr Rogers, Mr O'Leary said that he had the power as group CEO to make a decision stopping an employee from receiving share options even if Ryanair's remuneration committee had given its approval.
In its action Ryanair claims Mr Bellew cannot join rivals Easyjet in January as planned because of a clause in his contract of employment that prevents him from joining a rival for a period of 12 months post his departure from Ryanair.
Ryanair claims the non-compete clause was standard in its senior managers' contracts of employment, who the court heard are known as "Zs", and that Mr Bellew was aware of this fact.
Ryanair is seeking an order requiring Mr Bellew to specifically perform his contract of employment with Ryanair, which includes the non-compete clause.
It is also seeking an injunction preventing Mr Bellew of Glenconnor House, Killarney, Co Kerry from acting contrary to the post-termination restrictions allegedly contained his contract of employment.
Ryanair's claims are denied by Mr Bellew. In his defence, Mr Bellew denies any breach of contract and says the purported clause is unenforceable.
He says that the non-compete clause was included on the basis he would be included in a share option scheme offered to him by Ryanair. He claims that he was not included in that 2019 scheme which renders the non-compete clause null and void.
He also says that he will adhere to, and honour, his obligations of confidentiality towards Ryanair after he departs the airline.
The hearing before Mr Justice Senan Allen continues.