A jury has been told that three fractures to the face of a victim of alleged manslaughter could have been caused by a single punch.
Former State Pathologist Marie Cassidy was giving evidence in the trial of a man who is charged with the manslaughter of 56-year-old Patrick Mullally in Dublin three and half years ago.
49-year-old Jonathan Dargan of Belfry Manor, Citywest, Dublin 24, has pleaded not guilty at Dublin Circuit Criminal Court to unlawfully killing Mr Mullally on March 6, 2016.
He also pleaded not guilty to charges of assault causing harm to Lauren Mullally and assault causing harm to Shane Cunningham on Harold's Cross Road, Dublin 6 on March 6, 2016.
In an opening statement prosecuting counsel Fiona Murphy told the jury that an altercation occurred on Harold's Cross Road on March 5, 2016 and Mr Mullally passed away the following day.
"In simple terms it is the State's case that in the course of that altercation Mr Dargan caused Mr Mullally to die as a result of his actions," Ms Murphy said.
Professor Cassidy said Mr Mullally had been in a critical condition when he arrived in hospital and died the following day.
She concluded from the post-mortem examination that the cause of death was a subdural hemorrhage caused by a blunt trauma to the head.
The head injury was consistent with his head hitting the ground, she said.
Professor Cassidy said there were three fractures to the face which could have been caused by a single blow but the possibility of a blow to each side of the face could not be excluded.
If so, such a forcible single blow would have been sufficient to propel him to the ground.
She also said Mr Mullally had a blood alcohol level of 241mg of alcohol which could have affected his actions and reactions and it was possible he was unsteady on his feet and more likely to fall or be propelled.
However she said a blow like that could propel him the ground irrespective of alcohol consumption.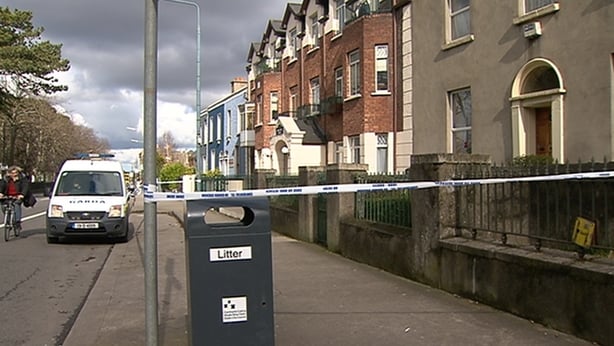 She said she concluded that Mr Mullally had been an otherwise healthy person because doctors had harvested his lungs, heart, kidney and liver for donation.
During cross examination she agreed that the major injury was the head injury caused by the fall after being struck.
Defence Counsel Vincent Heneghan asked if the facial fractures alone could have caused death. Professor Cassidy said they would not have caused such a rapid deterioration.
Asked if the amount of alcohol in Mr Mullally's system was significant she said he would certainly have been showing signs of intoxication.
Witness Sean O'Donoghue said he was cycling home from work in the early hours of the morning when he noticed a man had a woman pinned up against a gate and was shouting at her to pick something up off the ground.
"I stopped my bike and questioned him. I said something like what are you at and he told me to mind my own business and if I didn't go away he would stamp my head on the ground."
Mr O'Donoghue said he was frightened because the man had moved towards him so he went further up the road and told some people who were coming out of Peggy Kelly's pub.
He watched as two of the men in the group approached the couple and he could hear the man tell them to go away and that it was none of their business and that it was "his bird".
They were followed by a woman and another man who had also exited the pub and seemed to be part of the same group. Mr O'Donoghue said the girl from the group seemed to have been pushed out of the way and he heard glass break.
He could see the man who was being aggressive throwing powerful punches aimed directly at people's heads and that he was shouting "bang, bang" as he threw the punches.
He did not see any of the group from the pub show any aggression or throw any punches, he said, adding that some seemed to be trying to protect their heads from punches being aimed at them.
He saw one man fall to the ground and then he panicked and cycled on.
He then turned back because he had a feeling something serious had happened and he saw Patrick Mullally with his head on his friend's lap. He was bleeding from his head and an ambulance was called.
During cross examination by defence counsel Vincent Heneghan Mr O'Donoghue said his main concern on the night was the woman's safety and he did not think about the consequences of getting other people involved.
He said he did not think of calling the guards after first seeing the incident between Mr Dargan and the woman.
Mr Heneghan asked "did it ever enter your head?", the witness replied "No".
It was put to him that he had told a paramedic on the night that he had seen Mr Dargan and a woman having an argument.
Mr Heneghan said this suggested that words were being spoken by the woman and the man.
Mr O'Donoghue said he did not recall talking to a paramedic but if he did describe it as an argument it seemed to be "a fairly one way argument".
He was asked if it was possible that he got the wrong end of the stick and Mr O'Donoghue said he did not think so.
It was also put to him that there were fewer punches thrown that the four to six he had described. He replied "they were fairly fast punches and that was my guesstimate at the time."
He also agreed with defence counsel that it was dark on the night and it was difficult for him to see exactly what had happened during the incident.
Another witness who lived in an apartment overlooking the incident on Harold's Cross Road said he was woken by the sound of breaking glass and a woman screaming.
Barry Coleman said he looked out his window he could see Mr Mullally on the ground and people around him concerned about his wellbeing.
He said another man was standing nearby looking down at the injured man on the ground and a woman was trying to push him away from the scene as if he had done something, he said.
He said the man did not move away for about a minute, despite the woman's efforts to get him to leave.
He said he called an ambulance and police because it appeared "something bad had happened".
The trial continues before Judge Pauline Codd and a jury.