A garda whistleblower has claimed a Garda Superintendent was "fiddling with crime figures" in Athlone Garda Station in Co Westmeath in 2015.
Nicholas Keogh made the accusation as he gave evidence for a third day at the Disclosures Tribunal in Dublin Castle.
Among 21 issues being examined by the tribunal, is a complaint from Garda Keogh that his police work was "irrationally scrutinised and minutely criticised" by Superintendent Patrick Murray.
In a statement to the tribunal, he said the queries were "oppressive and irrational". The accusations have been disputed by Superintendent Murray.
In a statement to the tribunal, he said the queries he generated "were not in any way directed at Garda Keogh personally, but were instead to ensure the investigation was carried out to a high standard to fulfil my obligations as District Officer".
Garda Keogh told the tribunal today of a case in 2015 which he entered onto the Garda Pulse system as a Robbery from the Person.
The tribunal was told the case was later downgraded by Superintendent Patrick Murray and reclassified to Attention and Complaints.
Superintendent Murray had raised concerns over what he described as a "scant report" of the case in a paper note by Garda Keogh.
Garda Keogh said the facts of the case had been recorded in greater detail on Pulse and that the paper note was a handover to request the case to be allocated to another garda while he was on leave.
The tribunal was also told that the injured party had made a statement to a Detective Garda in Athlone, withdrawing his complaint.
In his statement, Garda Keogh accused Superintendent Murray of "massaging the crime figures downwards",
Asked by Judge Sean Ryan today if he was suggesting there was anything corrupt about the change in the classification, Garda Keogh said: "I don't think it was corrupt, it was just fiddling with the crime figures."
When asked by tribunal lawyer, Diarmaid McGuinness SC, if he regarded the downgrading of the case as a form of bullying and harassment, he replied yes.
He said the reclassification belittled his police work.
Garda Nicholas Keogh has claimed he was targeted and discredited with the knowledge of senior members of An Garda Síochána after he made a protected disclosure in May 2014.
In the disclosure, Garda Keogh alleged wrongdoing within the force and collusion between a colleague in Athlone Garda Station in Co Westmeath, known as Garda A, and a woman known as Ms B, who was allegedly involved in the drugs trade in the town.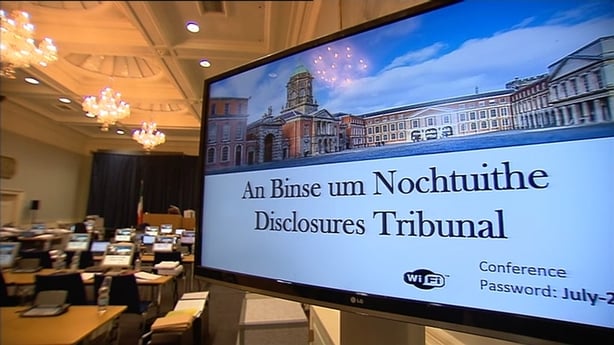 One of the other issues examined by the tribunal today was a disciplinary investigation in relation to a period of sick leave, during which Garda Keogh was out of work for four days in July 2015.
The tribunal has been told that Garda Keogh "reported sick and unfit for duty" on 9 July, 2015.
He then phoned the station to say that he was going "off sick leave" on 10 July 2015, but the tribunal heard he did not report for duty on the following four days.
Sergeant Cormac Moylan reported the matter to Superintendent Murray on 14 July, 2015.
In his statement to the tribunal, Garda Keogh said that "there was an issue of a mix up about my signing off sick and then not reporting for duty".
"I had apparently rung in off sick. I was on the contrary sick. It was at most a mistake," he added.
He said he made contact with Sgt Moylan through Facebook just after midnight on 15 July, 2015 to apologise for his absence from work and for missing a call.
Garda Keogh has rejected that he refused to answer the telephone call.
In evidence today, he told the tribunal "it's not a case that I didn't answer" my phone, which he said did not have any credit.
In a statement to the tribunal, Supt Murray, the District Officer in Athlone, said he telephoned Garda Keogh on 15 July, 2015 regarding his absence.
He said Garda Keogh "acknowledged his absence without leave and said he had reported fit for duty on 10 July, 2015 while drunk, had forgotten he had done so and had been continuously drinking over the next few days and so didn't report for duty".
Garda Keogh provided "a retrospective sick certificate" on 16 July, 2015 to cover the period he was not in work.
Supt Murray said he told Garda Keogh that he felt his "absence without leave in the manner described may be a breach of discipline" and he sought a formal explanation.
Garda Keogh was later found in breach of a charge of neglect of duty, to which he had pleaded guilty and was fined €300, and not in breach of a charge of discreditable conduct.
During a disciplinary investigation by another Superintendent, Alan Murray, Garda Keogh stated that he "suffered from work-related stress and was drinking heavily".
Among the matters being considered by the Disclosures Tribunal, is whether the disciplinary action was warranted or justifiable.
This final phase of the tribunal is looking at complaints made by serving or retired members of An Garda Síochána who allege they were targeted or discredited, with the knowledge of senior garda members, after they had made protected disclosures alleging wrongdoing.
Garda Keogh will continue his evidence tomorrow morning.