Two men have been jailed for their role in a €5.5m forestry investment fraud. 
Garret Hevey, aged 43, from Brookdene, in Shankill, Dublin, and 42-year-old David Peile formerly from Ballyguile, in Wicklow, both pleaded guilty to fraudulent trading in relation to a company called Arden Forestry Management between January 2014 and June 2016. 
Both also admitted charges of inducing individuals to make payments by deception between September 2015 and May 2016.
Hevey, who was described as the engineer of the scheme, was sentenced to five years with the final year suspended.
Peile was sentenced to four years with the final year suspended.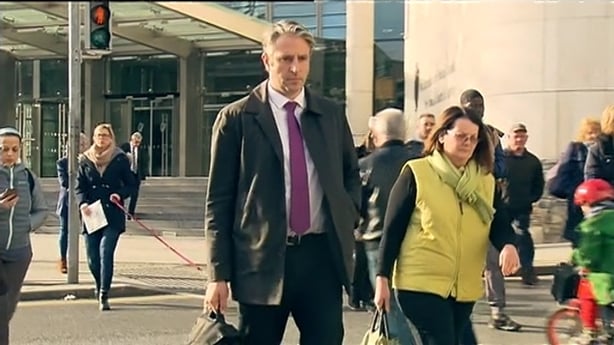 The scheme involved the same parcels of forestry land being sold again and again to different investors.
Judge Melanie Greally said that while it could not be classified as a Ponzi scheme, she had come to the inescapable conclusion that this was a simple case of calculated fraud, which was "pure" and well executed. 
She said Hevey had not co-operated with the garda investigation and his engagement with gardaí was a "self-serving exercise in damage limitation". 
She said he had also sought to interfere with the garda investigation by casting doubt about it with an investor.
Hevey was a director of Arden Forestry Management and used the pseudonym, James Baker. His co-accused called himself David Marshall.
The company purported to offer investors a chance to make money in forestry through grant schemes and the selling of timber and forests.
143 foreign investors were induced to deposit around €5.5m into the company's accounts.
The Circuit Criminal Court heard the investment would have required around 858 acres of land to be serviced, but when the fraud came to light the company owned just over 30 acres, purchased for €61,000. 
The company had a virtual office on Trinity Street in Dublin.
Investors were sent a welcome pack with false timber certificate and land folio documents endorsed by legitimate companies without their knowledge. Detective Inspector Catharina Gunne of the Garda National Economic Crime Bureau said some investors received small sums in return but the company was using later investors' money to pay earlier ones, and "robbing Peter to pay Paul".
The fraud came to light when a Finnish man came to Dublin to check on his investments. He was shown a forest in Frenchpark, in Co Roscommon, but told there was no time to visit the land registry. 
The court heard Peile emailed Hevey saying "shit, he wants to visit the land registry department, how do we get over that one?"
The man was "whisked" back to Dublin Airport but he subsequently checked the land registry himself and called in the gardaí.
The court also heard that Hevey tried to persuade another investor not to co-operate with inquiries from the Garda National Economic Crime Bureau.
The court heard more than €1.5m was transferred from Arden to a bank account in Dubai, of which both men were beneficiaries. When the gardaí froze almost €2m in an AIB account here, a Barclay's bank account was set up and over €800,000 of investors' money was put into it.
In mitigation, Senior Counsel, Sean Guerin said the scheme was "wholly untypical" of a Ponzi scheme.
He said his client, Mr Hevey, did not display the behaviour of someone operating a Ponzi scheme but someone who operated an unusual business model, perhaps unsuccessfully and made attempts to remedy it.
Mr Guerin said Hevey had a successful career in business, then struck out on his own, and after a relatively slow start, the level of investment took off at an extraordinary rate, there were more funds than they could handle and they could not buy forestry quickly enough.
Mr Guerin said there was an attempt to source forest properties and obtain them.  He referred to a large amount of testimonials handed into court on Hevey's behalf. He suggested the gain to Hevey was not very large. He said he was a person of previous good character, a hardworking man, highly regarded by family and friends.
Senior Counsel James Dwyer said his client, David Peile, had a diagnosis for a form of autism.
He also referred to a number of testimonials describing him as a good, loyal hardworking person and a good employee.
He said his client had asked him to express his remorse for his role in defrauding innocent investors.
Mr Dwyer said his client appears to have played a lesser role than that of his co-accused and asked the court to consider his expression of remorse.
The judge said Hevey had offered to repatriate funds from the Dubai bank account but this offer was not taken up. 
She said had this course been followed, it might have led to creditors obtaining significantly more. 
Judge Greally said the impact of the fraud on investors had been extremely stressful and upsetting. In some cases the investment had been made for their children and they could ill afford the scale of the losses.