A 32-year-old man has been found not guilty by reason of insanity of the murder of a 20-year-old stranger in a random attack.
The Central Criminal Court heard that Richard McLaughlin was suffering from paranoid schizophrenia when he attacked James 'Jimmy' Loughlin outside Mr Loughlin's home in Sligo last year.
Ms Justice Carmel Stewart described the case as a "tragedy of huge proportions".
Mr Loughlin was described as someone who was funny, always lived life to the full and the light of his family's life.
He was at home in Sligo on the afternoon of 24 February last year when Richard McLaughlin broke through his front door and attacked him viciously with a crowbar.
The court heard the two men did not know each other at all.
Richard McLaughlin, the court heard, was suffering from paranoid schizophrenia and had not taken his medication in several days.
Defence counsel Brendan Grehan said James Loughlin was the totally random victim of delusions going on inside his client's head.
The court heard evidence from a consultant forensic psychiatrist that at the time McLaughlin was unable to refrain from carrying out the act and unable to appreciate that it was wrong.
The jury took 52 minutes to find him not guilty by reason of insanity.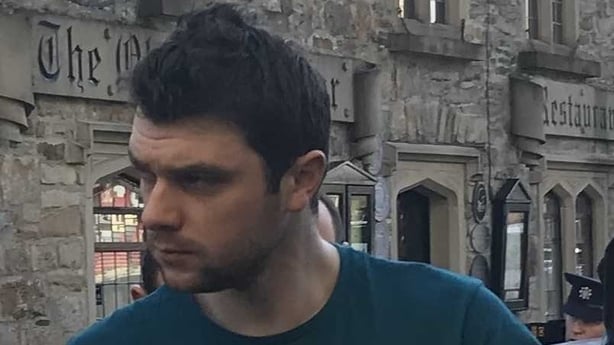 In a statement read on behalf of James Loughlin's parents and sisters, the family said his death had left a huge void in their lives.
They also said discovering someone so dangerous and known to mental health services in Sligo was living just down the road from their son was totally unacceptable.
Ms Justice Carmel Stewart offered her heartfelt and sincere sympathy to Mr Loughlin's family.
Through his defence counsel, Richard McLaughlin's mother Mairead also expressed her deepest sorrow to the family for the loss of their beloved son and the devastation her son's actions had caused.
The judge said it was a tragedy for all the families involved.
The case will be back before the court again next week.