A garda has told a Tipperary murder trial that forensic testing on a sheet of paper found at the home of a man accused of murder showed indentations of writing which said "what the guards will know".
Detective Garda Jeremiah Maloney was giving evidence in the trial of Patrick Quirke of Breanshamore, Co Tipperary, who is accused of murdering Bobby Ryan, a part time DJ known as Mr Moonlight.
Mr Quirke has pleaded not guilty to the murder of Mr Ryan at an unknown location on a date between 3 June 2011 and 30 April 2013.
Detective Maloney from the handwriting section of the Garda Technical Bureau told the court that he used an electro static detection apparatus known as an ESDA to examine an A4 sheet taken from the home of Patrick Quirke.
Along with visible writing, there were also indentations of writing from other pages.
Garda Maloney said he used a process similar to "developing" a black and white image to reveal words which may not have been visible to the naked eye.
He said he transcribed only the words which were clear to him after the process, but there were many other indentations of words on the page.
Among the words visible to him on the sheet after the process were "what the guards will know".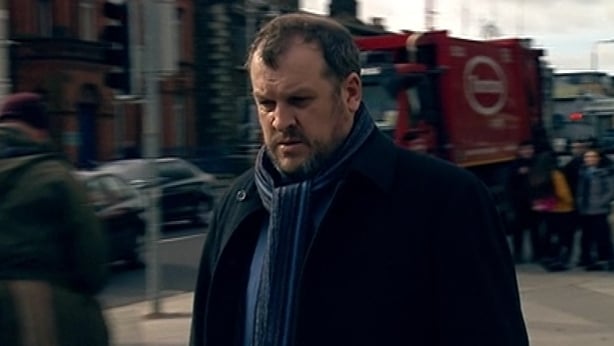 On other lines he said he could see the words "murdered poss in house", "Location?", the word "yes" which was circled, "we need", "dispose", "mary", "back", "walk the kids to school".
On another line were the words "dispose of clothes\phone\any other evidence". Further down the page were the words "phone pinged" and "Mary had to see him\be with him" and "body naked never left the house", "Mary" and "needle in a haystack".
On the front of the page were a series of indentations which the garda said included the following words: "pallet chains", "Gary...empty tank two loads", "agitate need water", "get load of...following", "Tuesday"
During cross-examination he agreed there were many other words on the page which were illegible due to being written over several times. He also said the way in which he had listed some words might be "misleading" because while they were on different areas of the page, he could not make out the words in between and therefore did not include those in his list.
He agreed that some of the words on the list were open to interpretation.
A solicitor who acted for Mary Lowry gave details of letters sent on her behalf to Patrick Quirke towards the end of 2012 and in 2013 requesting that they end the lease agreement for the farm at Fawnagowan.
Aidan Leahy said the first letter in December 2012 said there were a number of matters which had continued to cause Mary Lowry concern for some time and proposed that they end the lease agreement on the farm.
It also says the intruder alarm at her home had been activated a number of times and said CCTV had shown Patrick Quirke appearing to interfere with her letter box, look in her window and interfere with items on her clothes line.
It asks Mr Quirke to refrain from entering the domestic property and to confine his activity to the farmland.
Mr Quirke replied on 2 January, 2013 saying the letter contained many inaccuracies and insinuations "that I am not going to comment on or clarify for your benefit".
However, he said he was willing to consider the request to terminate the lease in return for compensation.
The letters continued over the following weeks and Mr Quirke agreed to end the lease without any compensation, adding that he deeply regretted how things had deteriorated.
He also says he wished to continue to visit his mother-in-law at Fawnagowan because she "looks forward to my visits".