Tipperary man Ross Outram has been sentenced to life in prison for the murder of Waterford pensioner Paddy Lyons two years ago.
The prosecution described what happened to Mr Lyons as "a vicious and sustained attack on a defenceless old man".
The 90-year-old was found slumped in an armchair at his home at Lismore in Co Waterford.
After deliberating for three-and-a-half hours, the jury of eight men and four women returned its unanimous guilty verdict.
Outram denied murdering Mr Lyons at a time unknown between 23 and 26 February 2017.
The 28-year-old from Clonmel, Co Tipperary, claimed he acted in self-defence.
Mr Lyons suffered multiple blows to the head and neck from a blunt weapon.
The trial heard that his cause of death was blunt force trauma to his body, with a traumatic brain injury and shock due to fractures of his hip joint, jawbone and ribs.
Mr Outram told gardaí he had taken 100 Xanax tablets that day, and that he fought back after he claimed Mr Lyons hit him with a walking stick and a shovel.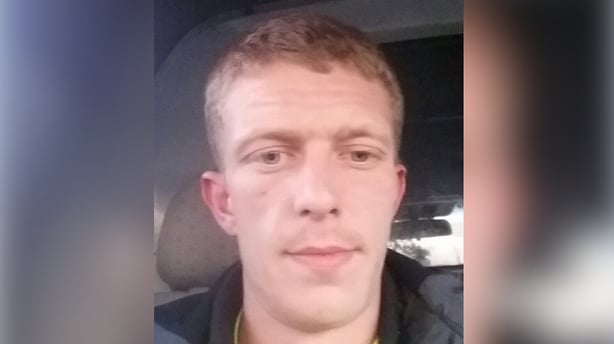 Outram had injuries including marks on his hands, bruising to the inside of his thigh and he claimed he had lumps on his head.
The trial heard that Mr Lyons had limited use of his right arm and could only keep it in one position.
It was the prosecution's case that Outram knew Mr Lyons had money and that he was "going to get it".
The prosecution said this was a violent robbery performed in the middle of the night by a young and strong 26-year-old man, against a 90-year-old with a non-functioning arm.
Outram's defence lawyers argued that the altercation between him and Mr Lyons had caused brain injury and bleeding, but that it did not cause his death.
Following today's verdict, lawyers for Outram told the court that he apologised for having killed Mr Lyons and that he was "deeply remorseful" for that.
A victim impact statement was read to the court from Mr Lyons' former Home Help.
Mary Fennessy described Mr Lyons as a friendly and trusting man.
She said he loved having visitors and reminiscing, and that he was very religious and never missed mass.
Ms Fennessy said Mr Lyons was very well respected in the community and is greatly missed.
Mr Justice Paul Coffey thanked the eight men and four women on the jury for their care and "exemplary" attention in what he said was a long and difficult case.
He excused them from further jury service for the next 15 years.