Former business editor of The Sunday Business Post, Tom Lyons, has said that today is "a great day for Irish journalism".
His remarks follow the verdict on a defamation case taken by businessman Denis O'Brien against the newspaper, which Mr O'Brien lost.
"We stood up to him, we fought for a full month, we stuck to our guns, we told the truth, did the right thing and thankfully the jury came down on our side," said Mr Lyons.
"We've given up a month of our life to fight this case"
The paper's former editor, Ian Kehoe, said the decision was "a vindication of what we chose to publish".
"Newspapers have never been under more pressure and this isn't about the Sunday Business Post, this is about the right of every media organisation in this country to publish what is genuinely in the public interest and of public importance," said Mr Kehoe.
"The easy thing to do is to come in and cave and not to fight these cases, but we fought it at every step of the way because we believed we were right to publish what we did, and thankfully the jury have come down in that way."
Mr Lyons said that he hopes the verdict will make "people like Denis O'Brien think twice before suing" and using up a large amount of time and resources.
"We wrote a very fair article which was in the public interest, and was quite clearly so, and yet we've had to spend one month down here defending what was always a perfectly good article," he said.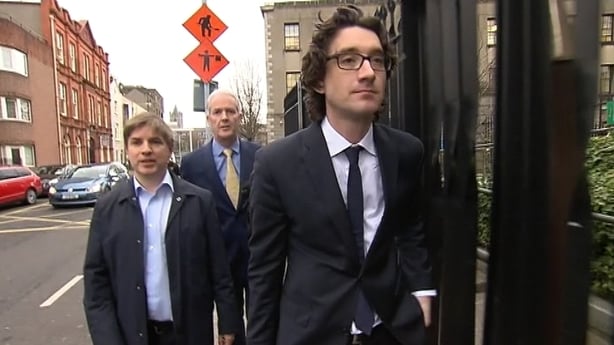 Mr Kehoe said: "We told the truth, we didn't have to backtrack on our evidence in any way, shape or form. It was made possible by a great legal team."
Mr Lyons referenced the accusations levelled against him at the beginning of the trial, adding "all of that fell down completely before the end of the trial".
Asked whether the fact that the case was taken would have a chilling effect on the media, Mr Lyons said "undoubtedly it will".
"We've given up a month of our life to fight this case. We've had a great legal team, we've had an insurance company that has backed us to the hilt, we've been supported by our colleagues in the Sunday Business Post and our colleagues in journalism in general. But it's an incredible amount of resources and an incredible amount of time that's required to fight a case like this," he said.