The High Court has approved the first settlement under new legislation to allow for periodic, lifelong payments in cases of catastrophic injuries.
The President of the High Court, Mr Justice Peter Kelly, said the new legislation which came into effect last year was "long promised and much hoped for".
He said he had seen too many people already carrying the burden of caring for a loved one, who were "broken" by the prospect of repeated visits to the High Court.
He was speaking in the case of a 13-year-old girl who was catastrophically brain-damaged before birth when her mother suffered a seizure after being discharged from the Rotunda Hospital.
She now needs round-the-clock nursing care and is dependent on others for all her needs. The judge described her as "something of a warrior".
The judge said the settlement, which provides for annual payments of €610,000, would ensure that Saibhe O'Connor was "properly nursed and properly cared for".
The teenager is a ward of court and all decisions relating to her future needs will be overseen by the court.
Today's settlement follows three previous interim payments totalling €2.9m. The settlement was made without admission of liability.
Judge Kelly said the advantage of the new legislation, which allows for lifelong payments instead of lump sums, was that it removes the necessity to make "guesstimates" about life expectancy.
He said he had previously seen cases where lump sums were paid and plaintiffs had run out of funds when they outlived the life expectancy which underpinned the terms of their settlement figure.
As the child in this case had demonstrated herself to be "something of a warrior", overcoming many bouts of serious illness, it was quite possible she would outlive the life expectancy of 20 years old, he said.
He also said her medical reports, which said she had surprised doctors many times, was eloquent testimony to the care she had been given by her family and carers.
The judge said he believed their choice in opting for periodic payments was a sensible decision, and would be a relief for them.
"You must be relieved that this will be your last trip to the Four Courts," he told her parents Michelle Farrell and Eddie O'Connor.
In her legal action, Saibhe's mother Michelle Farrell claimed the Rotunda Hospital had not properly managed her pregnancy and had failed to property treat and diagnose her condition.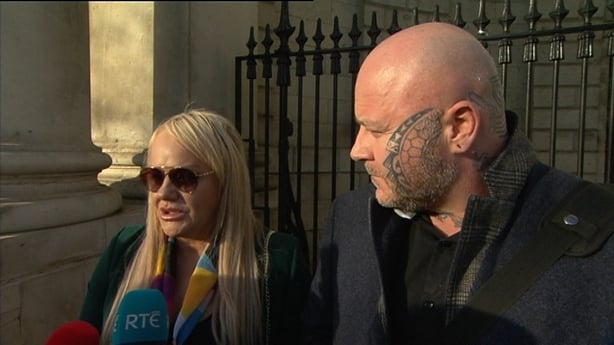 The court was told she had been seen four times at the Rotunda Hospital in September and October 2005 and had symptoms including high blood pressure, breathing difficulties and chest pain.
On 2 November 2005, her GP had been concerned about the onset of preeclampsia and referred her the hospital, ringing ahead to alert staff about the seriousness of her condition.
She was admitted through the emergency department and diagnosed with preeclamptic toxaemia. She was discharged four days later with a review scheduled for 8 November. She had opposed the discharge because her condition appeared to deteriorate.
The hospital had been phoned by her family, expressing concern, on 7 November, and later that day they called an ambulance.
While en route to hospital she suffered an eclamptic seizure, and had to be taken to the nearest hospital, St James's, where a C-section was carried out.
The baby was delivered having suffered a lack of oxygen due to the seizure suffered by her mother and was catastrophically brain-damaged. She now needs round-the-clock nursing care.
In her High Court action, it was claimed that the hospital had failed to adequately investigate her condition before she was discharged on 6 November, and had failed to treat her appropriately.