A forensic expert has told a jury at the Central Criminal Court that an underground tank at a farm in Fawnagowan was opened weeks before the discovery of Bobby Ryan's body was reported.
Dr John Manlove was giving evidence in the trial of Patrick Quirke of Breanshamore, Co Tipperary who is accused of murdering Mr Ryan, a part time DJ known as Mr Moonlight.
Mr Quirke has pleaded not guilty to the murder of Mr Ryan at an unknown location on a date between 3 June 2011 and 30 April 2013.
Mr Ryan's body was discovered by Mr Quirke on a farm at Fawnagowan, Tipperary.
Dr Manlove specialises in forensic entomology, which uses the life cycle of insects to help answer questions about suspicious deaths.
He was asked by gardaí to examine evidence taken from Mr Ryan's body during a post-mortem and photographs of the body along with visiting the scene.
Warning: Readers may find some details distressing
In a report prepared for the prosecution, he concluded that the insect infestation of Mr Ryan's remains took place a few weeks before the discovery of the body was reported to gardaí on 30 April 2013.
From his examination of a single fly larva and from looking at photographs of the body, he was able to estimate its age and stage in the life cycle, he said.
He concluded that the first time the tank was opened was not 30 April 2013, as flies must have accessed the tank at least 11 days, but possibly weeks earlier.
The fly infestation did not happen on the day the body was found nor was it a longer infestation, which would have led to a greater level of decomposition.
This, he said, suggested that the tank had been sealed until March or early April 2013.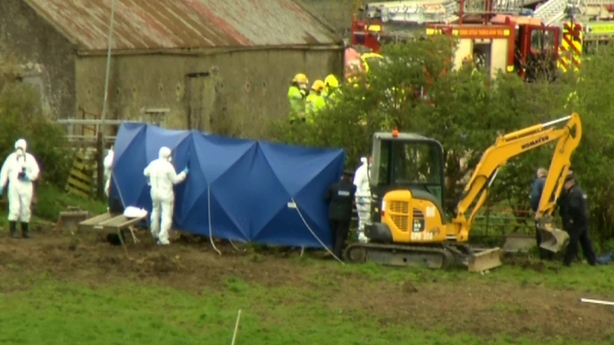 During cross-examination, Dr Manlove agreed that he had not been requested by gardaí to prepare a report until 2014.
He also agreed that best practice to preserve evidence at the scene of a crime would be to leave the body in place until all the experts arrive at the scene.
Dr Manlove agreed that vital DNA evidence can be lost when a body is transferred from where it is found.
He also said had he been requested he would have attended at the post-mortem the previous year.
Defence counsel Lorcan Staines said the jury would hear that Mr Quirke told gardaí that there had been a water leak into the tank around 11 and 12 March 2013 and that thousands of litres of water had flowed from the leak.
Assuming that it could have caused a hole into the tank big enough for flies to enter, Dr Manlove agreed that the suggested time frame for such a leak could match with his assessment of the timing of the fly infestation.
Engineer Michael O'Reilly told the court he examined the tank, which was built in the 1970s to collect dirty water from the milking parlour.
Mr O'Reilly carried out a test by allowing mains water to flow into the tank for 48 hours.
He concluded that the tank was porous and was not capable of holding any appreciable amount of water.
Mr O'Reilly said during the 48-hour test more than 23,000 litres of water was sent to the tank, but 17,000 litres were lost leading him to conclude the tank could not hold water.
Garda denies looking for 'glory'
Earlier, a garda denied making an additional statement as recently as last week to help out a colleague or look for extra glory in a murder trial.
Defence Counsel Bernard Condon asked Garda Conor Ryan why he had not previously mentioned seeing bales of silage near a disused tank where the body of Mr Ryan was found two years after he went missing.
Mr Condon put it to Garda Ryan that he had made eight previous statements and had not mentioned seeing the bales before giving a ninth statement last week detailing what he saw.
Garda Ryan said it had not crossed his mind before then.
Mr Condon asked what made it cross his mind and Garda Ryan said he was asked last week by a garda colleague if he had seen the bales on the farm.
He denied that he had been discussing his evidence with colleagues in advance of giving it in court.
Mr Condon asked if he had decided to "just sign up to help out a colleague by giving this extra statement?"
Garda Ryan replied: "No".
Mr Condon asked: "Were you looking for a bit of extra glory or recognition if you were going to say more things?" Garda Ryan said he was not.
Asked if he accepted it is improper for witnesses to be discussing testimony before giving it, Garda Ryan replied that he was not discussing his evidence.
Asked how many bales of silage he had seen, Garda Ryan said he could not say how many exactly but there were "a few".