Gardaí have told a murder trial they searched the farmlands where part time DJ Bobby Ryan was last seen, four days after he was reported missing in 2011 but found nothing.
The Central Criminal Court has heard Mr Ryan's body was found in an underground tank on the same farmland almost two year later.
The gardaí who carried out searches for Mr Ryan, who was also known as Mr Moonlight, have been giving evidence at the trial of farmer, Patrick Quirke, who is accused of the murder.
Mr Quirke has pleaded not guilty to murdering Mr Ryan at an unknown location on a date between 3 June 2011 and 30 April 2013.
Mr Ryan's body was discovered by Mr Quirke on Mary Lowry's farm almost two years after he went missing.
Ms Lowry had been in a relationship with Mr Ryan and had previously had an affair with Mr Quirke. The prosecution alleges Mr Quirke killed Mr Ryan because they were love rivals.
Sergeant Cathal Godfrey gave evidence of being asked to search the farmlands at Mary Lowry's home on 7 June 2011 as a result of a missing person's report gardaí had received a number of days earlier.
He said gardaí were aware Mr Ryan had stayed in Ms Lowry's house overnight and left the house at around 6am on the morning of 3 June.
He said eight gardaí conducted the search of the lands and sheds on the farm at Fawnagowan, after being given permission by Ms Lowry.
The sergeant told the jury they began the search at around 9.30am in the morning and finished just before midday.
He said nothing of any evidential value was found.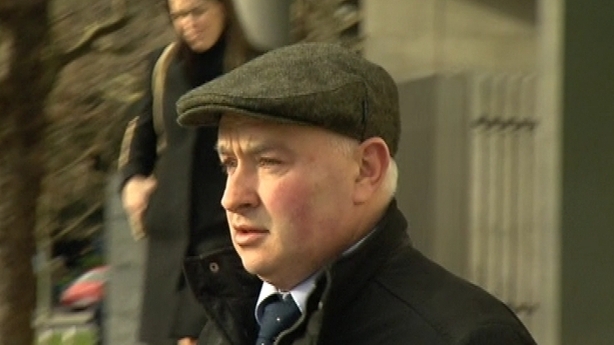 Sergeant Godfrey gave evidence of seeing a slurry tank on the farm, but he said the amount of slurry in the tank was "minimal" and not enough to find anything in it.
He said you wouldn't find a body in it.
Under cross examination by lawyers for Mr Quirke, he said no photographs or videos were taken by gardaí during the search.
He said they had not searched the inside of the dwelling house on the farmland as that was not the job they had been given.
Another garda, Garda Michael Fitzgerald said he did not take any notes and did not see anyone taking photographs.
He described searching a slatted shed used for cattle and searching fields on the farmland.
He said the eight gardaí did not walk up and down repeatedly together to cover all the farmland.
Garda Jeremy Geary, who also took part in the search, described how the gardaí had split into two teams of four to search the lands and then joined together and walked up and down to cover all the land.
He said he did not take any notes and did not see anyone taking photographs. He also said nothing of any consequence was found.
Earlier, another garda told the jurors that Mr Ryan's daughter Michelle and her aunt, Ann Stapleton, had called to Bansha Garda Station in Tipperary at around lunchtime on Friday 3 June 2011 to report Mr Ryan missing.
Garda Thomas Neville said Michelle Ryan was particularly upset and her aunt told him she was concerned her father may have taken his own life.
Garda Neville said he created a missing person high risk incident on the garda pulse system.
He said as he travelled to Mary Lowry's home later, they got a radio message that Mr Ryan's van had been found in Bansha woods.
He said he was told Ms Ryan had entered the car, taken a diary from it and gone into the woods and that Mary Lowry told him she had opened the back door of the van.
He said it was a missing person's investigation not a criminal investigation and no direction was given to secure the scene.