The son of a man whose body was found in a disused tank has said he had a feeling something was not right when he visited a farm outside Tipperary town on the day his father went missing.
Robert Ryan was giving evidence in the trial of Patrick Quirke of Breanshamore, Co Tipperary, who is accused of murdering his father.
Mr Quirke has pleaded not guilty to the murder of Bobby Ryan at an unknown location on a date between 3 June 2011 and 30 April 2013.
Mr Ryan's body was discovered by Mr Quirke on Mary Lowry's farm almost two years after he went missing.
Mr Quirke was leasing farmland from Ms Lowry at the time. He had also been having an affair with Ms Lowry, which had ended.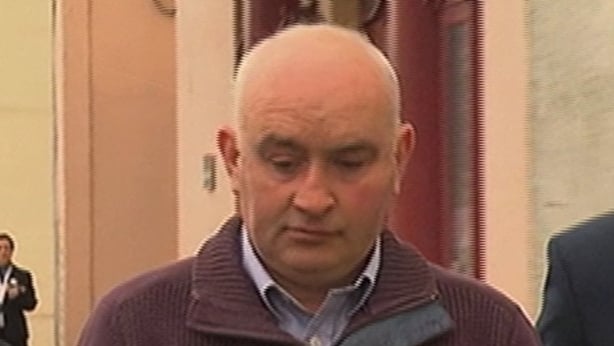 Robert Ryan said he drove to Ms Lowry's farm on the day his father went missing.
He believed he might have taken the day off to go to the beach. He said when he drove to the end of the yard, Ms Lowry appeared near a shed.
He did not believe she could have been in her house when he drove in, as he did not believe she could have made it from the house in the time it took him to drive into the yard.
Mr Ryan said it appeared Ms Lowry wanted him out of her yard "as quick as she could get me out".
He said she was visibly shaking and had been crying and he had never seen her like that before.
He said: "I didn't feel right. I knew something wasn't right about the way she was acting."
Mr Ryan said Ms Lowry asked him for his phone number, but he refused to give it.
He could not explain why he refused but said: "I just didn't want her having my number. That's all I can say."
Mr Ryan said Ms Lowry had said: "I don't know where he is. We didn't have a row".
She also told him that his father had mentioned something about a river in the past when his wife had left him.
He said this was "lies" and his father had never said that.
Robert Ryan's partner Leanne told the jury that on the night before he went missing, Bobby Ryan was at home cooking dinner and his phone kept going. He kept getting text messages.
She said he then said he "had better go over and see what was wrong" before he left for Ms Lowry's house.
Bobby Ryan's daughter Michelle told the court her father would have confided in her more than in her brother.
She said he had been very down about the break-up of his marriage to her mother and that she kept a close eye on him for at least four months after her parents split up.
Ms Ryan said she had concerns about him for some time, but did not believe he would have done anything drastic.
She said it was nine months before she saw her father get back to his old personality, describing him as "one of a kind", who never missed a day at work and at weekends had a passion for his music and dancing, and always had a smile on his face.
She described him as a "brilliant father" who had a great personality.
We need your consent to load this rte-player contentWe use rte-player to manage extra content that can set cookies on your device and collect data about your activity. Please review their details and accept them to load the content.Manage Preferences

Ms Ryan said she had first met Mary Lowry in October or November 2010 and met her out socially a few times.
She said Ms Lowry "seemed OK at first".'
In one of her statements to gardaí she said Ms Lowry watched her father like a hawk when they were out.
Ms Ryan said she had told Ms Lowry if she was sensitive she should not be with her father because he was not shy.
It was her understanding that the following year her father had ended the relationship after a trip to Bundoran did not go well and the relationship cooled. She believed her father had ended the relationship two days before he went missing.
During cross-examination she confirmed that she had told gardaí that when he returned from Bundoran her father had asked for her opinion and she had told him to "P45" Mary Lowry because "he didn't need that".
Ms Lowry has previously told the court she and Mr Ryan had argued and split up briefly after the weekend in Bundoran because she was upset he had spent time talking to another woman.
Ms Ryan said on the day her father went missing she had reported it to the gardaí because it was out of character for him not to turn up for work and not to have been in contact with them.
She had been in phone contact with Ms Lowry who told her to come to her house for tea. Ms Lowry collected her on the outskirts of Tipperary town and they drove towards Ms Lowry's home while her aunt and uncle travelled behind them. On the way out in the car she said Ms Lowry was crying and said: "Shelly I'm so so sorry."
Ms Ryan also told the jury it was her suggestion to drive to Bansha Woods instead of going to Ms Lowry's house.
She said she could not explain why she thought of Bansha Woods. She had never been there but had heard of it. She had earlier checked the car park of another wooded area after telling her aunt she had a "desperate feeling" they would find his van in a wood.
She said when they drove into the car park she saw her father's van and ran into the woods. She later sat in the van and noticed the seat was not in its usual position, the car was in gear, which her father would not have done, and it had been left open with his disco gear inside.
She said she knew the seat was in the wrong position because she frequently used the van for her own work as a DJ known as "Shelly Moonlight" and she never had to adjust the seat. She said her father would never have left his van open with his equipment in it. "Everything was all wrong," she said.