A 34-year-old man has been sentenced to 18-and-a-half years in prison for the false imprisonment, sexual assault and assault of three women in separate attacks in Dublin.
The man had denied attacking the women on dates in 2011, 2015 and 2016 at locations in Clondalkin.
He used the same method, targeting women in the early hours of the morning, approaching from behind using stealth.
He used a belt and masking tape to restrain one of the women and a held a hunting knife to the throat of another. He had pleaded not guilty to nine charges, including false imprisonment, sexual assault and assault.
For legal reasons, the court imposed a temporary ban on naming the man.
Judge Pauline Codd also ordered that he complete a sex offenders programme while in prison and be supervised for several years after his release from custody.
She said society and women had to be protected from what was clearly a dangerous person. She said he had taken no responsibility for his actions and had shown no remorse.
She said he had engaged in intentional and deliberate acts of extreme violence against women and showed a desire to dominate them.
The violence meted out was brutal and primal in nature and he was clearly a man who has shown no remorse, the judge said.
She also said a particularly disturbing aspect of the case was the fact that the attacks escalated with more planning and violence.
The judge imposed consecutive sentences on some of the convictions because she said they must reflect the harm done to each victim. She also suspended a portion of the sentences to ensure there was an incentive for the man to engage in post-release supervision and treatment.
The judge paid tribute to the women involved in the case for their "bravery and dignity" in giving their "moving accounts" of what happened.
"They are a credit to the women of this city and their families and the community and I hope they can rebuild their lives after this," she said.
She also paid tribute to the community where the attacks took place where she said the women were treated with great compassion and kindness.
The judge also praised gardaí for their investigative work and for the handling of the case, which she said was done humanely and with compassion and served as a clear reminder of the difficult cases gardaí had to deal with.
Suspect's van spotted on CCTV
The jury returned guilty verdicts on all nine charges after a trial earlier this year.
During the trial the jury heard evidence from a woman who said that in 2011 she was attacked from behind as she walked home in Clondalkin.
She said the man began choking her and tried to cover her mouth. He punched her a number of times before pushing her to the ground and sexually assaulting her.
Another woman was attacked in the same area in 2015. A belt was placed around her neck, duct tape was wrapped around her face and hands, and she was knocked to the ground and sexually assaulted.
Matching DNA samples were recovered from the victims of both attacks, but investigators had nothing to compare it with. It was recorded as being from "an unknown male".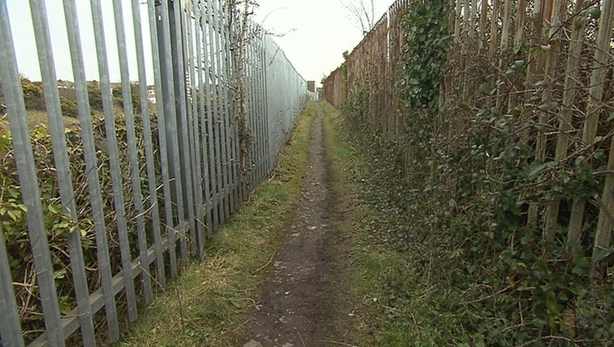 In May 2016, a third attack took place at Knockmeenagh Lane in Clondalkin as a woman made her way through the lane to the Luas stop.
The attacker was armed with a hunting knife. The woman fought back and grabbed the knife, suffering a serious injury to her hand. The attacker ran off and the woman was helped by people who heard her screams.
Local residents told gardaí they had seen a white van parked in the area. It was identified on CCTV and gardaí trawled the PULSE system and linked the van to the man.
They viewed hundreds of hours of CCTV footage and found a van registered to him had been moving in the area in the early hours of the morning of 16 May 2016.
During a search of his house a jacket was recovered on which the victim's blood was found. His DNA was later linked to this scene and to DNA samples taken from the women in the earlier attacks in 2011 and 2015.
Cable ties found near the scene of the 2016 attack were identical to those found in his van, the prosecution said. His fingerprint was also recovered from duct tape found near the scene of that attack.
His DNA was also found on a beer bottle found near the scene. Prosecuting counsel Roisin Lacey told the jury that DNA linked the accused to the three crime scenes and that this DNA evidence was quite clear, incontrovertible and uncontested.
Victim impact evidence
In a victim impact statement, one of the women said the first few days after the attack was a blur due to shock and trauma. She said she found it hard to sleep for months afterwards and friends had to stay with her.
Because the attack took place very close to her home she could not look out her windows during the day time.
She suffered from black eyes and a broken nose and did not leave her house for some time afterwards because of her injuries.
When she returned to work she was told to take more time off because her appearance would make clients uncomfortable. She said she would not consider walking home at night now and is constantly looking over her shoulder.
Another woman, who suffered extensive bruising and scrapes to her face and body, said she had to take HIV medication as a precaution. She suffered extreme anxiety and every aspect of her life had been affected. She said she became hyper vigilant and nervous, whereas she had previously been laid back and carefree.
She said the trial process made her relive the trauma of the attack and she had to resume counselling. She has continuing nightmares and disturbed sleep.
The woman said: "It has set me back in every aspect of my life. I detached from everyone around me, I isolated myself and felt completely alone.
"I am uncomfortable in social settings and get very anxious. I don't walk alone at night anymore because I feel endangered.
"I thought I was going to die during the attack and remember feeling it might have been for the best. I feel very angry at being deprived of being how I once was."
Victim waives right to anonymity

Ruth Maxwell, who suffered a life-changing injury to her hand after fighting off her attacker, waived her right to anonymity.
After the attack she could not wash or dress herself and could not return to work. As a result she could not afford to pay her rent and her relationship ended.
She said she has suffered from persistent flashbacks after the attack and still suffers from panic attacks. She said she had to appeal a decision by the HSE to secure counselling.
Ms Maxwell said: "I feel vulnerable on a daily basis. I no longer feel safe to train or run early in the morning like I used to. This was a huge positive part of my life and I now feel out of balance.
"I cried a grieving cry for the loss of functionality of my hand. I have cried so much for all the loss that I feel and at one point I thought I would never stop crying. I am frightened of so many things now. I'm especially frightened for my daughter and granddaughter.
"Before the attack I was optimistic but now if I haven't heard from my daughter for a day I jump into fear and all the awful things that could have happened to her. Even though I know rationally this is unlikely and I understand where my fears are related to, I am paralysed by them.
"My spirit is broken and I'm afraid of people and crowds. The physical and emotional hurt and pain has continued for two years and will probably continue to manifest itself in some form daily for the rest of my life.
"Everyday life has changed for me. Because of the extensive injuries to my hand I've had to adapt my surroundings. The simplest tasks take patience and planning. I'm still awaiting further surgery ... the whole process could take a further two-and-a-half years to see a possible 5% improvement.
"I think the attack has fundamentally changed my outlook on the world. I try to get back to the positive person I know I was but it is a bit like pretending or a bit like being in some kind of horror movie or nightmare that I'm still waiting to wake up from.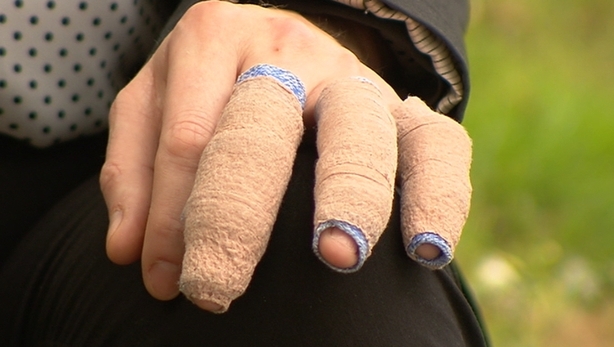 "I can see who I used to be but I'm not sure how to get back to be that person. I feel very fractured - a bit like my hand - not being able to get a good grip on things.
"I am very proud of my strength in fighting back against my attacker. I am very proud of my strength in enduring the trial process and all that it has entailed but at the same time I do feel broken.
"I do not feel good about myself. I do not feel confident anymore in any of my roles in life - whether that's a mother, a grandmother, a woman, a friend, a partner an employee. This is in fact the biggest impact of the attack."