A young woman who was raped by a Galway man who had offered to give her a lift home after a night out has told the Central Criminal Court the court process made her feel like the rape was her fault.
In a victim impact statement delivered by the now 23-year-old woman to the court, she said she felt like she was being "attacked" during the trial and was being blamed for being young and vulnerable.
Garrett Phillips, 46, a singer and actor from St Mary's Terrace, Taylor's Hill in Galway was found guilty by a jury in April of the rape of the young woman in the early hours of 5 November 2015.
Phillips was appearing in a West End show as Frank Sinatra before his trial and also previously appeared as Dr Cathal in TG4's long running soap Ros na Rún.
He will be sentenced on 9 July.
The young woman told the jury that she had left a nightclub in the early hours of that morning and was sitting on a bench when she first met Phillips, who was walking his dog.
He offered to give her a lift home in his van and then asked her if she wanted to see the city lights.
The court heard she fell asleep and when she woke up Phillips was standing over her and raping her.
She started shouting and got out of the van. She memorised the number plate and knocked on the door of a nearby house still shouting the registration number.
The occupants of the house called gardaí.
Phillips had claimed in garda interviews that his encounter with the woman was consensual.
He told gardaí their faces "kind of met" while they stopped to look at a view of the city lights and that it was a consensual encounter that had started off "very tender" and felt "chemical".
The court heard Phillips, who is married with children, had no previous convictions.
Defence counsel Barry White said he had great difficulty in getting Phillips to realise the gravity of the matter.
He said Phillips had only told his wife about these events the day before the trial began and had been on stage in the West End in London shortly before the trial.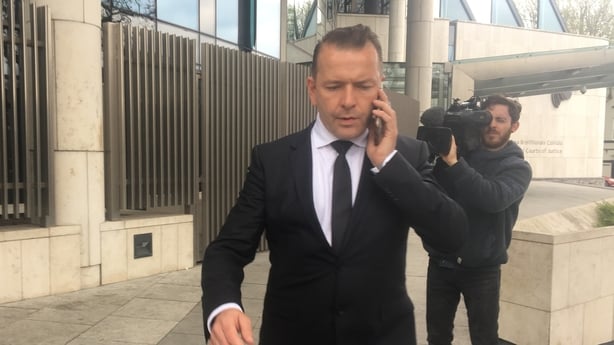 But Mr White said he had instructions from Phillips to apologise unreservedly for his behaviour.
In her statement to the court, the young woman said she had been outgoing, high achieving, and happy before the rape.
But she was now a changed person. She had not finished college, she had given up sport, she was afraid and embarrassed, had isolated herself from friends and family and now struggled to leave her home.
She continued to take anti-depressants.
The woman told the court she had tried to do the right thing by reporting the rape immediately but she had been made to feel like a criminal.
It had taken more than two years for the matter to come to court. Each time it had been listed, she had travelled from her home to be in court.
The court process, she said, was one of the hardest things she had ever done.
She had to sit inches away from the man who had attacked her, she had been forced to speak about what had happened in the witness box and she was accused of lying.
She felt she was being blamed for being young and vulnerable. The court process gave her the impression that what had happened was her fault.
The woman said she had been naive that night and had made one of the biggest mistakes of her life, but had not done anything wrong.
She said she would not take responsibility for someone who could not control his urges.
She no longer felt safe walking alone or even in her own home she said. She said she did not love the woman she had become and felt she was a burden to her friends and family.
She tried to imagine what her life would have been like if this had not happened but she would never know.
She said she would not get to graduate from college with her friends.
The court heard Phillips, along with other siblings, cared for his mother, who has dementia. His wife was devastated when she was told about the incident the day before the trial.
His lawyers made an application to the court to continue an order preventing Phillips from being named.
Mr White said Phillips' wife and children were also victims in this case.
However, lawyers for the Director of Public Prosecutions objected. Ms Justice Eileen Creedon refused to extend the ban on his identification.
She said it was often the case in such convictions, that the family of the convicted person would be impacted greatly.
But there was nothing exceptional about this case to prevent the publication of Phillips' name.
She agreed to adjourn the matter so a probation report could be obtained and remanded Phillips, who has now been registered as a sex offender, on continuing bail until 9 July.