Ireland rugby international Paddy Jackson has told a court he would have "completely freaked out" if a girl ever left his house upset and crying.
The 26-year-old, who denies rape and sexual assault, took the stand as his defence team opened its case at Belfast Crown Court.
Mr Jackson said: "The last thing I would ever want is anyone upset. The last thing I would want is a girl crying and leaving my house. I would have completely freaked out.
"I would have gone to help her. If I had known she was upset I would have tried to contact her.
"The last thing I would ever want is having someone upset. For fear of this. I would be aware stuff like this happens.
"I just went to bed. I had no idea that she was upset."
Mr Jackson spent several hours in the witness box of courtroom number 12 where the high-profile trial has been heard over the past six weeks.
He was answering questions from senior defence counsel Brendan Kelly QC.
---
Warning: This report contains some graphic details
---
He told the court he did not have intercourse with the complainant but did engage in a number of consensual sexual acts.
The lawyer asked if there were any signs that the complainant was "enjoying" what was happening.
Mr Jackson answered: "She was doing it. She was enjoying it."
He was later asked if there had been any resistance from the complainant.
"No, none at all," Mr Jackson said.
The barrister added: "Was there any movement away from that activity by her?"
"No," answered Mr Jackson.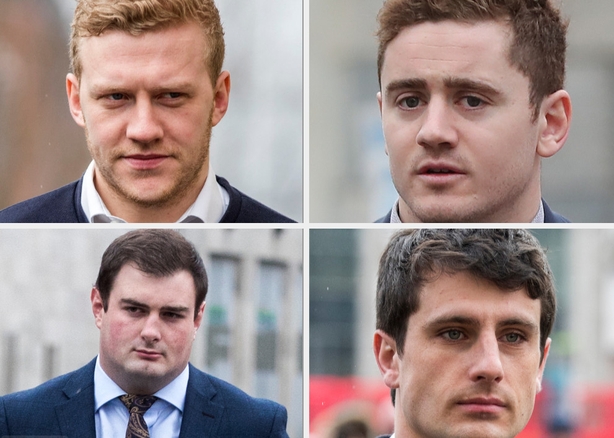 The court heard that co-accused Stuart Olding, who also denies rape, had walked into the room while the woman was on top of Mr Jackson performing a sex act.
"He came over and there was an interaction between them. Her attention went from me to Stuart," he said.
It was not something he had encouraged, but had just happened, he claimed.
The barrister asked: "Was there an intention to have intercourse?"
Mr Jackson said: "I thought it was leading to that, yes."
Intercourse did not happen because the complainant asked for a condom, the court was told.
Mr Jackson said: "She asked for a condom. I looked in the bedroom wardrobe. I was looking for a condom and couldn't find one."
Meanwhile, Mr Jackson was also questioned about the presence of blood and whether he believed it had been associated with pain.
Mr Jackson said: "I would have stopped. I would have asked her if she was okay, tried to comfort her. If there was any pain I would have tried to help her."
Jackson denies friends colluded
Under cross-examination, Mr Jackson denied "concocting a story" with his co-accused after the alleged attack in case an allegation of rape was made.
"No, that did not happen," he said.
Prosecution barrister Toby Hedworth QC asked Mr Jackson: "You ended up back at your house with four attractive young women. Did you have any expectation of what the night would have in store with these attractive young women?"
Mr Jackson responded: "No I didn't."
Referring to group WhatsApp messages between Mr Jackson and some friends after the alleged attack Mr Hedworth said: "There had been an anticipation that this was going to be a frisky night."
He was quizzed about close friendships with the co-accused.
However, he told the court that neither Blane McIlroy nor Rory Harrison had revealed, the day after the alleged attack, that the woman had apparently been "distressed".
He said: "Sitting here now, yeah, it's disappointing. But I trust them. If they did not tell me, it is because they did not think it was as serious as it clearly is now."
Mr Jackson also said he was not informed by Mr Harrison that the complainant had reportedly said what happened had not been consensual.
"He did not tell me," said Mr Jackson. "Rory is a very nice guy and if he was worried he would not want to worry me or cause me any alarm or distress."
He was also asked about prosecution claims that his friends and team-mates had effectively "closed ranks" after allegations emerged.
Mr Hedworth said: "(The complainant) was concerned that if she was to report the matter to the police that essentially it would be the word of your group against her.
"She'd be the silly little girl who had done something then regretted it. And that's exactly the stance that has been taken?"
Jackson responded: "No, it's not. There's not stance."
Mr Jackson has concluded his evidence. Mr Olding is due to give evidence tomorrow.
Mr Jackson, 26, from Oakleigh Park, in Belfast, and Mr Olding, 24, from Ardenlee Street, in the city, deny raping the same woman.
Mr Jackson denies a further charge of sexual assault.
Mr McIlroy, 26, from Royal Lodge Road, Belfast, denies exposure while Mr Harrison, 25, from Manse Road, Belfast, denies perverting the course of justice and withholding information.
The case continues.