A woman who walked in on an alleged rape involving two Ireland and Ulster rugby players thought she had witnessed a threesome, a court has been told.
Dara Florence was giving evidence to Belfast Crown Court during the trial of Paddy Jackson and Stuart Olding.
Mr Jackson, 26, from Oakleigh Park in Belfast, denies raping a woman at a house in south Belfast in June 2016. He also denies a further charge of sexual assault.
Mr Olding, 24, from Ardenlee Street in Belfast, also denies raping the same woman.
Ms Florence, who did not know the alleged victim, had been partying with friends at the home of Mr Jackson during the early hours of 28 June 2016.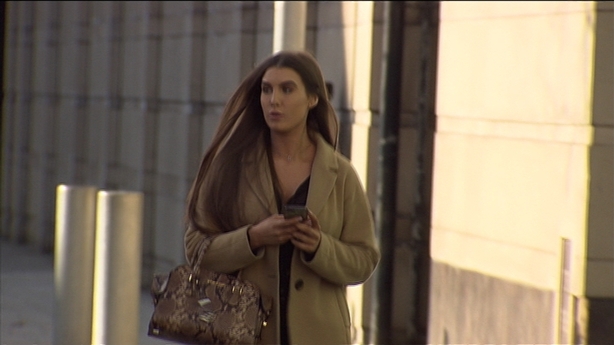 It was when she and a friend went to look for another friend that she walked in to the bedroom, the court heard.
The court heard that when she opened the door, she saw what she described as a "threesome".
The door was opened for less than a minute, the court was told.
When asked to outline exactly what she saw, the young woman said that she saw the alleged rape victim, Mr Jackson and Mr Olding in the bedroom.
When asked by prosecution about what Mr Jackson was doing, Ms Florence said that he was having sexual intercourse with the woman.
When asked about Mr Olding, the court heard that he was engaged in sexual activity with the alleged victim.
Ms Florence claimed that when she opened the bedroom door, the woman moved her head. "It was like she had turned her head… away," she said.
During cross-examination by Brendan Kelly QC, representing Mr Jackson, Ms Florence was questioned about two statements provided to police after the alleged incident, in which she claimed the woman had not appeared distressed.
When asked by Mr Kelly if that remained her recollection, Ms Florence said: "100%."
The court heard that she did not have any concerns about what she saw in the bedroom.
Two others have been charged in connection with the same alleged incident in June 2016.
Blane McIlroy, 26, from Royal Lodge Road, Ballydollaghan, Belfast, denies exposure.
Rory Harrison, 25, from Manse Road in Belfast, denies perverting the course of justice and withholding information.
We need your consent to load this rte-player contentWe use rte-player to manage extra content that can set cookies on your device and collect data about your activity. Please review their details and accept them to load the content.Manage Preferences
Jackson denies sexual intercourse with woman
Earlier, the court was told that Mr Jackson denied ever having sexual intercourse with the alleged victim.
Addressing the complainant, prosecution barrister Toby Hedworth QC said it was Mr Jackson's case that he never had sexual intercourse with the woman but did have intimate contact with her.
The woman said that was not correct.
When asked if she believed Mr Jackson had sexual intercourse with her on more than one occasion, the woman replied: "It was more than one occasion because he had already had sex with me before Mr Olding entered the room."
The woman also rejected suggestions that Mr Olding, who also denies rape, walked in while she was with Mr Jackson and that she "instigated" sexual activity with him.
"That's completely incorrect," she said. "I didn't instigate anything with Mr Olding."
Meanwhile, the court also heard that in a note written when she got home after the alleged attack, the complainant described Mr Olding as an "imbecile" and "monkeyish".
The note recorded the names Blane, Paddy Jackson and the description blonde, short, imbecile and monkeyish, the court heard.
Mr Hedworth asked: "What does imbecile and monkeyish refer to?"
The woman answered: "That was my impression of Mr Olding."
The case continues.