An action by the husband of a woman who died at the National Maternity Hospital in Dublin during surgery for an ectopic pregnancy has been settled, the High Court has been told.
Malak Thawley, 34, died in 2016 after what her husband's lawyers called a "cascade of negligence".
Alan Thawley sued over her death and over the nervous shock he suffered as a result.
The court was told "compensatory" damages had been paid, but not aggravated or exemplary.
But no details of the settlement were given.
Mr Thawley had claimed aggravated or exemplary damages on top of compensatory damages, because he said he and his wife were not told a junior doctor would be carrying out the procedure.
He claimed the master of the hospital, Dr Rhona Mahony, should have "come clean" and told him exactly what had happened to his wife, instead of telling him that her death had been "an accident".
Settlement reached over Malak Thawley's death at NMH | More: https://t.co/Wee8kuRwR9 pic.twitter.com/1toEx2z6hb

— RTÉ News (@rtenews) January 16, 2018
Mrs Thawley was six weeks' pregnant when she had surgery for an ectopic pregnancy at Holles Street in Dublin on 8 May 2016.
Her husband was told the operation would take 30 minutes. But Mrs Thawley's aorta was cut with a surgical instrument and she bled to death.
Mr Thawley's lawyers told the court last week that Mrs Thawley's death was due to a "cascade of negligence".
The Thawleys were never told the operation would be carried out by a junior doctor, that he would not be supervised and there would not be a consultant present in the hospital.
There was a delay in realising what had happened and in taking measures to save her.
Mr Thawley claimed for exemplary damages on top of damages in compensation for his wife's death and the nervous shock he suffered.
His lawyers told the court he would never recover psychologically.
After more than an hour of discussions this morning, the court was told the action had been settled and the hospital had agreed to pay compensatory damages only, as well as Mr Thawley's costs.
Proceedings taken to expose 'cascade of negligence'
In a statement read outside court, Mr Thawley said he had been able to bring these proceedings to a satisfactory conclusion after a long and difficult process.
He said there was no compensation that could replace the profound loss of his wife's untimely and needless death.
Mr Thawley said the proceedings were begun to expose the cascade of negligence demonstrated by the hospital.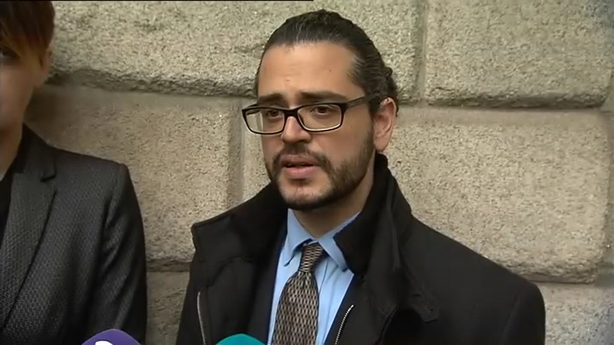 He said he would continue to work with the Minister for Health and his ministerial inquiry to ensure that he was the last person in Irish history who had to suffer what he had suffered and continued to suffer.
He also thanked his legal team for their hard work.
Mr Thawley's solicitor, Caoimhe Haughey, said she was very pleased the proceedings had been brought to an end and they were very satisfied with the outcome.
Ms Haughey said it was very disappointing that it had taken so long.
She said there had been a lot going on with Mr Thawley's case and he had gone through an internal inquiry, which they say was flawed, an inquest which was very heart rending and they were now dealing with a ministerial inquiry.
She said this story was not over yet.
A spokesperson for Minister for Health Simon Harris said the minister had recently requested the Health Information and Quality Authority to undertake an investigation into the circumstances surrounding Mrs Thawley's tragic death.
She said, in these circumstances and in order to ensure that the process can unfold appropriately, neither the Minister nor the Department was in a position to make any further comment at this stage.
HIQA said the Minister had asked the authority to undertake a statutory investigation into the safety, quality and standards for the safe provision of obstetric and gynaecological surgery outside of core working hours at in the National Maternity Hospital.
The agency said it had no further comment to make at this time.