UFC fighter Conor McGregor has been fined €400 at Blanchardstown District Court after pleading guilty to a speeding offence.
McGregor appeared in court after being ordered to do so by a judge after he was recorded driving at 158km/h in a 100km/h zone earlier this year.
Judge Miriam Walsh had earlier told McGregor's solicitor he would have to attend in person if he wanted evidence given in the case.
Conor McGregor @TheNotoriousMMA drives away from court, saying 'Come and get me' pic.twitter.com/ee41k2WYwK

— RTÉ News (@rtenews) November 30, 2017
When McGregor took the stand this afternoon he was asked by the judge what speed he was travelling, and he replied: "I can't remember, to be honest."
The judge asked him: "Did you not hear the guard?"
He said: "What I did hear was that I had tried my best to pay it. I don't know, it didn't pay."
The judge said that is not it, and when she asked him what happened, he said: "I don't know."
His solicitor intervened to say McGregor was pleading guilty.
Conor McGregor has turned down the offer to pay a €400 fine for speeding in instalments. pic.twitter.com/VuisqNXq6l

— RTÉ Sport (@RTEsport) November 30, 2017
The judge asked McGregor how much he earned and said: "It may seem a stupid question but please do not tell me you made €110 million in a day."
McGregor laughed and there was laughter in the court when he replied €140m.
The judge convicted him and fined him €400 with two months to pay.
There was more laughter when she said that he could pay by installments.
The judge also said: "In spite of your good fortune, I would ask you to take cognisance of others on the road and slow down."
McGregor apologised and said he wanted to show his respect by showing up in court.
Garda William Dempsey earlier told the court that McGregor had been recorded driving at 158km/h in a 100km/h zone on the N7 Naas Road at Rathcoole, Co Dublin, on 31 March this year.
A notification was sent out on 5 April of a fixed charge notice, but that expired.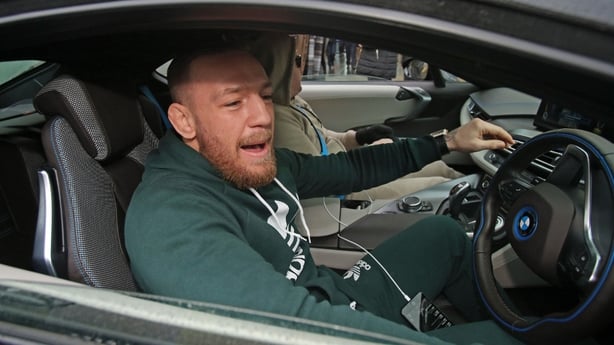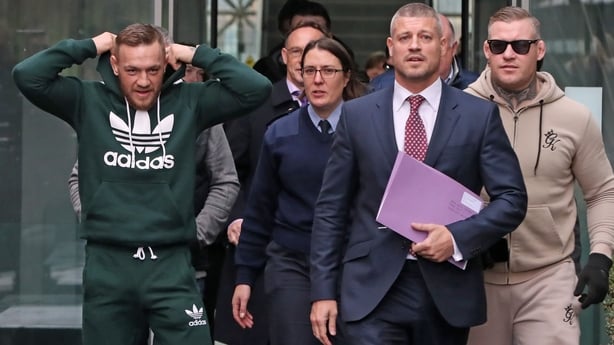 This morning, McGregor's solicitor Graham Kenny said his client had filled in his name incorrectly when he returned the fixed charge penalty notice over the incident.
The fighter left his middle name Anthony off the form, the court was told.