The jury in the Jobstown false imprisonment trial is expected to begin deliberating on a verdict next week.
Judge Melanie Greally told the jury members she will address them on the law on Monday before they retire to consider the verdicts.
The six defendants have pleaded not guilty to falsely imprisoning former tánaiste Joan Burton and her adviser Karen O'Connell in Jobstown in Dublin on 15 November 2014.
The defendants are Solidarity TD, Paul Murphy, 34, from Kingswood Heights in Tallaght; Councillor Michael Murphy, 53, from Whitechurch Way in Ballyboden in Dublin; Councillor Kieran Mahon, 39, from Bolbrook Grove in Tallaght; 34-year-old Scott Masterson, from Carrigmore Drive in Tallaght; 71-year-old Frank Donaghy from Alpine Rise in Tallaght and 46-year-old Michael Banks from Brookview Green in Tallaght.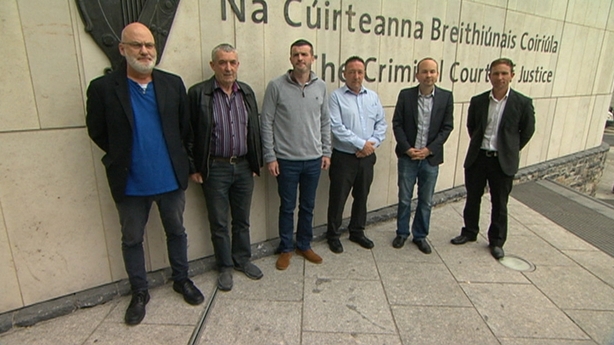 This morning the jury heard closing arguments from a sixth counsel for the defence.
Ciaran O'Loughlin, representing Michael Banks, said the jury would have to assess exactly what his client was doing that day.
He said evidence that Mr Banks had made a rude and vulgar hand gesture and had shouted a rude chant did not mean it was a crime.
"I accept that is rude and vulgar and might not make him your favourite man, but it is not a crime," he said.
There was also evidence about Mr Banks having a verbal exchange with a garda and calling him a name but "giving lip to a garda" was not a crime.
He said the DPP had a "menu" of possible offences to choose from under the Public Order Act but had chosen not to do so in this case and there was no other evidence against Mr Banks to suggest he intended to or did falsely imprison Ms Burton and Ms O'Connell.
The videos clearly showed that others who are not on trial had engaged in violent disorder and assault but that had nothing to do with the protest, he said.
He said unlike others he did not blame gardaí for what happened that day.
"They were placed in an extraordinary position, they weren't expecting it. But neither was Michael Banks. And maybe the reason for it was sheer volume of 250 or 300 people made it impossible to move and no one was to blame unless everyone was to blame. The whole thing was unfortunate but Michael Banks was not to blame."
The case has been adjourned until Monday when the 11-member jury will hear the judge's charge before beginning to deliberate on a verdict.