Garda witnesses have told the Circuit Criminal Court that demonstrators at a water charges protest in Jobstown in November 2014 were "extremely hostile".
They were giving evidence in the trial of Solidarity TD Paul Murphy and six other men who are charged with falsely imprisoning then tánaiste Joan Burton and her adviser Karen O'Connell during a water charges protest.
All seven defendants deny the charges.
Inspector Derek Maguire told the court he felt the crowd were "extremely hostile" and called for urgent back-up as gardaí tried to evacuate Ms Burton from the area.
He said the protesters were asked a number of times under the Public Order Act to leave the area but they refused to do so.
Insp Maguire said he recognised Mr Murphy and tried to speak to him but he refused to converse with him.
He said as they tried to move Ms Burton and Ms O'Connell to another car the crowd converged and it became very difficult to move forward.
He said gardaí were getting punched and the protesters were trying to get to Ms Burton and Ms O'Connell.
He said Mr Murphy then had a loud hailer and he asked him to tell the crowd to leave, but he would not do so. He said Mr Murphy told them they were going to slow march to the N81.
When he asked him to move the crowd back he said Mr Murphy said they were going to hold a democratic vote and said "Will we let her go or will we hold on to her for the night?"
Insp Maguire said the public order unit arrived and were in "soft cap mode" which meant they wore baseball caps and not helmets and tried to move the crowd on at close proximity.
He said as one protester was removed from in front of the jeep another would take their place.
Mr Murphy then told gardaí if the public order unit was removed they would start the slow march.
It was subsequently decided when the crowd opened up a bit to move the women from the jeep to other cars so they could be driven away from the area. His cross examination will take place later in the trial.
Earlier, Garda Michelle McGuinness told the court she was in an unmarked patrol car in the area that day and was called to the church.
She said on the way in the protesters moved when asked to do so. She said they were called rats and traitors.
As Ms Burton left the church she "shoved her along" towards the car and the crowd started running towards them.
Garda McGuinness said the crowd was very hostile and were trying to grab Ms Burton as she helped her into the car. She said they got into the car and locked all the doors.
The protesters covered the car with placards, blocking out all the light. She said they were rocking the car, trying to turn it over and one man tried to break the wing mirrors and another tried to deflate the tires.
She said Ms O'Connell was upset and crying and Ms Burton was trying to comfort her.
She said they remained in the car for almost an hour and a decision was made to move both women to a garda jeep.
The crowd followed and they were trying to hit Ms Burton, she said. While they were moving one of her colleagues was hit in the head.
During cross-examination Garda McGuinness accepted that the engine was being revved very high as protesters sat behind the first car.
Asked if the car was being revved to intimidate the demonstrators, she said she could not say.
Defence Counsel Sean Guerin said the protesters were not trying to turn the car over but were trying to stop it being revved against them.
During cross-examination by defence counsel Michael O'Higgins, she accepted she did not have any special training in crowd control or public order issues.
She said there was a dedicated unit for public order.
Asked why no one consulted with the protesters in the early stages, she said it was believed the crowd was too hostile and the only option was to escort Ms Burton out of the situation before it got worse.
Mr O'Higgins put it to her that this was not consistent with her evidence that the protesters had earlier moved when requested to do so by gardaí.
She also rejected his suggestion that there were periods of calm and that the temperature only rose when gardaí moved in to remove protesters.
Garda McGuinness also accepted that she had not mentioned in her original statement that a rock had been thrown.
Mr O'Higgins suggested the reason for the omission was because it never happened. She rejected this.
Jobstown protest was 'frightening', says Burton adviser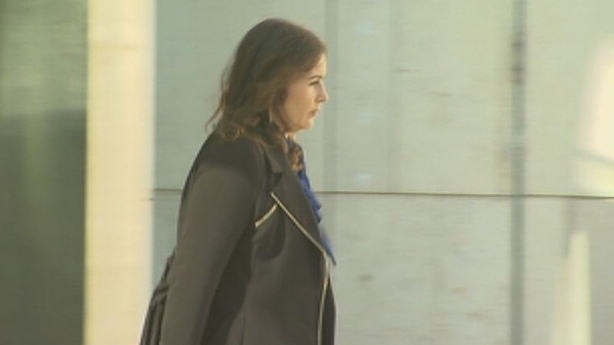 Ms O'Connell, a special adviser to Ms Burton, told court that she does not accept there were long periods of calm during the water charge protest.
The prosecution says she, along with Ms Burton, were trapped in cars for up to three hours by protesters.
On her third day in the witness box Ms O'Connell was shown a three-and-half minute video clip which Mr O'Higgins said showed a calm atmosphere.
Ms O'Connell replied: "If by calm you mean there wasn't a scuffle at that particular time I accept that, but it was still a very frightening experience, as you can see we were surrounded and trapped in a car and unable to leave. We were entirely surrounded."
Mr O'Higgins asked if someone had told her what the legal definition of false imprisonment was to which she replied: "I know it's wrong to keep people in a car and stop them going about their business."
Mr O'Higgins suggested the video showed for that particular portion the crowd being very calm and well behaved.
Ms O'Connell said: "I saw people banging on the window and screaming at us in that clip."
Earlier Mr O'Higgins accepted that her experience in the first car as people surrounded it and threw things and banged on the car must have been an "upsetting and frightening experience".
We need your consent to load this rte-player contentWe use rte-player to manage extra content that can set cookies on your device and collect data about your activity. Please review their details and accept them to load the content.Manage Preferences
However, he asked if an egg being thrown was "a big deal" in the overall scheme of things.
Ms O'Connell replied: "If you can throw an egg at a woman that works for a politician or scream the word c*** at a politician where is the line drawn?"
Mr O'Higgins put it to Ms O'Connell that she seemed to think three and a half hours in a car was a lifetime when in fact "the bulk of the occasion in the car was non-descript, things were quiet and you had huge level of garda protection. It must have been terribly boring and this is reflected in the exchanges that are recorded?"
Ms O'Connell said she did not accept it was calm, boring or a run of the mill day.
She said: "On the contrary it was a very difficult, upsetting day and there were times I was clearly more upset and panicked than others, hence part of the conversation, but I don't accept it was a calm peaceful day."
She also denied that an instruction from Ms Burton to send out a tweet was an attempt to caricature the people of Tallaght as those who let their children roam the streets without supervision and let their children run wild.
Ms O'Connell said "people say things when they are upset" and the tweet was never sent. However she did not agree that Ms Burton's judgement was impaired when she gave the instruction.
Mr O'Higgins suggested the reason for it was "to put the Jobstown events in the worst possible light and deny it any form of political legitimacy by caricaturing the people of Tallaght as the sort who would let their children run wild".
Ms O'Connell said she did not believe that was fair adding: "I understand that people want to protest about water charges but what happened was more than peaceful protest".
She also repeated that her use of the word "dregs" did not mean she was looking down on the protesters.
Mr O'Higgins said the dictionary defined the word as the end of a liquid or the most worthless parts of something, for example, the dregs of society.
Ms O'Connell said he was trying to characterise her as someone who looks down on people and she took exception to that.
Mr O'Higgins suggested this was her "true view of people that day" more so than her evidence today. Ms O'Connell said she entirely disagreed with that.
Her evidence has concluded.
The offences are alleged to have occurred on 15 November 2014, as the former tánaiste was attending a graduation ceremony at An Cosán Centre in Jobstown on 15 November 2014.
The defendants are: Solidarity TD, Paul Murphy, 34, from Kingswood Heights, Tallaght; Councillor Michael Murphy, 53, from Whitechurch Way, Ballyboden in Dublin; Councillor Kieran Mahon, 39, from Bolbrook Grove, Tallaght; Scott Masterson, 34, from Carrigmore Drive, Tallaght; Frank Donaghy, 71, from Alpine Rise, Tallaght; Michael Banks, 46, Brookview Green, Tallaght; and Ken Purcell, 50, from Kiltalown Green, also in Tallaght.
The trial is expected to last at least six weeks.