Testing for Covid-19 is no longer recommended for the vast majority of the population, following an update to the public health advice.
The move marks another significant step away from the measures announced during the pandemic, which started three years ago.
It means the remaining testing centres around the country have closed their doors and the online self-referral portal on the HSE website to book PCR tests is no longer in operation.
Also from today, healthcare workers, who are household close contacts, are no longer required to do antigen tests.
That means the antigen-ordering facility on HSE.ie has also been closed, with specific guidance to be issued to health and care workers.
The HSE said the decisions have been taken based on the best available evidence in relation to managing the virus and because there is now a high level of protection in the population through the vaccination programme and immunity from infection.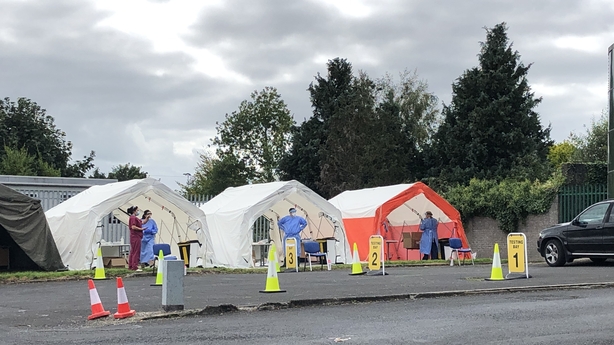 HSE National Director for Public Health, Dr John Cuddihy, said the move recognises "the high level of vaccine-induced and naturally acquired population immunity in Ireland, as well as the development of new treatments, all of which are mitigating the worst impacts of Covid-19 infection".
The HSE advises that people with Covid symptoms or other viral respiratory tract infections, such as a dry cough or high temperature, should stay at home and limit contact with other people until 48 hours after their symptoms have substantially or fully resolved.
But they do not need to do a Covid-19 test.
The HSE said PCR and antigen testing will continue to be used by doctors in hospitals and GP settings for the purpose of diagnosing and deciding on the provision of treatment for Covid-19.
Testing for the virus may also be used by public health teams in the management of an outbreak in a high-risk setting, where they believe that further transmission is likely and could have a serious impact.
The HSE said its response to Covid-19 is no longer focused on widespread testing and contact tracing.
Its Lead for Covid-19 Test and Trace and Vaccination, Eileen Whelan, said: "A reduced contact tracing service will remain and contact tracing will be limited to those who have had a positive test in settings and scenarios (such as hospitals and long-term care facilities) where further transmission is likely, and could have serious impact based on Public Health Risk Assessment."
Further details on the current public health advice can be found on the HSE website.
Closure of testing centres is 'great milestone' - Kingston
A leading immunologist has described the closing of Covid-19 community testing centres as "a great milestone."
Kingston Mills, Professor of Experimental Immunology at Trinity College Dublin, said he believed the move at this time was "the right decision."
He said that while the pandemic is not over, "the case for Covid-19 testing centres is no longer there," given the level of protection in the community.
Despite the changes, Prof Mills said people should still treat the symptoms of the virus seriously, as "a significant number of people are still getting infected."
"It is still worthwhile doing antigen tests if people think they have Covid, simply because they don't want to pass it on to vulnerable people.
"If you have Covid, the symptoms are probably quite similar to what you have if you have flu, but the virus that causes Covid is highly transmissible; therefore, it's very easy for you to pass it on to other people and the real risk is people who are older are immune-compromised".