The Chief Medical Officer has urged older people to reconnect with other people exactly three years on from the first case of Covid-19 being confirmed in Ireland.
Within weeks of that first case, schools were closed and people were ordered to largely stay at home and away from other people as much as possible to prevent the spread of the virus and hospitals being overwhelmed. Restrictions continued until January of last year.
In an open letter to older people in Ireland, as part of the multimedia campaign 'Hello Again World', Professor Breda Smyth addresses the isolation and loneliness experienced by older people during the pandemic, saying: "If you haven't yet returned to doing the things that you love, I am encouraging you to do so now."
Speaking on RTÉ's News At One programme, Ms Smyth said the letter was "inspired by the presence of loneliness".
Prof Smyth said the number of people in Ireland who reported feeling lonely all or most of the time doubled during the Covid-19 pandemic.
She said she wanted to reassure people that the world "is a safer place now" than it was early in the pandemic.
"I just wanted to take the opportunity to tell people that if they haven't already returned to doing things you love doing, I'm encouraging you to do so now," she said.
"Go to that card game, go to that cookery class, go to mass or the men's shed – all of these things that require us meeting other people, because these are prescriptions for better health and well-being."
Prof Smyth said all of the recommendations given throughout the pandemic were based on the best advice to protect people at that point in time.
She said they have prioritised this campaign because of the effects on isolation, mental health and physical health.
Meanwhile, the Taoiseach has promised a "full public inquiry" into Ireland's handling of the Covid-19 pandemic.
Leo Varadkar said it would include "what happened in nursing homes, what happened in hospitals, it will include what happened in the community, and the wider social and economic response".
Speaking in the Dáil, he said that when the virus arrived in Ireland the Government was advised by then HSE CEO Paul Reid that there was "no roadmap" and "no playbook" on how to handle it.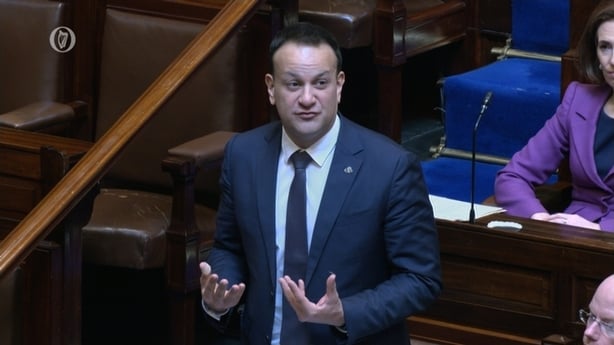 He said he was also told by the HSE that the Government would get 70% of things right and 30% of things wrong and Mr Varadkar said that was an accurate assessment.
Mr Varadkar added that it would always be the case that things look differently "with hindsight".
"The vast majority of people who died of Covid in Ireland were elderly and people who had underlying medical conditions. And that is how viruses work," he said.
He said out of respect to the thousands of people whose relatives in nursing and hospitals the impression should not be given that all of those deaths were preventable, but added some of them "might have been".
He was responding to Aontú leader Peadar Tóibín, who said "disastrous mistakes were made during Covid". Mr Tóibin said that there were 44 families who were starting legal actions against the State.
We need your consent to load this rte-player contentWe use rte-player to manage extra content that can set cookies on your device and collect data about your activity. Please review their details and accept them to load the content.Manage Preferences
It comes as the Health Service Executive said that more than a quarter of Covid deaths in Ireland were in nursing homes.
Consultant geriatrician and HSE National Clinical Lead in Stroke Dr Ronan Collins said that his experience is that older people are not resuming their normal activities after the pandemic.
But, he added, with the 'Hello Again World' campaign being launched by the Department of Health, it suggests that there are still people who perhaps have not re-engaged with society.
Speaking on RTÉ's Morning Ireland, he added: "I think most people have got back to life and were eager to get back to life.
"It should be remembered that loneliness and, for example, getting back to life is not just an age-related issue.
"And during the pandemic, the evidence would have shown us that, for example, feelings of well-being and feelings of depression and feelings of loneliness were actually greater amongst younger groups than there were amongst older groups.
"That being said, however, there are some issues obviously, that make it more difficult for older people to reengage if they have dropped activities because of mobility issues; because of maybe IT connection issues."
Dr Collins said that the conversation needs to broaden out into the topic of loneliness in general and how society reconnects.
"There are strong health benefits for both older and younger people by engaging with one or other intergenerationally, and I think that is a challenge for our society," he said.
---
Open letter from CMO Professor Breda Smyth to older people
It's now almost three years since the Covid-19 pandemic abruptly brought the shutters down on our everyday lives. While necessary public health measures helped curb the spread of the virus, they had far-reaching consequences for us all. Those who suffered illness or loss of life paid the highest price. However, all of us shared the burden as we stayed at home and stopped doing many of the things that bring joy to our lives.
Many older people, having been asked in the early stages of the pandemic to stay at home and cocoon, found the pandemic particularly isolating. This request was made of you at a time of global uncertainty about a new, unpredictable virus. It was made to protect you. I have in the past acknowledged, and would like to again express my thanks to you, for adhering to this advice in such numbers. Your compliance with public health restrictions played a significant role in Ireland's successful response to the pandemic.
In doing as you were asked, you will have missed out on family moments, or precious time with friends and neighbours doing the things you always enjoyed. No one should underestimate the impact of this isolation or the sense of loneliness that comes from the sudden disconnect from family and community.
We know that there is a strong link between loneliness and chronic health conditions, including heart and lung disease, stroke, and disorders such as obesity. It's also linked to poorer mental health. We all recognise the warm feeling that comes with spending time with people close to us. That "feel-good" factor is vital to our health, so it's important that we rebuild the connections that may have been lost during the pandemic.
We know that many people still feel apprehensive about getting out and about. So, I would like to offer my reassurance that today we are – thankfully – in a much better place. We have access to safe, effective vaccines. We know these vaccines save lives and help protect us from the worst effects of Covid-19. Your vaccinations offer a high level of protection, so you can feel safe while engaging with others. We also have effective antiviral treatment.
The pandemic has taught us to embrace stronger personal protective behaviours like handcleaning and practising good respiratory etiquette. With measures like these, we are learning to live with Covid-19. But we cannot allow it to steal more years from us.
If you haven't yet returned to doing the things that you love, I am encouraging you to do so now. Spend time with grandchildren, re-join local clubs or activities or get involved in your local community. All of us can play our part, by reaching out to the older people in our lives. Their wisdom and experience can only enrich life for us all. Understandably, people may still feel anxious about COVID-19, particularly those with underlying health conditions. Anyone who feels safer by wearing a mask should be supported in their choice.
So today, take that first step, and reconnect.
---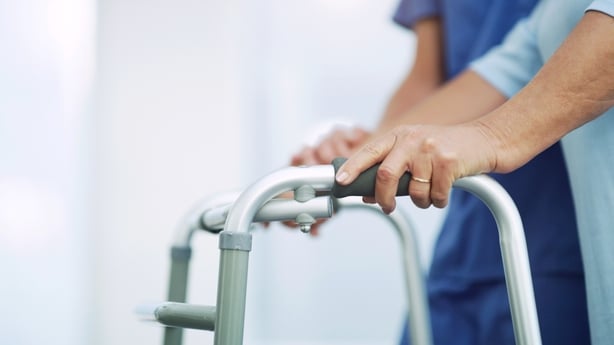 No clinical need for inquiry into nursing home deaths - doctor
Dr Collins said that he was not really surprised by the number of nursing home deaths during the pandemic as older people will often have complex medical conditions and some will also be frailer.
"So, the mortality would have been perhaps expected to be highest within that age group.
"That being said as well, there were factors around our nursing homes and the governance and medical management of our nursing homes about the State's preparedness to protect people in those settings and about our model of care and nursing homes in general, that left a lot to be desired."
He said that from a clinical point of view, he did not think there was any need for an inquiry into how nursing homes were handled.
Dr Collins said that from a clinical point of view, he did not think there was any need for an inquiry into how nursing homes were handled.
"I think we've done that already. An expert panel was set up in 2021 to look at the issue of Covid in nursing homes and the very high mortality, and indeed the problems that were readily identified, through research and through experience, early on.
---
---
"And that panel made its recommendations, and rather than an inquiry, I'd be asking, really, that we focused on and actually look at those recommendations that were made and how far are we along the road to implementing them."
He said that there was also the lived experience of people who had loved ones in nursing homes who he said do need to be given a voice.
"I think people's experiences need to be heard and in that regard there needs to be a mechanism to learn those very valuable and hurtful experiences that people had."
Dr Collins said that he was "very alarmed and concerned about the notion we were asking older people to cocoon in the early stages of the pandemic.
"I think it did a lot of damage. I think that's clear to everybody now and I think we're still seeing some of the consequences of that.
"It was such a fearful time. I think the Government acted in good faith" and acted on the best available advice at the time, he added.
Mr Collins said that looking at the death rate compared to other European countries, the Government's policy would have shown at least that it didn't fail. "I'm not saying it succeeded, but it didn't fail."