The Director of the National Virus Reference Laboratory has said that people who were infected with Covid-19 in December and January do not have protection against the current wave of the disease.
Dr Cillian de Gascun told RTÉ's This Week programme that the BA.4 and BA.5 variants currently in circulation in Ireland are "sufficiently different" from the B.A1 variant that caused a very large spike in December and January.
"The problem is that people who were infected with B.A1 don't have protection against B.A4 and B.A5," he said.
Asked if those people were at risk of getting the disease again, he said: "Yes, unfortunately."
However, he said people who got the virus in March or April, when the B.A2 variant was dominant, will have "some protection" during the current wave.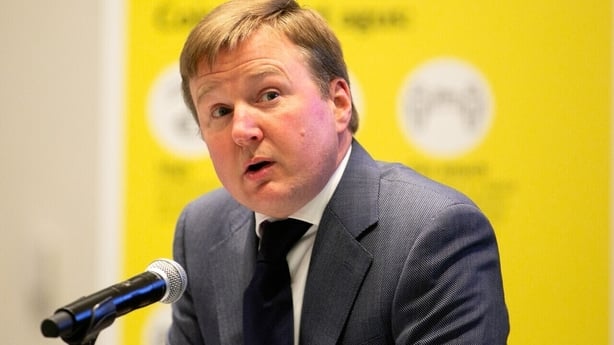 Dr de Gascun's comments come amid a further rise in the number of people with the virus in hospital.
As of 8am, there were 826 patients with in hospital with Covid, an increase of 30 on the same time yesterday. It compares to 746 people last Sunday.
The figure has also risen by 30% in two weeks and it has more than doubled from three weeks ago.
It also represents the highest level since 14 April, when there were 904 people with Covid in hospital.
The number of patients with Covid-19 in intensive care units remains relatively stable.
As of 11.30am, there were 32 people with the virus in ICU, down one on yesterday. It compares to 31 last Sunday and 23 on this day two weeks ago.
Health officials have said around half of those with the virus in hospital were admitted for other reasons.
Dr de Gascun said the duration of immunity from Covid infection is now "quite short ... maybe four to six months".
"The durability of immunity against people who were infected by Omicron variants is maybe even shorter than the previous variants, Alpha and Delta."
However, he said the variants currently circulating appear to cause less severe disease in vaccinated people because they infect the upper airways rather than the lungs.
Dr de Gascun said it would not be unreasonable for people to be offered a vaccine in the autumn so they have further protection against severe illness going into the winter.
"Based on what we've seen to date, it's not unreasonable to expect there will be an increase in cases, because human behaviour will change and more people will be indoors again," he said.
He said an Omicron-specific vaccine was being developed, but it was not clear whether it would pass the required regulatory tests to be offered to people in Ireland before the winter.
Dr de Gascun said people should continue to take precautions if they want to avoid the disease "including mask wearing on public transport, in crowded areas or in health settings".
"At times when there are very high levels of infection in the community, which there are now, you should consider wearing a mask in those settings," he added.
New Covid waves can be expected every few months - virologist
Meanwhile, an expert in virology has said new waves of Covid-19 can be expected every few months and not just on a seasonal basis.
Dr Gerald Barry, an assistant professor in virology at UCD, said: "It's not going to be seasonal, at least it doesn't appear to be like flu, where it kind of disappears during the summer.
"It is likely that its ability to spread is reduced during the summer, so it is a little bit seasonal I suppose, but nothing to the extent that we see with things like the flu, or other traditional coronaviruses that tend to disappear during the summer and come back in winter."
Speaking to RTÉ News, Dr Barry said that if the current pattern continues, new waves of the virus are likely "every three to four months".
Dr Barry said new variants of potential concern are already being identified elsewhere.
He said: "In India, for example, there's been a new variant reported in the last week or so that seems to be picking up pace and we would predict that would probably hit us in and around September or October time.
"It is likely that this kind of pattern, unfortunately, is going to continue for the foreseeable future."
He also called for an increased information campaign about the benefits of mask wearing, antigen testing and ventilation in helping to reduce the spread of Covid-19.
"There should be very strong advice that if people are concerned and want to avoid infection, one of the ways they can do that is by increasing their mask use by wearing well fitted masks - FFP2 potentially or higher - because that will reduce your risk of infection and also potentially reduce your risk of passing it on to other people as well," he said.
Dr Barry also believes the option of a second booster vaccine should be opened up to the general population and not just people aged over 65 and those with a weak immune system.
"I think considering what's happening and considering the likelihood of further waves, I think vaccination should be an option for everyone really," he said.
Additional reporting: Fergal O'Brien