Face masks are set to be no longer mandatory in airports and on flights in Europe, the European Union Aviation Safety Agency (EASA) and European Centre for Disease Prevention and Control (ECDC) have said.
The new recommendations will come into effect from Monday 16 May.
"From next week, face masks will no longer need to be mandatory in air travel in all cases, broadly aligning with the changing requirements of national authorities across Europe for public transport," EASA Executive Director Patrick Ky said in a statement.
He said passengers should continue to comply with the requirements of their airline and any passengers with cold symptoms, such as coughing or sneezing, should "strongly consider wearing a face mask".
ECDC Director Andrea Ammon said that while risks do remain, vaccines and other measures "have allowed our lives to return to normal".
She said that while mandatory mask-wearing in all situations is no longer recommended, face masks, along with good hand hygiene and physical distancing, are one of the best methods of reducing the transmission of Covid-19.
Ms Ammon said rules for masks will continue to vary by airline beyond 16 May and passengers are advised to make themselves aware of the guidelines.
She also said that vulnerable passengers should continue to wear a face mask regardless of the rules, ideally at FFP2/N95/KN95 type mask, which offer a higher level of protection than a standard surgical mask.
The Department of Transport has said Ireland's national guidance on in-flight mask wearing is being reviewed.
The department said it "expected that consultation with stakeholders on the matter will be concluded this week".
Aer Lingus has welcomed the decision to drop the mandatory requirement for a face covering on flights.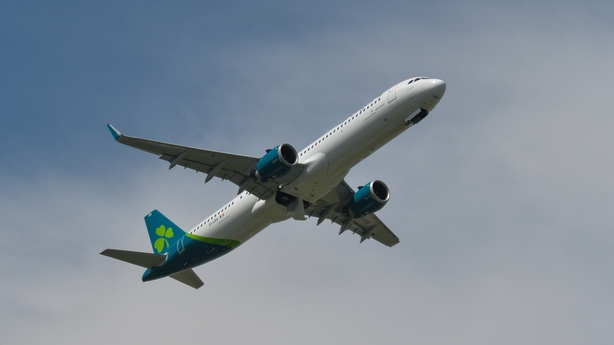 A spokesperson said: "Aer Lingus welcomes the publication of the revised EASA and ECDC Aviation Health protocol making the wearing of face masks in-flight optional for passengers beyond 16 May."
The airline has called for the guidance to be adopted by Ireland and other EU countries.
The spokesperson told RTÉ News that Aer Lingus now "urges the Irish Government and other European Governments to quickly revise their guidance accordingly to reflect such optional use of masks".
Ryanair said it welcomed the relaxation of the rules and said it expects the 15 countries where governments still require mandatory mask wearing on public transport t relax their rules.
Its CEO Eddie Wilson said: "We welcome this rule relaxation from EASA and the ECDC effective from Monday.
"From that date, face masks will be optional on all Ryanair flights except those flights to/from the 15 EU States where masks remain mandatory on public transport.
"We expect these States to relax their face mask rules over the coming days in line with these new health guidelines from EASA and the ECDC.
"Intending passengers can check the latest EU face mask regulations on the Re-Open EU website."
The daa, which operates Dublin and Cork Airports, currently recommends that people wear masks in the terminal buildings, but it is not mandatory.
A daa spokesperson said it adheres to the ECDC and EASA guidelines and will "fall into line" with the new European policy.
Additional reporting Fergal O'Brien