Italy's government has decided to ease several anti-Covid restrictions, including for schools, as Prime Minister Mario Draghi promised to "continue to advance on this path of reopening".
Among the changes announced was the end of distance learning for primary and secondary students regardless of the number who had tested positive in their class.
In kindergartens, classes will now switch to distance learning only when five or more students test positive -- compared to one previously.
According to a statement from his office, Mr Draghi told the Council of Ministers that adopted the new measures that schools had "always been a priority of this government".
Beyond education, "the duration of the vaccination pass for those who had three doses -- or two doses for those who have recovered -- will become unlimited," he added.
Previously the country's vaccination pass had only been valid for six months.
Travellers from countries with different vaccination rules than Italy will also now be able to use a simple health pass -- under which a negative test is sufficient -- to access places such as hotels and restaurants where a vaccination pass was previously required.
"In the coming weeks, we will continue to advance on this path of reopening," Mr Draghi said.
"The data on vaccinations is very encouraging."
"We want a more open Italy," he said, adding that the government would announce a timetable for further lifting restrictions based on the progress of the virus.
Nearly 88% of Italy's population over the age of 12 has been vaccinated and around 34 million people have received a third dose.
At a Council of Ministers meeting on Monday, the government extended rules making mask wearing outside mandatory and closing all nightclubs until 10 February.
France eases Covid curbs, including outdoor mask-wearing
France has begun lifting coronavirus restrictions including mandatory outdoor mask-wearing in a bid to ease citizens' daily lives, dividing opinion as the country only last month reported record Covid-19 infections.
Audience capacity limits for concert halls, sporting matches and other events were also removed, and although homeworking will no longer be mandated it is still recommended.
The move begins a two-part relaxation of curbs announced at the end of January - despite the country hitting record levels of daily cases last month - and comes as Ireland, England and Denmark also eased their restrictions.
France "will be able to lift most of the restrictions taken to curb the epidemic in February" thanks to the new vaccination pass, which replaced the health pass, Prime Minister Jean Castex said in January.
Since last month proof of inoculation records have been required for the new passes - needed to access everything from bars and restaurants to long-distance public transport.
Previously, the health pass could also be obtained with a recent negative Covid-19 test, a possibility the government ended in its bid to convince more people to get Covid jabs.
The second stage of the curb-lifting will see nightclubs, shut since December, reopen on 16 February and standing areas will again be allowed at concerts, sporting events and bars.
Eating and drinking will also be permitted in stadiums, cinemas and public transport from then.
---
---
Paris has not made the easing of restrictions conditional on the progress of the health situation.
Authorities view the threat of the Omicron variant as limited and less dangerous than previous strains of the virus, even though it is more contagious.
"We have seen a weak reversal of the trend over the past few days, with fewer cases declared each day than seven days earlier," government spokesman Gabriel Attal told France Info radio.
An average of 322,256 cases were recorded over the previous seven days, according to latest figures, compared with 366,179 a week ago.
Mr Attal called it a "very encouraging signal" but said officials "remain cautious" because of a "very contagious" sub-variant of Omicron that appears to have delayed the peak of infections in other countries.
Tonga closes borders as Covid detected
Tonga will close its borders after Covid-19 was detected in the previously virus-free Pacific kingdom as it struggles to recover from last month's deadly disaster, officials said.
Prime Minister Siaosi Sovaleni said two men tested positive this week in the capital Nuku'alofa and were in isolation.
He said the men had been working in the city's port, where humanitarian aid has been pouring in from around the globe since the 15 January volcanic eruption.
"The most important issue at the moment is to slow down and stop those who have been affected," Mr Sovaleni said during a national address last night.
"That's the reason for our national lockdown... no boat will be allowed to go from one island to another, no more (domestic) aeroplane flights."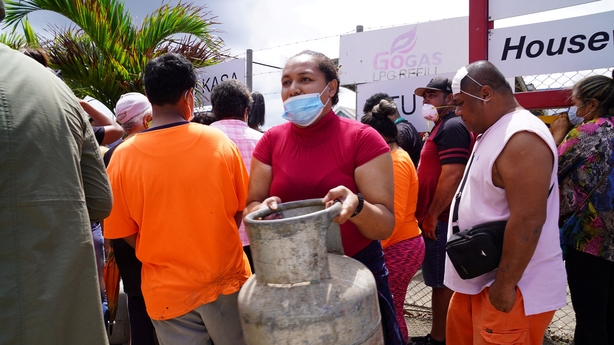 Tonga first closed its borders in early 2020 as the coronavirus pandemic swept the globe.
Since then, the nation of 100,000 had recorded just one case of Covid-19, a man who returned from New Zealand in October last year and has since fully recovered.
However, the devastating blast from the Hunga Tonga-Hunga Ha'apai volcano, which lies about 65km north of Nuku'alofa, created what the Tongan government described as an "unprecedented disaster".
The volcanic blast, one of the biggest recorded in decades, generated massive tsunami waves and blanketed the island nation in toxic ash, claiming three lives.
In response, Australia, New Zealand, the United States, China, France, Fiji and Britain have sent ships carrying aid including drinking water, medical supplies and engineering equipment.
All of the deliveries were to be handled using strict "no-contact" protocols in a bid to keep the virus at bay, including leaving goods in isolation for three days before they are handled by Tongans.
Mr Sovaleni did not reveal which ship the affected men had been working with.
He said they were asymptomatic and double vaccinated, along with about 85% of Tonga's population.
Australia's HMAS Adelaide docked in Nuku'alofa to unload supplies last week, despite a coronavirus outbreak that infected more than 20 of its crew.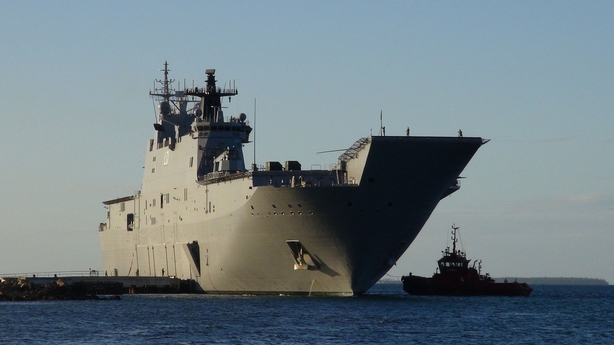 Australian defence chiefs said the warship was not the source of the outbreak on Tonga.
Australian Defence Force's operations chief, Lieutenant General Greg Bilton, said the Nuku'alofa outbreak "doesn't appear to have evolved from the Adelaide".
Lt Gen Bilton said the warship, which has recorded 51 Covid-19 cases among its 630-strong crew since leaving Brisbane last month, berthed in a different area of the harbour from where the two local men were working.
"We unloaded in a manner that was Covid-friendly, contactless, in line with arrangements made with Tongan officials at the wharf," Lt Gen Bilton told Sky News Australia.
"So I don't think there's any connection, there's no evidence of that."
Pfizer seeks US approval of Covid vaccine for children under 5
Pfizer and BioNTech said they are seeking emergency authorisation from US health regulators for use of their Covid vaccine for children aged over six months and under five years.
If the Food and Drug Administration (FDA) authorises the two-shot regimen, it will become the first Covid vaccine available to this age group in the United States.
The companies said that they started submitting their formal application "following a request" from the FDA, which seemingly wants to get the process moving quickly.
In a tweet soon after the announcement, the FDA said it will hold a meeting in two weeks, on 15 February, to consider the request.
"Having a safe and effective vaccine available for children in this age group is a priority for the agency," said interim FDA head Janet Woodcock, who added that the FDA asked for the application "in light of the recent Omicron surge."
The companies are seeking authorisation for only two doses of their vaccine, but believe a third will be needed "to achieve high levels of protection against current and potential future variants," Pfizer CEO Albert Bourla said in a statement.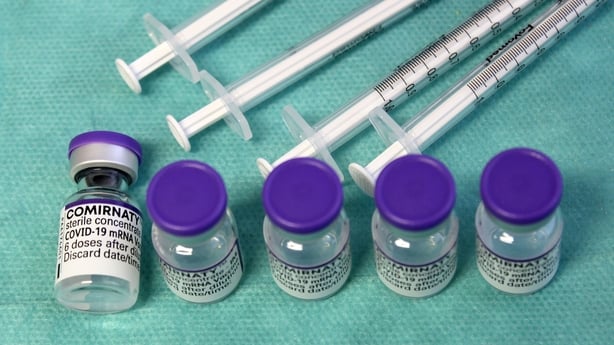 To limit side effects for this young age group, Pfizer chose to significantly decrease the dosage of its vaccine, opting for only three micrograms per jab versus 30 for those over 12 years old, and 10 for ages five to 11.
The company's researchers concluded last year that low doses of the vaccine provided protection in children up to two years old but not in those aged two to five, and announced in December they would add a third dose to their trials.
Data on the three-dose regimen is "expected in the coming months and will be submitted to the FDA to support a potential expansion" of this initial request, Pfizer and BioNTech said in the statement.
The Pfizer-BioNTech vaccine was approved three months ago for emergency use in children from five to 11, but uptake has been relatively slow.
In that age group, only 30% have received at least one dose and around 22% are fully vaccinated, according to the Centers for Disease Control and Prevention (CDC).
Young children are less susceptible to falling seriously ill with Covid-19, but some nonetheless end up hospitalised by the virus.
New paediatric Covid hospitalisations hit a record high in the United States in December as the Omicron strain spread rapidly.
Some cases of the life-threatening illness MIS-C (multi-system inflammatory syndrome in children), have also been reported in young children with Covid.
CDC data shows that about 400 children aged four and under have died from Covid-19 in the United States since the pandemic began.
Israel to curb use of Covid 'green pass'
Israel, one of the first nations to implement a vaccine pass, is to curtail its use in most places, authorities said, despite tens of thousands of daily coronavirus infections.
The government's coronavirus task force decided only "high-risk" events such as parties will require a "green pass" that certifies a person has been vaccinated or recovered from the virus, according to an announcement released by Prime Minister Naftali Bennett's government.
The new rules are to take effect on Sunday, pending approval from a parliamentary committee.
Facilities that have typically demanded proof of vaccination - including restaurants, bars, gyms and hotels - will likely drop the requirement if the measures are passed.
The change comes as cases of Covid-19 continue to remain at all-time highs, with more than 60,000 new cases recorded yesterday and 2,618 Covid patients in hospital.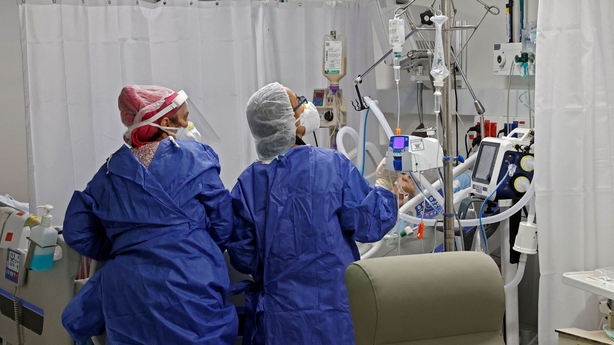 Epidemiologist Nadav Davidovitch, who sits on an expert panel advising the government on Covid, said the changes in the green pass made sense because vaccinated people were still being re-infected.
"To continue the green pass in the same way can create false assurances," he said.
"It's not reducing infections in closed spaces like theatres. It needs to be used mainly for high-risk places like hospitals, elderly care homes, or events when you are eating and singing and dancing."
Still, he said it would be "a mistake" to do away with the green pass altogether as Israel did in June 2021, only to reinstate it when cases surged again.
The new rules would also shorten the validity of the green pass to four months for people who received two vaccine shots. Those who received a third or fourth booster would see their green pass last indefinitely.
The task force further recommended that even unvaccinated people would be able to board a flight from Israel without a coronavirus test, provided their destination country did not require one.
Mr Bennett has vowed to avoid the strict closures Israelis endured earlier in the pandemic, before the vaccine rollout was complete.
Coronavirus cases are also surging in Israeli-occupied Palestinian territories.
The Ramallah-based Palestinian Authority announced it would close schools for ten days from tomorrow due to the virus.