Close contacts who are fully boosted and have no symptoms will no longer have to restrict their movements, under new advice to the Government from Chief Medical Officer Dr Tony Holohan.
Minister for Health Stephen Donnelly said he received the updated advice this afternoon and will be bringing it to a Cabinet meeting tomorrow.
For those close contacts who do not have the booster vaccine, they will have to restrict their movement for seven days and all positive cases will need to isolate for seven days.
Antigen tests will also no longer need PCR confirmation.
It is expected that, if agreed, the changes will be implemented within a day or two after the Cabinet meets.
The move comes as the Department of Health reported 19,290 new cases of Covid-19.
There are 1,062 people in hospital with Covid-19, a decrease of one since yesterday. 92 of these patients are being cared for in intensive care units, up three.
Speaking on RTÉ's Six One news, Mr Donnelly said that following the latest advice from the CMO, people will be able to upload positive antigen test results and close contact information to the HSE website.
He said antigen test kits would then be sent out to those named as close contacts.
We need your consent to load this rte-player contentWe use rte-player to manage extra content that can set cookies on your device and collect data about your activity. Please review their details and accept them to load the content.Manage Preferences
We need your consent to load this rte-player contentWe use rte-player to manage extra content that can set cookies on your device and collect data about your activity. Please review their details and accept them to load the content.Manage Preferences
Mr Donnelly said he believes that this and the other changes included in the latest advice, would ease the burden for people.
He said the advice was issued following consideration by the public health team of new ECDC advice, the latest epidemiological situation in Ireland, along with other factors.
The minister said Ireland has the second highest level of recorded Covid cases in Europe and yet, are close to the bottom in terms of hospitalisations and patients in critical care.
He said that so far, in spite of dealing with the huge number of Omicron cases, there has been no significant uptake in critical care.
Minister Donnelly said that under the reduced quarantine period for close contacts, people would be required to wear the higher grade medical masks for ten days or FFP2 masks.
They would also need to take regular antigen tests for a number of days after they have been deemed a close contact.
He said the Government will not be providing these masks for free but that the blue medical grade masks are relatively inexpensive.
Minister Donnelly said antigen tests are provided free for those in specific groups who register online as being symptomatic and this would be expanded from 350,000 tests a week to around half a million.
Sinn Féin's health spokesperson David Cullinane said the scrapping of the requirement for a PCR test should result in antigen tests being made available freely.
Anthony Staines, professor of health systems in Dublin City University, has described the proposed changes for Covid-19 close contacts as a "risky set of choices".
Speaking on RTÉ's Prime Time, Prof Staines said that what has reportedly been recommended by NPHET "is much more radical" than recent recommendations on close contacts made by the European Centre for Disease Prevention and Control (ECDC).
Prof Staines said that the move "could make the peak (of Covid-19 infections) wider, and that means more sick people, that means more hospitalisations, and unfortunately it means more deaths and more long Covid".
No immediate changes to hospitality rules
Minister Donnelly said there are no immediate changes being considered by Government to extend the 8pm curfew for hospitality and he said they are following "a careful path".
"We have no advice right now that we should be making any of those changes."
Speaking on Newstalk, he said only so much can be done at once and it is about managing the pandemic and caseloads while keeping public health measures in place.
Estimates put the Covid cases in Ireland between 400,000 and half a million a week, he said.
Minister Donnelly appealed to those who have not got their Covid-19 booster vaccine yet to get it.
He said there is a large number of people in their 20s, 30s and 40s who have not got their booster yet.
The impact of the boosters are extraordinary and they will keep people safe and reduce the risks for everyone, he said.
"If you haven't got it yet, now is a really good time," he said.
---
---
It comes as the leaders of the Government parties are expected to discuss advice from the Chief Medical Officer this evening.
Earlier, Tánaiste Leo Varadkar said he would like to see the relaxation of close contact rules to happen.
"Essentially when it comes to any public health advice you have to make sure that it does more good than harm," he said, adding that there is a problem now where some facilities and businesses are having to close due to staff being close contacts.
He said advice issued by the European Centre for Disease Prevention and Control at the weekend contains a table suggesting what governments can consider as options, with people who are fully vaccinated and boosted treated differently to those who are not.
"I think for people who are boosted and have had the third dose, who don't have symptoms and have a negative antigen test, it would make sense for us to allow them to go back to work and get on with their normal lives," Mr Varadkar said.
"I do think we need to relax the rules around close contacts, but I also think we need to do it in a way that is safe, and we're really relying on the CMO to come up with the best advice on that.
"Government will act on that in the morning."
The latest ECDC guidance allows for shorter isolation periods where there is extreme pressure on healthcare systems and society.
There is much for public health experts and Government to consider given that the updated guidance from the ECDC comes with the warning that it is not evidence-based.
If the rules are changed it would be followed by engagement with employers and an updated communications campaign would also commence.
The ECDC options for reducing the isolation period for close contacts of confirmed Covid-19 cases vary, depending on whether a person is vaccinated, or unvaccinated, and the level of pressure on health systems and critical functions of society.
In cases of the highest level, extreme pressure, in the case of vaccinated people, one option is not to have them isolate, but to wear a high efficiency mask and undergo a rapid antigen test or PCR test on day five.
These people would self-monitor for symptoms, keep their distance from others and avoid vulnerable populations.
Where there is high pressure on health systems, vaccinated people would be tested after being identified as a close contact and quarantine until they have a negative antigen or PCR result.
They would then need a negative test two-four days after their negative result.
For unvaccinated people, the quarantine periods could vary from five to 14 days, depending on the pressure on the health system and services.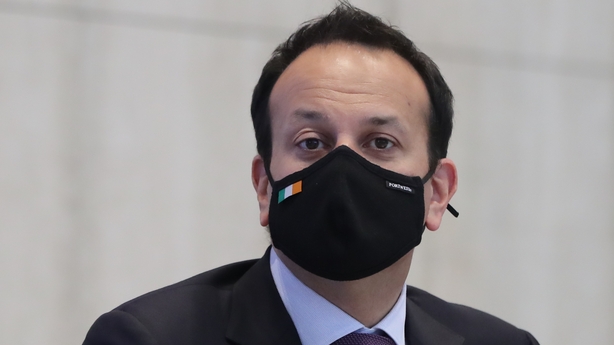 'Grounds for cautious optimism'
When asked about easing some hospitality restrictions, Mr Varadkar said there are "grounds for cautious optimism" in the medium term.
He said it is clear that the Omicron variant appears to be less severe than previous strains of the virus, and while they are seeing record numbers of cases, that is not translating into hospital admissions and deaths in the way it did in previous waves.
However, he said it is "not yet time to drop our guard" and they expect this wave to peak through the course of January, which would put them in a position to possibly start easing restrictions in February.
He said easing restrictions would have to be phased and done over a period of time, adding that Ireland has managed the pandemic "very well" relative to other countries.
"No matter what measure you use in terms of the impact on deaths and illness, there are very few countries in Europe that have performed better than Ireland," he said.
Up to 30% of hospital patients may be 'incidental'
The Tánaiste has said that up to 30% of cases of people in hospital with Covid could be "incidental".
Speaking on Newstalk, he said: "While we have 1,000 in hospital at the moment, what the doctors are saying to us is as many as 25%-30% of those could be incidental. It could be somebody who has a burst appendix but also has Covid.
"The NPHET definition of incidental is a very narrow definition and they'd say it's about 5% but certainly the doctors on the ground are saying otherwise, they're saying it's about 25%-30%," he said.
RTÉ News has asked the HSE if it can provide current data regarding the number of cases in hospital being treated for Covid-19 and also data on those patients in hospital for other reasons but who happen to have tested positive for Covid-19.
Additional reporting Fergal Bowers