Italy has tightened restrictions to curb surging Covid-19 infections, including banning all public New Year's Eve celebrations, as daily infections hit a record high, the government said.
Health Minister Roberto Speranza said mask wearing would be compulsory outdoors again and ordered people to use the more protective Ffp2 face masks on public transport and in public places, such as theatres, cinemas and at sports events.
In addition, concerts and open-air events will be banned until 31 January, and discos and dance clubs will have to shut their doors until that date, in an effort to prevent mass socialising during the holiday period.
The announcement came on the day Italy registered a record 44,595 new coronavirus cases - an increase of more than 70% in just a week, with the infectious Omicron variant starting to flare across the country.
Deaths are also starting to creep up, rising to 168 today, the largest number since May, but they remain well below rates seen during previous infection surges thanks mainly to the large number of people vaccinated in Italy.
Mr Speranza said almost 89% of Italians had been vaccinated, but the government wanted to speed up delivery of third booster shots, seen as the most effective shield against the Omicron variant.
The government will cut the waiting time for a booster following second vaccinations to four months from five.
In addition, ministers agreed to reduce the validity of Covid-19 health certificates, which are needed to access an array of places and services, in recognition of the fact that vaccine effectiveness fades over time.
As a result, from 1 February, the certificates, which register if someone has been vaccinated or has recently recovered from coronavirus, will only be valid for six months rather than nine at present.
Italy was the first Western country to be hit by the pandemic last year and has so far registered 136,245 deaths - the second highest tally in Europe after Britain.
However, its vaccination campaign has proved one of the most effective in the world and the government has said it is determined to avoid a return to generalised lockdowns.
Spain's Catalonia to reimpose curfew as cases rise
Spain's Catalonia will reimpose a night-time curfew starting Christmas Eve to fight a record spike in Covid-19 infections after a court approved the measure in the northeastern region.
It is the first Spanish region to reinstate a nightly curfew in response to surging infections fuelled by the Omicron variant.
Catalonia's regional government earlier this month asked the courts to approve a nightly curfew between 1am and 6am in areas where infection rates surpass 250 cases per 100,000 inhabitants, a criteria met by virtually the entire region.
It also sought permission to close nightclubs, cap indoor restaurant capacity at 50%, and limit gyms and theatres to 70% capacity to try to curb infections over the holidays.
The measures will start tomorrow and will last 15 days, affecting most New Year's celebrations.
The court said the measures were "proportional" and had struck a balance between "a limited restriction of rights" and the "protection of individual and community heath".
Spain has around 80% of its population of 47 million people vaccinated.
Until recently, it had avoided the surge in infections seen elsewhere in Europe which led to tighter rules.
But the arrival of the Omicron variant of the virus has fuelled infections, with a record of just over 60,000 new cases recorded yesterday, even if hospital admissions and ICU occupancy remain lower compared to previous Covid-19 waves.
"Omicron has changed the panorama. We must reintroduce measures which we don't like but which are necessary," the head of Catalonia's regional government, Pere Aragones, said.
Omicron accounted for around half of total Covid-19 infections in Spain in the week ending on 12 December, having shot up from just 3.0% the week before, according to health ministry data.
---
---
Catalonia has been especially hard-hit by the latest wave of infections, with around 30% of its intensive care unit beds occupied by Covid patients, twice the national average.
The region of around 7.7 million people on the border with France and Barcelona as capital imposed a nightly 1-6 am curfew in mid-July in most municipalities due to rising infections.
A court ordered it lifted the following month after infections dropped, arguing it was no longer justified.
Spain's central government imposed a nationwide nightly curfew in October 2020. It was lifted in May 2021.

Australian states reinstate curbs as Omicron cases jump
Australia's two most populous states re-introduced Covid-19 curbs as daily infections hit their highest amid an outbreak of the highly infectious Omicron variant and a rush on already-stretched testing clinics.
New South Wales state, home to a third of Australia's 25 million population, said it was again making it mandatory to wear masks indoors in public places, while venues were told to limit visitors and re-activate customer check-in via QR code.
Victoria state, which has nearly the same population, also re-introduced a mask mandate, citing the need to reduce the stress on the health system.
The changes two days before Christmas are a stumble in the country's plans for a permanent reopening after nearly two years of stop-start lockdowns as the new variant rages through the community in spite of double-vaccination rates of more than 90%.
Hospitalisations and deaths remained low, but the explosion of infections had created a risk of healthcare workers being furloughed by testing positive, the authorities said.
The country recorded more than 8,200 new cases, by far its biggest daily rise since the pandemic began, from a previous record of 5,600 a day earlier, mostly in NSW and Victoria.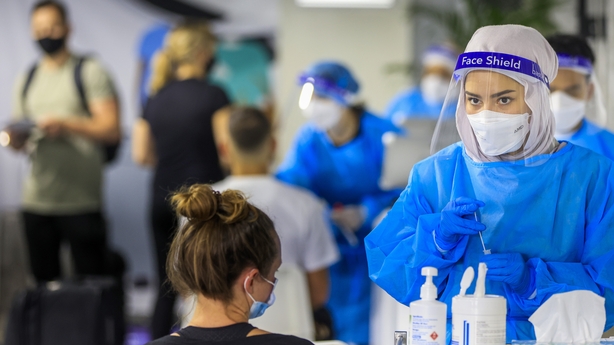 "Today's changes are modest, cautious and take a precautionary approach as we move through this holiday period to the end of January," New South Wales Premier Dominic Perrottet told reporters.
Until today, Mr Perrottet had urged the state to hold steady on a plan, agreed between state and federal leaders, to remove restrictions once the vaccination rate exceeded a certain level.
He had steadfastly refused to re-introduce mandated indoor mask wearing, a move called on by the country's doctors and health workers, saying it was now time to live with Covid-19.
Prime Minister Scott Morrison has vowed never to return to lockdowns, saying Australians must now take personal responsibility for managing their health.
In another change of messaging, Mr Perrottet urged people to avoid going for Covid tests if they had received a notification of being a possible contact with an infected person but were not experiencing symptoms.
With reports of hours-long wait times at testing centres, blamed on people planning to travel interstate before Christmas, Mr Perrottet said that "this is putting enormous pressure on the system ... but we need to make sure those people who need to get tested get tested in a timely way".
Most states require travellers to have a negative test result 72 hours before departure in order to be allowed entry ,even as Mr Morrison has urged them to ease the testing requirement.
Despite the spike in cases, hospitalisations remain far lower than during the Delta wave, with about 800 people in hospital out of nearly 44,000 active cases.
But only 37 of those are Omicron cases, the health department said in an emailed response. Only one case is in intensive care and no deaths have been reported from the Omrican variant.
Even amid the Omicron wave, Australia's tally of 273,000 infections and 2,173 deaths is far lower than many countries.
Xi'an in lockdown as China eyes zero-Covid Olympics
Thirteen million people in a major Chinese city were under strict stay-at-home orders starting today to stop the spread of Covid-19, as authorities scramble to keep their zero-case strategy six weeks ahead of the Winter Olympics.
Xi'an - home to the world-famous Terracotta Warriors - sharply tightened travel restrictions and told residents to stay home, after several hundred recently reported infections were linked to an initial case at a university in the city.
With Beijing preparing to host the 2022 Winter Olympics in February, China is on high alert as it fights local outbreaks in several cities.
But cases have been bubbling up in recent weeks.
Xi'an reported another 63 cases today, days after authorities began mass testing all 13 million residents.
Cases from Xi'an have so far spread to five other cities, according to state media, including one traced in Beijing and another in southern Guangdong - fuelling fears about how quickly the virus can spread geographically across the vast country.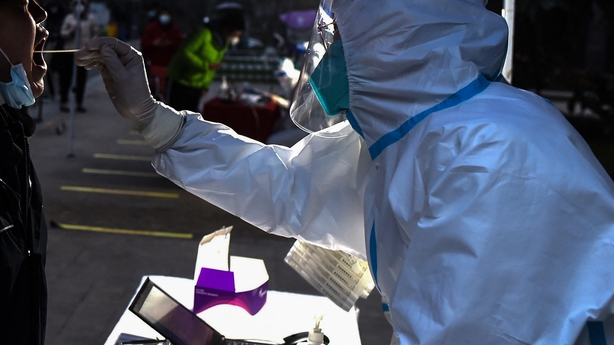 From midnight tonight, all households may only "send one household member outside once every two days to purchase necessities," with all others ordered to remain indoors except for emergencies, the city government said in a statement.
Residents "should not leave the city unless necessary," it said, adding those seeking to leave would have to apply for approval.
All non-essential businesses have been ordered to close.
Large-scale meetings have been suspended, while the museum housing the world-famous Terracotta Army - the 2,000-year-old mausoleum of China's first emperor - has shut until further notice.
Vice Premier Sun Chunlan visited Xi'an a few days before the lockdown, and warned the situation was "grave and complicated".
She urged "swift virus containment measures to curb the spread", according to official news agency Xinhua.
China - where the coronavirus was first detected - has slowed new cases to a trickle since the middle of last year, implementing a strict zero-Covid strategy involving tight border restrictions, targeted lockdowns, lengthy quarantines and population tracing technology.
Even a single case can lead to a swift imposition of curbs, and officials deemed to have failed at controlling Covid are often sacked.
State broadcaster CCTV showed Ms Sun meeting local officials and health workers in hazmat suits, before inspecting a series of mobile testing labs.
The country has stepped up already-strict measures as it braces for the arrival of thousands of international athletes for the Olympics in February.
The capital Beijing is demanding negative Covid tests from all visitors and limiting flights from other cities.
Greece makes face masks compulsory for festive season
Greece has said face masks would be compulsory both indoors and outside to limit the spread of the coronavirus during Christmas and New Year gatherings.
More than 20,000 people have died of the virus with over 600 currently in intensive care there. The government has resisted calls from health experts for additional safeguards and mobility restrictions, even among the vaccinated.
"There is major mobility during the festive season and large crowds gather outdoors," Health Minister Thanos Plevris told reporters.
"As of 0400 GMT on Friday... masks will be compulsory in all indoor and outdoor areas," he said, adding that the measure would remain in force until at least 2 January.
All public Christmas and New Year's festivities have been cancelled and incoming travellers have been urged to test themselves on the second and fourth day after arrival, the minister added.
Additional restrictions on entertainment, sport and remote work will be announced in the coming days for the period following January 3, Mr Plevris said.
"It's not just coronavirus that is dangerous in life. Bankruptcy is dangerous too, so is unemployment," Development Minister Adonis Georgiadis told Mega TV this week.
Though over 16.5 million vaccinations have been carried out, including nearly three million booster jabs, authorities have had trouble persuading Greeks over 60 to take the jab.
A monthly fine of €100 has been imposed to persuade the elderly to take at least one vaccine shot by mid-January.
Russia's coronavirus death toll tops 600,000

Russia's coronavirus death toll passed the 600,000 mark, Reuters calculations based on official data showed, after a surge of infections linked to the Delta variant.
Russia had the third highest toll in the world with 600,434 fatalities, behind the United States which has recorded around 813,000 deaths and Brazil with 618,000.
The Omicron variant which is spreading fast in other countries has so far made little impact on the Russian data. Officials said this week they had detected only 41 cases.
The calculations were based on figures from the Rosstat statistics service up to the end of October, and data from the Russian coronavirus task force for November and December.
Rosstat figures usually exceed those given in daily updates by the coronavirus task force. It has yet to publish figures beyond October.
Authorities say the discrepancy between the two sets of data is down to the fact that the task force daily reports obvious cases, whereas Rosstat publishes fully confirmed data on a monthly basis.
The Russian coronavirus task force reported 1,002 deaths and 25,667 new infections in the past 24 hours.
Ecuador has became the first country to make coronavirus vaccines obligatory for children as young as five, following the arrival of the Omicron variant in the South American country.
"In Ecuador, vaccination against Covid-19 is declared compulsory," the health ministry said in a statement.
"Compulsory vaccination applies to persons five years and older," the ministry told AFP.
Some 69 percent of Ecuador's population of 17.7 million people have received two vaccine doses to date, and 900,000 have received a third, booster dose.
Everyone from the age of five is eligible to be vaccinated.
Ecuador has registered nearly 540,000 coronavirus cases to date, and 33,600 deaths.
People with medical reasons for not getting the vaccine will be exempt from the mandatory jab, the ministry said.
It added the decision was founded in Ecuador's constitution, in which the right to health must be guaranteed by the State.
To combat a rise in new cases after the Omicron variant was first detected a week ago, Ecuador has made it compulsory to present a vaccine record for people to enter restaurants, shopping malls, cinemas, theaters and other public places.
Vaccination is mandatory in Tajikistan, Turkmenistan, Indonesia, Micronesia and New Caledonia, for adults.