The Department of Health has confirmed 5,124 new cases of Covid-19, with the Omicron variant now the dominant strain in Ireland.
There are 436 Covid patients in hospital, which is up 26 from yesterday, with ICU numbers unchanged at 107.
The department said that it is estimated that 52% of reported cases are now due to the Omicron variant.
Chief Medical Officer Dr Tony Holohan said: "It has taken less than two weeks for Omicron to become the dominant strain of Covid-19 in Ireland, revealing just how transmissible this variant is.
"We have slowed transmission of this disease in the past using our basic measures and responding immediately if symptomatic - it is extremely important we do everything we can to flatten the curve of this wave now to prevent unnecessary deaths, risk to the vulnerable and to protect our health service.
"I urge anyone eligible for a booster to avail of it at the earliest opportunity.
"If the majority of us can now reduce our social contact, meet others outdoors, work from home unless absolutely necessary, ensure the appropriate use of face masks, avoid crowds and keep indoors well ventilated.
"Very importantly if you have any Covid-19 symptoms, self-isolate immediately and arrange a PCR test. If you are a close contact of a confirmed case please restrict your movements."
Possible Omicron cases can be identified by the number of PCR results with 'S gene target failure.' Using this methodology, we estimate that 51.6% of reported cases are now due to the #Omicron variant.

— Department of Health (@roinnslainte) December 19, 2021
It is understood that the Chief Medical Officer has also assured the Government that a lockdown is not among plans to deal with the situation.
Almost 50,000 boosters administered across country today
HSE Chief Executive Paul Reid said that almost 50,000 vaccine boosters were administered across the country today.
From today, people in the 40-49 age group are eligible to get Covid-19 booster vaccines in vaccination centres, GPs and pharmacies.
Booster vaccinations for this cohort had originally been slated to begin from 27 December, however that was brought forward.
In a post on Twitter, Mr Reid said that more walk-in centres will open this week.
Today there were almost 50,000 vaccines administered (final count tbc). But over 37,000 in VCs & 10,000 in GPs & Pharmacies. Huge credit to the public for showing up & to everyone involved. We're racing hard to mitigate against #Omicron. More walk-ins open this week @HSELive

— Paul Reid (@paulreiddublin) December 19, 2021
There were reports of hundreds of people queuing at vaccine centres around the country this morning. The HSE said there was long waiting times at a number of centres and many walk-ins were turned away.
At Citywest in Dublin, there were significant tailbacks on the N7 and a queue of up to three hours for the jab at one point.
Some centres reported smaller queues and no queues in the afternoon after a busy morning.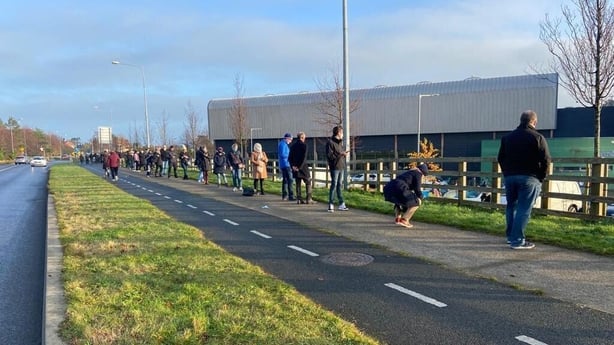 Elsewhere, the extension of the vaccine booster programme to 18 to 29-year-olds in Northern Ireland has been brought forward to today with immediate effect.
The latest figures there show 1,798 positive cases of Covid-19 in the past 24 hours and two more deaths.
---
Read more: Find a vaccination centre near you
---
The HSE Chief Clinical Officer has described entering Christmas with a new and even more transmissible variant as a "cruel blow" for everyone.
Speaking on RTÉ's This Week programme, Dr Colm Henry said that it is not just an Irish problem, "it is a problem right across the world".
He warned of the potential threat Omicron poses to the health service.
"Even if a lower proportion of cases translate through to hospitalisation and ICU that will create considerable pressure on an already exhausted and fatigued healthcare system," he said.
He described it as "a rapidly changing scenario".
"But as things become clearer, it is becoming very, very evident that this is going to displace Delta in the coming weeks, becoming the predominant variant and existing protection that people have either [through] natural infection or from primary vaccination regimes provides much more limited protection, if no protection at all," he said.
Dr Henry warned that "no healthcare system in Europe would be able to withstand unmitigated surges of this Omicron variant, if it translates into the predicted harm".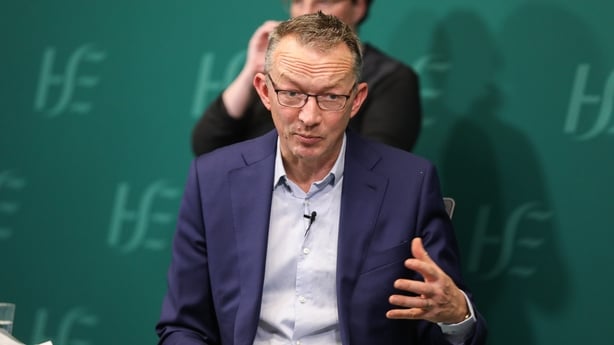 He said that with the support of "an exhausted, but committed workforce" in ICUs, the HSE expanded to surge capacity initially last January to up to 350 beds, which was 60 or 70 beds over the base.
"We have a surge capacity that we can go up to again, but that's dependent on redeploying staff from other areas and curtailing and cancelling other activity," he added.
Dr Henry said that 5,000 healthcare workers are currently absent due to Covid.
He said: "That's people who directly have Covid themselves or are close contacts or for whatever other reason.
"Of course, as with last January, this created huge difficulties for us when you saw multiple outbreaks in healthcare sites such as hospitals, nursing homes, and other hospital community facilities."