London Mayor Sadiq Khan has declared a "major incident" to help the city's hospitals cope with a surge in Covid-19 cases caused by the fast-spreading Omicron coronavirus variant.
Mr Khan took the step, which allows for closer coordination between different public agencies, after Britain reported the largest 24-hour increase in the number of new cases yesterday since the pandemic began.
Hospital admissions and health worker absences are rising, Mr Khan said, "so I've taken the decision, in consultation with our partners, to declare a major incident today".
"This is a statement of how serious things are," he said.
Mr Khan, from the opposition Labour Party, also declared a major incident in January when rising Covid-19 cases threatened to overwhelm hospitals.
The Omicron variant is estimated to account for more than 80% of new Covid-19 cases in London.
Cases in the UK of the fast-spreading Omicron variant of the coronavirus jumped sharply to almost 25,000, while the total number of reported deaths among people with it so far rose to seven, according to British health authorities.
Confirmed Omicron-variant Covid-19 cases hit 24,968 as of 6pm yesterday, up by just over 10,000 cases from 24 hours earlier, the UK Health Security Agency said today.
Deaths of people who had the Omicron strain rose to seven as of yesterday, up from one in the UK HSA's previous data which ran up to 14 December, and hospitalisations increased to 85 from 65.
Overall, the UK reported 90,418 new Covid-19 cases today - down from a record of just over 93,000 yesterday - and 125 deaths, government statistics showed today.
Cases were up 44.4% over the seven days to 18 December compared with the previous week.
Deaths, which typically lag changes in case numbers, were down by nearly 6% over the same period.
Two-week lockdown among plans to tackle Omicron in UK
Meanwhile, Britain is facing tougher pandemic measures to stem the spread of Omicron, reports have suggested, as ministers debate how to tackle the rising number of infections.
The Financial Times reported that Boris Johnson was presented with a number of options yesterday under a so-called Plan C, ranging from "mild guidance to nudge people, right through to lockdown".
The newspaper quoted allies of the prime minister who claimed Mr Johnson still wanted to go down the guidance route, but that he also had to be realistic about the threat of Omicron.
Leaked minutes from the Scientific Advisory Group for Emergencies (Sage), seen by the BBC, said scientists had told ministers that tougher measures need to be brought in "very soon".
The BBC reported the advisers had recommended moving to restrictions seen in step one and two of the easing of lockdown restrictions in the spring. This included a ban on indoor mixing and indoor hospitality.
They reportedly warned against delaying further interventions until 2022.
The Times reported that draft regulations were being prepared, which could ban meeting others indoors except for work purposes, and that pubs and restaurants would be limited to outdoor service only, for two weeks after Christmas.
A government spokesperson said: "The government will continue to look closely at all the emerging data and we'll keep our measures under review as we learn more about this variant."
'We need to act now'
Meanwhile, a leading adviser to the British government said the most effective way to stop the spread of the Omicron variant would be to have a circuit-breaker lockdown before Christmas.
Stephen Reicher, professor of social psychology at the University of St Andrews and member Sage, said it was clear that Plan B measures alone would not be enough to stop the spiralling numbers of cases.
Prof Reicher, who was speaking to Times Radio in a personal capacity, said the time to act was now.
He told Times Radio that "all the science suggests that (Plan B is) not going to be enough".
Prof Reicher said: "The only way really, or at least the most effective way, we can have an immediate effect is to decrease the number of contacts we have.
"In many ways, the most effective way of diminishing contact is to have a circuit-breaker.
"Now, you could have it after Christmas, the problem is after Christmas it's probably too late, it's probably by then we will have had a huge surge of infections with all the impact upon society.
"When people say 'look, we don't want to close down', of course, we don't want to close down. But the problem is at the moment, things are closing down anyway, because of the spread of infection.
"So I think we need to act now."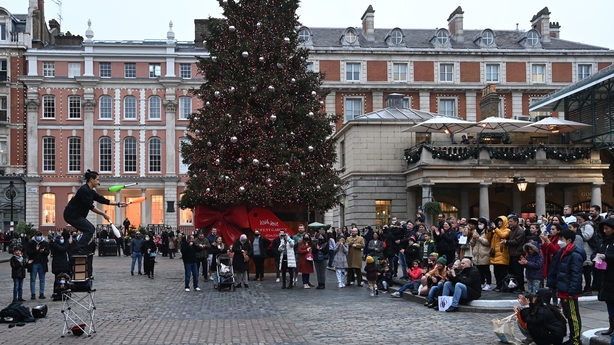 It comes after Chancellor Rishi Sunak flew back from a work trip to California early for crisis talks with business leaders concerned about the impact of measures, especially on the hospitality sector.
Mr Sunak met virtually with the Confederation of British Industry, the Federation of Small Businesses, and the British Chambers of Commerce yesterday afternoon.
The groups raised concerns about the impact of cancellations across hospitality in the run-up to Christmas, and the importance of clear messaging from the Government.
The UK's devolved administrations have ramped up their demands for more financial support as Omicron cases continue to fuel infection rates.
A Cobra meeting is set to be held over the weekend with the leaders of the devolved nations.
Mr Johnson has warned Omicron is "a very serious threat to us now".
On a visit to a vaccination centre in Hillingdon, west London, yesterday, he said: "We are seeing a considerable wave coming through and people have got to be prepared and they have got to understand what it entails."
Coming to a town near you pic.twitter.com/aS4bsOKblP

— Theo Sanderson (@theosanderson) December 17, 2021
Asked about conflicting messages from the government and its advisers on socialising over the Christmas break, Mr Johnson said: "What both Chris Whitty and I are saying is that there is a big wave of Omicron coming through.
"People need to be prudent. You need to think about your budget of risk."