France will ban non-essential travel to and from Britain from the weekend to slow the spread of the Omicron Covid-19 variant that is causing record numbers of cases on the other side of the Channel, the government has said.
From midnight Saturday there will be a "requirement to have an essential reason to travel to, or come from, the UK, both for the unvaccinated and vaccinated ... People cannot travel for touristic or professional reasons," the government said in a statement, adding that French citizens and EU nationals could still return to France from the UK.
Earlier, government spokesman Gabriel Attal told BFM television "We will put in place a system of controls drastically tighter than the one we have already," adding that the office of Prime Minister Jean Castex would issue a statement on the new measures in the coming hours.
Mr Attal said the policy was aimed at "tightening the net" to slow down the arrival of Omicron cases in France and give time for the French vaccination booster campaign to make more ground.
"Our strategy is to delay as much as we can the development of Omicron in our country and take advantage to push ahead with the booster drive," he said.
British transport minister Grant Shapps said that hauliers would be exempt from the new Covid-19 controls being introduced by France.
"To confirm I have liaised with my French counterpart ... and hauliers will remain exempt," he said on Twitter.
We need your consent to load this rte-player contentWe use rte-player to manage extra content that can set cookies on your device and collect data about your activity. Please review their details and accept them to load the content.Manage Preferences
Britain yesterday recorded a record 78,610 laboratory-confirmed Covid cases, with scientists predicting even higher rates as Omicron is believed to spread much faster than the currently dominant Delta variant.
The tight travel restrictions are also being imposed during what analysts see as a breakdown of trust between the British and French governments in the wake of Brexit over a host of issues from migrants to fishing.
French President Emmanuel Macron last week accused UK Prime Minister Boris Johnson's government of failing to keep its word on Brexit, saying "the problem with the British government is that it does not do what it says".
Denmark first in EU to authorise Merck Covid pill
Denmark has recommended US drugmaker Merck's anti-Covid treatment molnupiravir for at-risk patients with symptoms, becoming the first EU country to do so.
The pill-based treatment, marketed under the name Lagevrio, was backed for emergency use by the European Medicines Agency (EMA) in mid-November, allowing individual EU countries to decide for themselves whether to use the pills even before being formally authorised.
Lagevrio has been approved since November in the UK and is in the process of being approved in the US.
"We are recommending the pill treatment because we believe that the benefits outweigh the harms for those patients who are most at risk of becoming severely ill with Covid-19," Kirstine Moll Harboe at the Danish Health Authority said in a statement.
"At the same time we are fully aware that this is a new and unapproved treatment about which we do not yet have much knowledge."
Moll Harboe said the effects of the treatment would be closely monitored.
Denmark is suffering from a record wave of Covid-19 cases and an outbreak of the new Omicron variant, which is expected to become the dominant strain in Copenhagen this week.
"We hope that the treatment will help reduce the number of hospital admissions for patients at high risk of severe disease," Moll Harboe said.
The full results of the clinical trial released on 26 November by Merck were disappointing as they showed a much lower efficacy than earlier reports based on interim data.
According to the full results, the drug reduced the rate of hospitalisation and death for at-risk patients who took it shortly after infection by 30% - not 50% as previous results showed.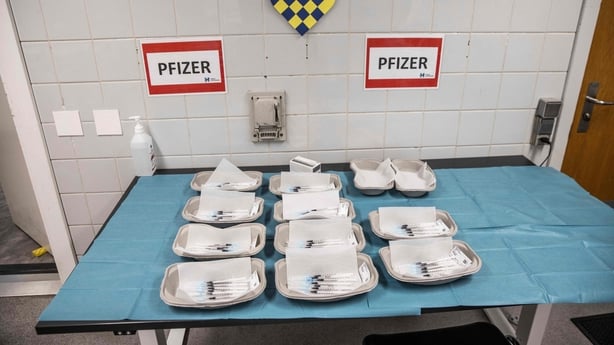 Meanwhile, Denmark's Prime Minister Mette Frederiksen has warned that further measures to curb a third wave of the Covid-19 epidemic could be imminent after the Nordic country saw a doubling of daily cases of the Omicron variant.
"Infection rates are unfortunately as expected very, very high," Mette Frederiksen said on Instagram.
"I have no doubt that new initiatives will be needed to break the chains of infection," she wrote.
Denmark has logged almost 3,000 Omicron infections in the past 24 hours, bringing the total number of cases to 9,009.
Daily infections also broke another record, as 9,999 new ones were logged. Death rates and hospital admissions, however, are still far below the levels seen a year ago.
The government will meet with parliament tomorrow to discuss the latest recommendations from health authorities, typically a sign that new restrictions are in the pipeline.
Travel on agenda at EU summit
European Union leaders will discuss a joint response to the spread of the Omicron variant of Covid-19, with the debate expected to include a discussion of PCR testing requirements for travellers.
EU countries have been debating for over a week how to coordinate internal travel policy, with differences of views over how long vaccines are effective.
Both Portugal and Italy now require tests for vaccinated travellers.
Greek Prime Minister Kyriakos Mitsotakis, whose country's economy is highly dependent on tourism, said additional tests were acceptable with the condition they are only applied during the upcoming Christmas holiday period.
"It's a battle against time but every week that we gain before Omicron really hits us is a gain," he told reporters before the summit with fellow EU leaders.
Sweden to extend vaccine pass rules to Nordic travellers

Sweden will require visitors from other Nordic nations to have a vaccine pass to cross the border as it gradually tightens restrictions amid rising cases of the Omicron variant of the coronavirus, the government said.
"We see an increase in infections in Europe, but also in our neighbours," news agency TT quoted Prime Minister Magdalena Andersson as saying.
"For visitors from any country except the Nordics, we have a requirement for a Covid pass. Today, the government is going tot ake the decision that there will be the same requirement also for the Nordic countries."
The new regulation will come into force on 21 December, TT said.
Sweden has seen a sharp rise in new infections in recent days, if from a low level.
It has reintroduced a limited number of measures and has said further steps would be needed if infections kept on climbing.
Earlier this week, Norway tightened Covid restrictions in a bid to limit the spread of the Omicron variant amid record levels of infections and hospitalisations.
Denmark has also reintroduced restrictions, including closing primary schools and limiting opening hours for restaurants and bars.