The Omicron variant of the coronavirus is spreading swiftly and will become the dominant variant in the British capital in the next 48 hours, Health Secretary Sajid Javid has said.
"No variant of Covid-19 has spread this fast," Mr Javid told parliament.
"While Omicron represents over 20% of cases in England, we've already seen it rise to over 44% in London and we expect it to become the dominant Covid-19 variant in the capital in the next 48 hours."
British Prime Minister Boris Johnson earlier said at least one person had died in the UK after contracting the Omicron coronavirus variant.
It is the first publicly confirmed death globally from the swiftly spreading strain.
Since the first Omicron cases were detected on 27 November in Britain, Mr Johnson has imposed tougher restrictions and yesterday cautioned that the variant could overcome the immune defences of those inoculated with two shots of vaccines.
Britain gave no details on the death or whether the patient had been vaccinated or had underlying health issues.
Deaths from Omicron may have occurred in other countries but none has been publicly confirmed yet outside Britain.
"Sadly at least one patient has now been confirmed to have died with Omicron," Mr Johnson told reporters at a vaccination centre in London.
"So I think the idea that this is somehow a milder version of the virus - I think that's something we need to set on one side - and just recognise the sheer pace at which it accelerates through the population."
People have been waiting as long as five hours to receive their booster jabs in parts of England today.
Long queues were seen outside vaccination sites, as Mr Javid said the British government will "throw everything at" the Covid booster programme to tackle the Omicron variant.
A lengthy queue developed at St Thomas' Hospital in central London, just across the Thames from the Houses of Parliament, after Boris Johnson brought forward the target of offering a Covid-19 booster jab to every adult by a month.
The target had previously been the end of January, but that has been brought forward to the end of December.
Staff at St Thomas' told people queues of up to five hours were expected.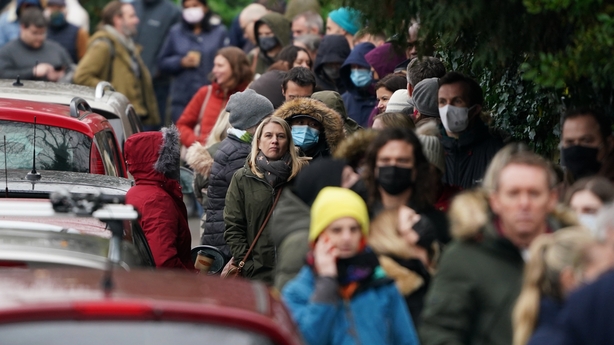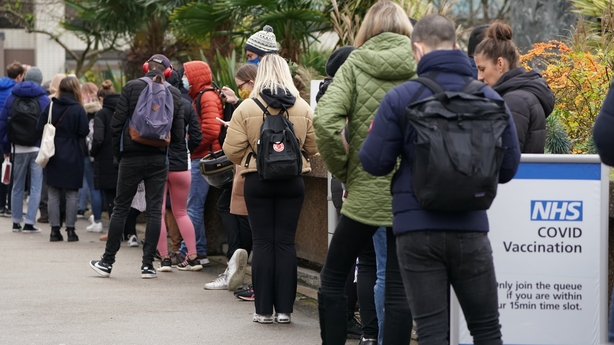 Before the death was announced, Britain said 10 people had been hospitalised with the Omicron variant in various parts of England. Their ages ranged from 18 to 85 years and most had received two vaccination doses.
The UK Health Security Agency said Omicron - first detected in South Africa, Botswana and Hong Kong in late November – can overcome the immunity of those who have had two shots of vaccines such as AstraZeneca or Pfizer-BioNTech.
South Africa's health ministry said it was unable to say with certainty if any of its Covid-19 deaths were caused by Omicron as deaths were not broken down by variant.
Mr Johnson, who is grappling with a rebellion in his party over measures to curb Omicron and an outcry over parties at his Downing Street office during last year's lockdowns, said people should rush to get booster vaccines to protect "our freedoms and our way of life".
Asked if he could rule out tougher restrictions in England before Christmas, Mr Johnson avoided giving a direct answer.
At St Thomas' Hospital Vaccination Centre in central London, a queue of hundreds of people snaked back onto Westminster Bridge. Reuters journalists also documented queues across London and in Manchester, northern England.
"The Covid vaccine booking service is currently facing extremely high demand so is operating a queuing system," the National Health Service said on Twitter. It suggested trying again later.
Home testing kits were also unavailable to order.
Meanwhile, Britain intends to extend its Covid-19 pass to include a booster jab once all adults have had "a reasonable chance" to get their third vaccination, Mr Javid said.
From Wednesday, subject to parliament's approval, Britons will need to show a negative lateral flow test to enter nightclubs and large events, with an exemption for those who are double vaccinated.
"Once all adults have had a reasonable chance to get their booster jab, we intend to change this exemption to require a booster dose," Britain's health minister told parliament.
Wales braced for 'new wave of illness'
Wales has announced urgent plans to offer the booster vaccine to all eligible adults.
In a televised address, Frist Minister Mark Drakeford said the Welsh government is accelerating the booster programme as new evidence showed two doses of the Covid-19 vaccine are not enough to offer protection against the new Omicron variant.
Omicron is expected to have become the dominant form of the virus in Wales by the end of December, Mr Drakeford said, adding that this would bring "a new wave of infections and illness".
In a message broadcast to the nation, he said: "We must be prepared for Omicron cases to rise quickly and very steeply - just as they have in other parts of the UK.
"We are still learning about this new form of coronavirus. All the information we have tells us we are facing a very serious situation.
"By the end of the month, Omicron will have become the dominant form of the virus in Wales, bringing a new wave of infections and illness.
"This could then translate into a large number of people needing hospital treatment just at a time when the NHS is already under significant pressure."
He added: "We have already taken some steps to increase protections in Wales and we may need to take some further steps to keep Wales safe."
Scotland has also committed to delivering booster jabs to everyone over 18 by the end of the year.