An adviser to British Prime Minister Boris Johnson has quit after a video surfaced of her laughing and joking about a party in Downing Street during a Christmas Covid-19 lockdown last year.
Allegra Stratton, who was most recently Mr Johnson's COP26 spokeswoman, was his press secretary at the time the video was recorded in December 2020.
"My remarks seemed to make light of the rules, rules that people were doing everything to obey. That was never my intention.
"I will regret those remarks for the rest of my days and offer my profound apologies to all of you for them," Ms Stratton said in a tearful resignation statement outside her home.
"Working in government is an immense privilege.
"I tried to do right by you all, to behave with civility and decency and up to the high standards you expect of Number 10."
She said she understood the "anger and frustration" people feel.
"To all of you who lost loved ones, who endured intolerable loneliness and who struggled with your businesses, I am truly sorry and this afternoon I am offering my resignation to the Prime Minister."
Boris Johnson told a Downing Street press conference this evening there was "no excuse" for the video showing No 10 aides joking about an alleged lockdown party.
He said Allegra Stratton had been a "fine colleague" and he wanted to pay tribute to her "in spite of what everybody has seen, and again, I make no excuses for the frivolity with which the subject was handed in that rehearsal that people saw in that clip".
Mr Johnson said Ms Stratton had "achieved a great deal in her time in government, and was a particularly effective spokesman for COP26".
It comes as England faces new restrictions to combat the Omicron variant.
Exclusive: Senior Downing Street staff joked about holding a Christmas party in Number 10 just four days after event is alleged to have taken place last December

Watch full video here: https://t.co/4IejHdqtJM pic.twitter.com/6XMa2t2d1g

— ITV News Politics (@ITVNewsPolitics) December 7, 2021
Earlier, Mr Johnson ordered an investigation into claims Downing Street staff broke lockdown rules and told MPs he was "furious" about the footage.
He apologised "unreservedly" for the offence caused by the footage, but he insisted that he had been repeatedly assured that "there was no party and that no Covid rules were broken".
Mr Johnson said he had asked Cabinet Secretary Simon Case "to establish all the facts and to report back as soon as possible - and it goes without saying that if those rules were broken then there will be disciplinary action for all those involved".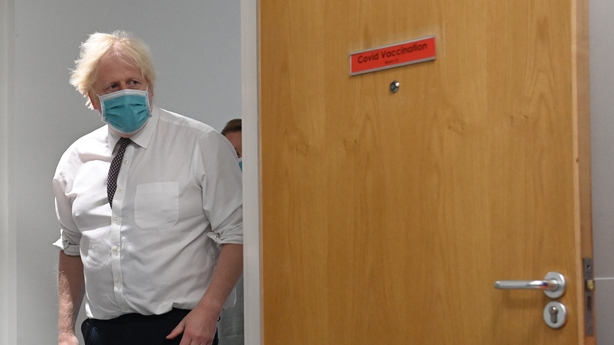 Speaking during Prime Minister's Questions, Mr Johnson said: "I understand and share the anger up and down the country at seeing No 10 staff seeming to make light of lockdown measures.
"I can understand how infuriating it must be to think that people who have been setting the rules have not been following the rules because I was also furious to see that clip.
"I apologise unreservedly for the offence that it has caused up and down the country and I apologise for the impression that it gives.
"But I repeat that I have been repeatedly assured since these allegations emerged that there was no party and that no Covid rules were broken, and that is what I have been repeatedly assured."
---
---
A statement on behalf of campaign group Covid-19 Bereaved Families for Justice welcomed her resignation.
They said: "There was simply no way she could have stayed on in the position after the pain and hurt her words have caused to bereaved families over the past 24 hours.
"We would like to accept her apology at face value but the reality is she's kept quiet for the past year and only apologised after the video was leaked.
"If she's truly sorry she should now tell the whole truth, that means coming clean on what happened and who was there.
"Failing to be honest is just showing further contempt for those who have lost so much to the virus."
They added: "We must not lose sight of the fact that what came out last night happened in the Prime Minister's house and it is part of a culture he is responsible for.
"The buck stops with him."
Meanwhile, the Metropolitan Police said the video obtained by ITV "does not provide evidence of a breach" of health regulations and therefore the force would not commence an investigation.
In a statement, it said: "The Metropolitan Police Service has received a significant amount of correspondence relating to allegations reported in the media that the Health Protection (Coronavirus, Restrictions) Regulations were breached at gatherings at No 10 Downing Street in November and December 2020.
"All this correspondence has been considered by detectives in detail, as well as footage published by ITV News. The correspondence and footage does not provide evidence of a breach of the Health Protection Regulations, but restates allegations made in the media.
"Based on the absence of evidence and in line with our policy not to investigate retrospective breaches of such Regulations, the Met will not commence an investigation at this time."