The Taoiseach has said that it is now known that people who are not vaccinated against Covid-19 have had a "disproportionate" effect on Ireland's health service and intensive care beds.
Micheál Martin said it was "clear as daylight" that if people do not get vaccinated they are jeopardising their personal health and the health of others.
He said the Government was being active in raising awareness of the need to get vaccinated and that over a thousand people a day are now coming forward to get first and second doses of Covid-19 vaccines.
"We had 10,000 people come forward last week for first doses and the same number for second doses."
He said these campaigns were working and the focus was on targeting those communities that might have been vaccine hesitant.
The Taoiseach said Ireland had achieved one of the highest vaccination levels in the world through what he called a voluntary approach to vaccination.
He reiterated that vaccination was key, but also highlighted the anticipated emergence of anti-viral treatments in the new year.
He said these measures would hopefully treat people more effectively than earlier in the pandemic.
Mr Martin also said that the child vaccination programme would begin in the new year.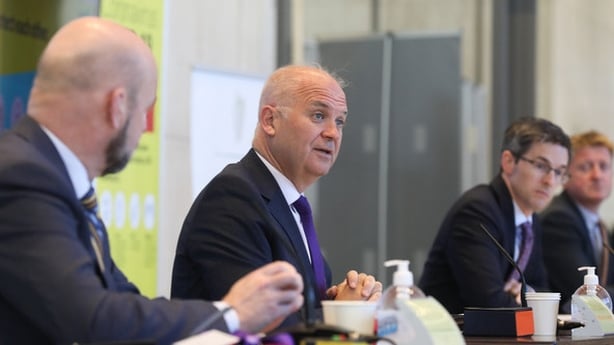 Separately, he said that the principle of public health advice was central to combatting the pandemic and the independence of that advice was important.
He said "co-ordination" was key in terms of Government messaging and he added that he believes that Chief Medical Officer Dr Tony Holohan is aware of the importance of that co-ordination.
Mr Martin said public health was a key part of Ireland's response to the pandemic and he said he had no issue with the National Public Health Emergency Team, and he trusted its advice in the same way as the public.
However, he added that there were areas where they could "streamline and evaluate".
On the restrictions he announced on Friday night, Mr Martin said: "These measures are unanimously advised by NPHET and accepted by Government, [they] are designed to protect public health and life over the coming period, particularly in the context of Omicron which is a variant about which not enough is known and risks are better not to be taken in advance of that knowledge. It's better to be proactive than reactive."
Speaking on RTÉ's The Week in Politics earlier, Minister for Public Expenditure Michael McGrath said the Covid-19 restrictions introduced by the Government on Friday will be lifted if concerns about the Omicron variant do not materialise.
Mr McGrath said however that there are simply no answers to some fundamental questions about what the impact of Omicron is, including is it more transmissible, how does it interact with the vaccine and is it more dangerous at the level of each individual whom it infects.
He said answers are needed to those questions and the decisions the Government has made are precautionary in nature and based on public health advice.
Mr Martin said it would take two to three weeks before we have a better picture in relation to Omicron.
He said everything would be kept under review until there is a proper scientific global perspective on how virulent it is and the degree to which it will escape vaccines.
'I expect if the findings of all of the research that's going on globally into Omicron finds it does not meet our worst fears, then we will be in a position to remove those restrictions based on public health advice over the period ahead quite quickly', @mmcgrathtd tells @rtetwip pic.twitter.com/H0HujvqdQd

— RTÉ News (@rtenews) December 5, 2021
He said he expects that "if the findings of all the research that's going on globally into Omicron find that it does not meet our worse fears, then we will be in a position to remove those restrictions based on public health advice over the period ahead quite quickly."
The minister said the decisions on restrictions which were made by the Cabinet were unanimous and said the Government values the advice given by public health experts.
He said there was "unease" that some of the National Public Health Emergency Team (NPHET) recommendations were in the public domain before its letter made its way to Minister for Health Stephen Donnelly.
Mr McGrath also said that he expects that the Pandemic Unemployment Payment will be reinstated at the original rate of €350 for those who lose their jobs as a result of the new restrictions being imposed.
'We are reopening the Pandemic Unemployment Payment scheme for people who lose their job, and unfortunately there will be some people who will lose their job in the nighttime economy in particular, because of these decisions', @mmcgrathtd tells @rtetwip | https://t.co/Ig3R0CzEtN pic.twitter.com/HBw1Fcdf54

— RTÉ News (@rtenews) December 5, 2021
Meanwhile, Sinn Féin spokesperson on Public Spending Mairead Farrell said the mixed messaging on the pandemic response from Government is "incredibly frustrating" for the public and businesses.
She said that while Sinn Féin supports the new measures in light of the threat posed by Omicron, there are concerns.
Also speaking on the The Week in Politics, Ms Farrell said the removal of contact tracing for schools should not have happened and it was "completely unfair" to tell parents and children overnight that facemasks were being introduced from third class upwards.
'Complete collapse of bookings' across the hospitality industry
The Chief Executive of the Restaurants Association of Ireland has said there has been "a complete collapse of bookings" across the hospitality industry.
Adrian Cummins was speaking ahead of a meeting between representatives of the sector and the Government tomorrow.
The talks with the Tánaiste Leo Varadkar and the Minister for Arts, Culture and Tourism Catherine Martin are expected to focus on business supports for the industry.
Following recent appeals to reduce social activity and the announcement of new Covid-19 restrictions, Mr Cummins said: "We've seen a complete collapse of bookings for corporate Christmas parties, for restaurants and hospitality businesses right across the country."
"The Government now needs to make sure that the business supports that are in place are adequate for our industry.
"We would like to see that all hospitality businesses across the State will get enough supports to help their businesses through the difficult number of weeks ahead, as the restrictions come into place."
Mr Cummins said "it's important that we retain our teams and our staff within these businesses."
He also called for the development of a long-term plan for hospitality and tourism.
"We need to make sure that we have enough businesses intact in the New Year so that we can have
a viable and sustainable hospitality and tourism industry in 2022."