Germany will ban people who have not been vaccinated against Covid-19 from large parts of public life, Chancellor Angela Merkel has said after a meeting with the country's regional leaders.
"Culture and leisure nationwide will be open only to those who have been vaccinated or recovered (from Covid)," Ms Merkel said, adding that the same rule would also apply to non-essential shops.
The measures are aimed at tackling a fourth wave of Covid-19, and include restrictions on the number of people who can meet inside and closures to discos and clubs above threshold case numbers.
"We have understood that the situation is very serious and that we want to take further measures in addition to those already taken," Ms Merkel told a news conference.
"To do this, the fourth wave must be broken and this has not yet been achieved," she said, adding that a nationwide vaccination mandate could take effect from February 2022 after it is debated in the Bundestag and after guidance from Germany's Ethics Council.
Virologists have blamed the fourth wave, which risks overwhelming intensive care units and resulted in the announcement of more than 73,000 new infections and 388 deaths today, on resistance to vaccination by a large section of society. They have also criticised politicians for acting too late.
Germany's vaccination rate, at just under 70%, is around the European Union average.
We need your consent to load this rte-player contentWe use rte-player to manage extra content that can set cookies on your device and collect data about your activity. Please review their details and accept them to load the content.Manage Preferences
Tougher US travel rules to take effect
US President Joe Biden announced a winter campaign against Covid-19, with new testing requirements for travellers and a surge in vaccination efforts.
The actions include the requirement that all inbound international travelers be tested within one day of flying.
This will apply to all travellers, both US and foreign, regardless of vaccination status, the official said.
For domestic travelers, Mr Biden will announce he is extending a mask mandate on airplanes, trains and other public transport through mid-March.
White House spokeswoman Jen Psaki told reporters testing and vaccine requirements could eventually be added to domestic flights too.
"Nothing is off the table," she said.
Mr Biden and his aides have repeatedly stressed in recent days that there will be no return to mass shutdowns.
But the White House also faces the challenge that many Americans are not receptive to Biden's appeals for collective action.
Despite ever-more creative attempts to encourage people to get their shots, about 40% of the country has yet to be fully vaccinated.
About 110 million people who are eligible to get booster shots have still not taken the opportunity.
---
---
Russia imposes quarantine for travellers from some African countries
Russia has imposed a two-week quarantine for travellers from some African countries, including South Africa, the Interfax news agency quoted Anna Popova, the head of the consumer watchdog, as saying today.
Russia said earlier this week that people coming from high-risk countries in respect of the Covid-19 Omicron variant would have to quarantine.
Russia has yet to record any cases of the new variant.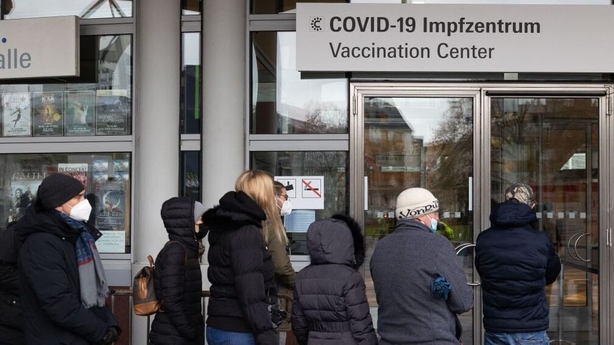 Norway probes Omicron link to Christmas party Covid cluster
Norwegian officials have said dozens of people had tested positive for Covid-19 after a Christmas dinner in the capital Oslo, and the Omicron variant had been detected.
Only vaccinated people were allowed into the event last Friday evening at an Oslo restaurant, with media reports saying roughly 120 people had been there.
"We have up to 50 who have tested positive with a PCR as well as about 10 with rapid tests," city official Tine Ravlo told local media.
"So far, one person has been diagnosed with Omicron and more cases are expected," Oslo municipality announced in a statement.
"Active tracing is under way to limit the possibility of contamination and prevent a larger outbreak."
Norway has extended the isolation period for people who have tested positive for the Omicron variant to seven days and increased the quarantine period for their relatives to 10 days.
Dutch say pre-flight tests needed
Dutch health authorities have called for pre-flight Covid-19 tests regardless of vaccination status for travel from outside the European Union, revealing that about 90% of the 62 people who tested positive on two flights from South Africa on 26 November had been vaccinated.
Under rules in place at the time, more than 600 passengers were able to board the KLM airline flights from Johannesburg and Cape Town with either proof of vaccination or recent negative Covid-19 test results.
"By a combination of requiring tests before departure... and retesting five days after arrival, and knowing what happened, you can make flight safer," said Jaap van Dissel, the head of infectious diseases at the Dutch Institute for Health, in testimony to parliament on Wednesday.
He also recommended quarantine for travellers from high-risk areas.
India detects its first two cases of Omicron variant
India has detected its first two cases of the Omicron coronavirus variant, both in the southern state of Karnataka, a health ministry official has said, as the government urged more widespread testing.
"All primary contacts and secondary contacts of both the cases have been traced and are being tested," the health ministry's joint secretary, Lav Agarwal, told a news briefing.
The two patients were displaying mild symptoms, officials said.
India's priority is to fully vaccinate all of India's 944 million adults ahead of administering booster shots. About 84%have received a first dose and about 49% a second.
India was set to restart international flights on 15 December, but on Wednesday scrapped that plan and said a resumption date would be announced in due course.