The World Health Organization (WHO) has said that while blanket travel bans would not stop the spread of the Omicron variant, Covid-vulnerable people, including the over-60s, should postpone plans to travel abroad.
Omicron, the new Covid-19 variant of concern which the WHO said poses a "very high" risk globally, has prompted many countries to shut their borders.
"Blanket travel bans will not prevent the international spread, and they place a heavy burden on lives and livelihoods," the WHO said in a travel advice statement on Omicron.
"In addition, they can adversely impact global health efforts during a pandemic by disincentivising countries to report and share epidemiological and sequencing data."
First reported to the WHO less than a week ago after being detected in southern Africa earlier this month, Omicron has already appeared in several countries.
The WHO noted the increasing number of governments introducing travel measures, including temporarily banning arrivals from countries where the variant has been found.
The WHO said that as of Sunday, 56 countries were reportedly implementing travel measures aimed at potentially delaying the importation of the new variant.
"It is expected that the Omicron variant will be detected in an increasing number of countries as national authorities step up their surveillance and sequencing activities," it said.
"Persons who are unwell or at risk of developing severe Covid-19 disease and dying, including people 60 years of age or older or those with co-morbidities (e.g. heart disease, cancer and diabetes), should be advised to postpone travel," said the WHO.
The WHO advised countries to apply an "evidence-informed and risk-based approach" when implementing travel measures.
The UN health agency said national authorities in countries of departure, transit and arrival could apply mitigation measures that might delay or reduce the exportation and importation of the variant.
They could include screening passengers, testing and quarantine.
"All measures should be commensurate with the risk, time-limited and applied with respect to travellers' dignity, human rights and fundamental freedoms."
The WHO said that "essential international travel", including for humanitarian missions, repatriations and transport of vital supplies, should always be prioritised during the pandemic.
EMA chief says vaccines will protect against variants
The head of the European Medicines Agency (EMA) said Covid-19 vaccines will continue to provide protection against new variants.
Emer Cooke said it could take between three and four months for EMA approval for any vaccines that are adjusted to tackle the Omicron variant.
She also told the European Parliament that countries with much lower rates of Covid vaccinations had higher rates of death.
Ms Cooke told MEPs that "in Ireland, where vaccination rates are among the highest in Europe at 93% of the adult population, the deaths per 1 million population over the last 14 days were 15.
"But in two other European countries with vaccination rates of less than 50%, the equivalent death rates were over 250 per 1 million of the population."
She told the parliament's public health committee that the EMA had in February last year put in place guidance to allow vaccine manufacturers to fast track adaptations to the vaccine if it were needed.
"We need to be very careful to say that we don't know yet whether this is needed. But we have the contingency plans in place.
"And we're working with international regulators, we're working with the WHO, we're working with ECDC to ensure that we prepare for the worst, even if we still hope for the best," she told MEPs.
We need your consent to load this rte-player contentWe use rte-player to manage extra content that can set cookies on your device and collect data about your activity. Please review their details and accept them to load the content.Manage Preferences
Ms Cooke said companies would need time to adapt their formulations to include the new gene sequencing, to ensure the production systems worked, and to carry out clinical trials.
"I want to assure you that we're working with the companies and with other regulators to make sure that we're as prepared and ready as possible to deal with these consequences."
Ms Cooke added that there were key differences between the situation in Europe and in southern Africa, where the new variant is thought to have originated.
In Europe there was a larger proportion of the population already vaccinated, the population was older, and a booster campaign was already under way, she said.
"So there are a whole lot of factors ongoing at the moment that could impact the spread of the Omicron variants in Europe," she added.
Moderna CEO says vaccines likely less effective against Omicron
Separately, Moderna CEO Stéphane Bancel said Covid-19 vaccines are unlikely to be as effective against the Omicron variant of the coronavirus as they have been previously.
"There is no world, I think, where (the effectiveness) is the same level . . . we had with Delta," he told the Financial Times in an interview.
"I think it's going to be a material drop. I just don't know how much because we need to wait for the data. But all the scientists I've talked to . . . are like 'this is not going to be good'."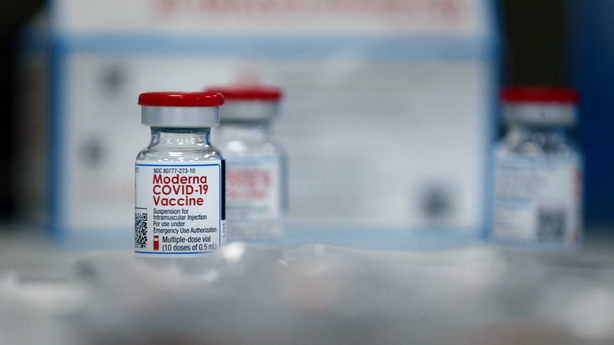 Vaccine resistance could lead to more sickness and hospitalisations and prolong the pandemic, and his comments triggered selling in growth-exposed assets like oil, stocks and the Australian dollar.
Mr Bancel added that the high number of mutations on the protein spike the virus uses to infect human cells meant it was likely the current crop of vaccines would need to be modified.
He had earlier said on CNBC that it could take months to begin shipping a vaccine that does work against Omicron.
Omicron was first reported in southern Africa and the World Health Organization said it carries a "very high" risk of infection surges.
Fear of the new variant, despite a lack of information about its severity, has already triggered delays to some economic reopening plans and the reimposition of some travel and movement restrictions.
Meanwhile, Regeneron Pharmaceuticals said prior analyses suggested its Covid-19 antibody cocktail, and similar drugs, could have reduced activity against the Omicron variant.
The drugmaker said analysis shows the individual mutations present in the Omicron variant indicate "that there may be reduced neutralisation activity of both vaccine-induced and monoclonal antibody conveyed immunity".
Further analyses are ongoing, the company said, adding that there was no direct data testing Omicron's resistance to immunity gained from vaccines and monoclonal antibodies.
Oxford scientists poised to update vaccine rapidly 'if necessary'
The University of Oxford said that it can "rapidly" update its Covid-19 vaccine "if it should be necessary" amid rising concerns about the Omicron variant.
Academics at the university, who pioneered the vaccine developed by AstraZeneca, said that if the jab needed to be tweaked then the "necessary tools and processes" are in place.
But in a statement, the university stressed the vaccine continued to provide high levels of protection despite the appearance of other new variants, including Delta.
A University of Oxford spokesperson said: "Due to the very recent discovery of the new B.1.1.529 (Omicron) strain of coronavirus, there is limited data available at this time.
"As with any new variant, we will carefully evaluate the implications of the emergence of B.1.1.529 for vaccine immunity.
"Despite the appearance of new variants over the past year, vaccines have continued to provide very high levels of protection against severe disease and there is no evidence so far that Omicron is any different.
"However, we have the necessary tools and processes in place for rapid development of an updated Covid-19 vaccine if it should be necessary."
Additional Tony Connelly