The World Health Organization has declared the recently-discovered B.1.1.529 strain of Covid-19 to be a variant of concern, renaming it Omicron.
It also said that the number of cases of the Omicron variant appears to be increasing in almost all provinces in South Africa.
"Based on the evidence presented indicative of a detrimental change in Covid-19 epidemiology... the WHO has designated B.1.1.529 as a variant of concern, named Omicron," the UN health agency said.
But how is this new variant different from previous versions and how dangerous is it?
Here is everything you need to know.
When did it first appear?
The variant was first reported to the WHO from South Africa on Wednesday, 23 November, after samples were uploaded on to a coronavirus variant tracking website in that country.
A total of 59 samples have been uploaded to the tracking website so far. Three samples are from Hong Kong, three are from Botswana and the rest are from South Africa.
The first known confirmed Omicron infection was from a specimen collected on 9 November. In recent weeks, infections in South Africa have increased steeply, coinciding with the detection.
Outlining the situation in South Africa, one senior scientist said: "If we look at the results they had up to a week ago, less than 1% of people were testing positive in lots of areas.
"That's increased very dramatically in some parts to 6% in the last few days, and so that makes me concerned quite rapidly on people that may be arriving [in the UK] now."
Have any cases been reported in Ireland?
The Department of Health said it has been monitoring the B.1.1.529 variant but Minister Stephen Donnelly told RTÉ's Six One News that no cases had been detected here yet.
However, he said there will be enhanced contact tracing with any cases linked to the seven African countries concerned.
Mr Donnelly had previously expressed "deep concern" about the variant, and the Department of Health has remained in contact with public health officials in Northern Ireland and in Britain.
Why is it called Omicron?

During late 2020, the emergence of variants that posed an increased risk to global public health prompted the WHO to start characterising them as variants of interest, and the more-worrying variants of concern, to inform the response to the pandemic.
The UN health agency decided to name the variants after the letters of the Greek alphabet, to avoid the countries that first detected them being stigmatised.
Today, WHO announced the variant would be named after the 15th letter of the Greek alphabet, Omicron.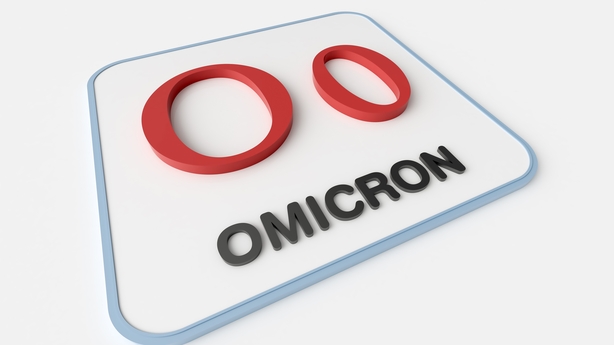 How is it different from the other variants?
Despite only being tracked for the past three days, the Omicron variant has been identified as having 30 different mutations already.
By comparison, that is twice as many as the Delta variant, which has been the most prominent variant in Europe over the past few months.
The mutations contain features seen in all of the other variants but also traits that have not been seen before.
Will the vaccines protect people against it?
It's too early to say. The mutations could potentially make the variant more transmissible and evade the protection given by prior infection or vaccination.
One senior scientist based in the UK has said: "One of our major worries is this virus spike protein is so dramatically different to the virus spike that was in the original Wuhan strain, and therefore in our vaccines, that it has a great cause of concern."
Vincent Enouf, from Paris's Institut Pasteur said: "We need to check if the antibodies produced by our current vaccines still work, and what level do they work and if they can still prevent serious cases."
Pfizer and BioNTech said that if necessary they expect to be able to ship a new vaccine tailored to the emerging variant in approximately 100 days.
"We understand the concern of experts and have immediately initiated investigations on variant B.1.1.529," BioNTech said in a statement when asked to comment.
It expects data from tests "in two weeks at the latest".
AstraZeneca said it was examining the impact of the new variant on its vaccine and its antibody cocktail, adding it was hopeful its combination drug would retain efficacy.
How worried should we be about Omicron?
There are fears that the virus transmits more easily and that it could be more deadly plus evade vaccines.
However, scientists have said it is too early to confirm if all of these fears are correct.
They are eager to acquire live virus cultures so it can be examined, but this process takes time.
It can take seven to 10 days at least to grow enough virus that can be shared with other scientists so they can study how it mutates and changes.
Officials will now also have to wait for data to come from South Africa.
The earliest they are expecting evidence to come through is two to three weeks, but it could be as long as four to six weeks.