Minister for Health Stephen Donnelly is "deeply concerned" about the emergence of a new Covid-19 variant, which has been identified in a number of countries in southern Africa and in Hong Kong.
In a statement, the Department of Health said it has been monitoring the B.1.1.529 variant that has been identified in a number of countries in southern Africa and in Hong Kong.
"No cases of this variant have been reported in Europe to date, but the Minister for Health is deeply concerned.
"The Department of Health has been in contact with colleagues in Northern Ireland and we will continue to liaise with UK authorities."
The statement added: "The World Health Organization (WHO) is meeting tomorrow to further assess the significance of this variant. The WHO has not yet designated this variant as a variant of concern.
"The European Centre for Disease Prevention and Control has reported that it continues to monitor all emerging evidence in relation to this variant.
"The Department's advice to the minister will continue to be informed by relevant guidance emanating from the ECDC and the WHO."
A travel ban has been imposed by England, Scotland and Northern Ireland on six African nations due to rising concerns over the new variant of Covid-19.
Chief medical officer for Northern Ireland, Professor Michael McBride said: "This is undoubtedly a matter of concern.
"We are taking the action on international travel on a precautionary basis, while we await further evidence on the spread of this variant in South Africa and understand more about it.
"The need for further measures will be kept under constant review and we will continue to liaise closely with public health colleagues in Great Britain and the Republic of Ireland."

He added: "It is not possible at this stage to accurately assess the potential for this new variant to impact on vaccine effectiveness.
"This should in no way dissuade people from coming forward for their first and second doses and boosters."
---
---
British Health Secretary Sajid Javid said the new variant identified in South Africa "may be more transmissible" than the Delta strain and "the vaccines that we currently have may be less effective".
He said that flights from South Africa, Namibia, Lesotho, Botswana, Eswatini and Zimbabwe will be suspended from midday Friday and all six countries will be added to England's red list.
The variant has not yet been given the title "variant of concern" in Britain, but one senior UK Health Security Agency (UKHSA) expert said: "This is the worst variant we have seen so far."
Only 59 confirmed cases have been identified in South Africa, Hong Kong and Botswana.
The variant has over 30 mutations - around twice as many as the Delta variant - which could potentially make it more transmissible and evade the protection given by prior infection or vaccination.
Professor Liam Fanning, an immunovirologist at University College Cork, said it was "quite unlikely" that people would be "totally exposed, as if this were a brand new virus".
Speaking on RTÉ's Prime Time, he said he believed people would have some protection from the current vaccines.
"While it may evade some aspects of our immune system, we have multiple arms of the immune system which target the virus at different sites."
Prof Fanning said that "in order for this particular new variant to become prevalent it has a very high threshold to replace Delta.
Professor Cliona O'Farrelly, a comparative immunologist at Trinity College Dublin, said the new variant was a concerning but "not surprising" development.
"Unfortunately with the amount that this virus is able to replicate and the amount of it on the globe it was almost inevitable that new variants would arise," she added.
Meanwhile, the British expert whose modelling helped instigate the first coronavirus lockdown said that the decision to impose travel restrictions was "prudent".
Professor Neil Ferguson, a member of the Scientific Advisory Group for Emergencies (SAGE), said: "The B.1.1.529 variant has an unprecedented number of mutations in the spike protein gene, the protein which is the target of most vaccines.
"There is therefore a concern that this variant may have a greater potential to escape prior immunity than previous variants.
"It is also concerning that this variant appears to be driving a rapid increase in case numbers in South Africa.
"The government's move to restrict travel with South Africa is therefore prudent.
"However, we do not yet have reliable estimates of the extent to which B.1.1.529 might be either more transmissible or more resistant to vaccines, so it is too early to be able to provide an evidence-based assessment of the risk it poses."
Experts from the WHO are meeting with South African officials tomorrow to assess the evolving situation in the country.
The variant could eventually be given the moniker "Nu" - with the most concerning variants given named after the Greek alphabet.
New variant is 'a major threat'
Scientists in South Africa are blaming the new variant for a surge in infection numbers.
The number of daily infections in Africa's hardest-hit country has increased tenfold since the start of the month.
"Unfortunately we have detected a new variant which is a reason for concern in South Africa," virologist Tulio de Oliveira told a hastily-called news conference.
The variant "has a very high number of mutations," he said. "It's unfortunately causing a resurgence of infections."
The variant has also been detected in Botswana and Hong Kong among travellers from South Africa, he added.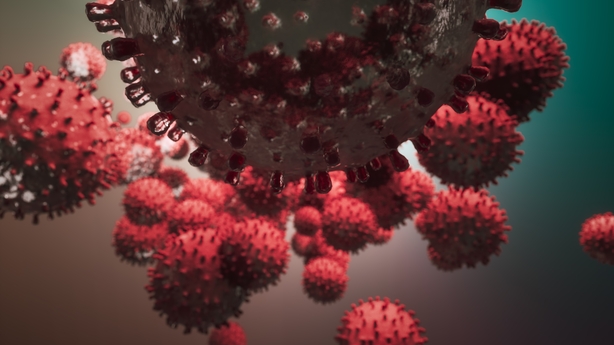 South African Health Minister Joe Phaahla said the variant was of "serious concern" and behind an "exponential" increase in reported cases, making it "a major threat".
The country's daily number of infections hit 1,200 yesterday, up from 106 earlier in the month.
Before the detection of the new variant, authorities had predicted a fourth wave to hit South Africa starting around the middle of December, buoyed by travel ahead of the festive season.
The government-run National Institute for Communicable Diseases (NICD) said 22 positive cases of the B.1.1.529 variant have been recorded in the country following genomic sequencing.