As children and adolescents are at lower risk of severe Covid-19 disease, countries should prioritise adults and sharing vaccine doses with the COVAX programme to bring supplies to poorer countries, the World Health Organization has said.
Some rare cases of heart inflammation called myocarditis have been reported in younger men who received vaccines based on mRNA technoloy - Pfizer/BioNtech and Moderna- but these were generally mild and responded to treatment, it said.
Although that risk had not been fully determined, it was less than the risk of myocarditis linked to SARS-CoV-2 infection, it said.
The WHO's interim guidance was issued as more regulatory agencies authorise certain vaccines for use in children, including the United States, China, European Union, India and Israel, and most recently Canada last week.
"As children and adolescents tend to have milder disease compared to adults, unless they are in a group at higher risk of severe Covid-19, it is less urgent to vaccinate them than older people, those with chronic health conditions and health workers," the WHO said.
Children can experience "long Covid-19" with prolonged symptoms but this was still under investigation, it said.
Several risk factors for severe Covid-19 in children have been reported including older age, obesity and pre-existing conditions including type 2 diabetes, asthma and heart disease, it added.
Maintaining education for all school-aged children should be an important priority during the pandemic, although transmission mitigation measures might be needed in schools, the WHO said.
---
---
Given vaccine supply constraints, immunisation programmes should focus on protecting groups at high risk of hospitalisation and death, the WHO said.
"As many parts of the world face extreme vaccine shortages, countries with high coverage in at-risk populations should prioritise global sharing of Covid-19 vaccines before vaccinating children, adolescents," it said.
Covid outbreak among cult members in South Korea
A little known sect led by a pastor who pokes eyes to heal is at the centre of a Covid-19 outbreak in South Korea, as the country reported a new daily record of 4,116 cases and battles a spike in serious cases straining hospitals.
In a tiny rural church in a town of 427 residents in Cheonan city, south of Seoul, at least 241 people linked to the religious community had tested positive for coronavirus, a city official said.
Many of the congregation were aged in their 60s and above and were unvaccinated, the official said. Just 17 out of the 241 confirmed cases had been vaccinated.
"I believe it's the church's anti-government beliefs that refrained the believers to get the vaccine," the official said, adding that the town was put under a lockdown.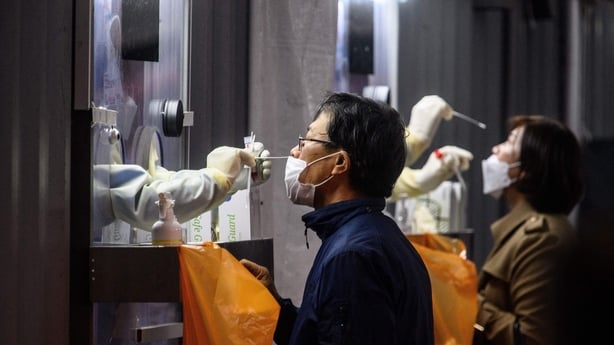 The church opened in the early 1990s and has become larger with communal living facilities of its own.
The religion is not officially registered as a sect, however the ritual act the pastor performs is known as the so called "imposition of hands on eyes", a practice of poking two eyes to rid of secular desire, Jung youn-seok, a head of cult information resources think tank told Reuters.
The outbreak is a small portion of the national total, but is an example of a cluster with a high concentration of cases.
Shincheonj was a church at the centre of the first major coronavirus epidemic outside China early 2020, with at least 5,227 people linked to its 310,000 followers infected after attending a service in the city of Daegu.
South Korea this month switched to a "living with Covid-19" plan aimed at lifting rigid distancing rules and ultimately reopening after reaching vaccination goals last month.
Looking at the metropolitan Seoul area alone, the situation is critical enough to impose an emergency plan at any time, Prime Minister Kim Boo-kyum told a Covid-19 response meeting today.
He called on health authorities to classify the patients accordingly based on the severity of the symptoms and make use of self-treatment options for mild or asymptomatic cases.
Less than 20% were treating themselves at home last week, Mr Kim said.
The Korea Disease Control and Prevention Agency (KDCA) has said the emergency plan may be imposed if and when the nationwide ICU bed capacity surpasses 75% or depending on the risk assessment that reviews medical response shortfalls, surge in number of elderly patients and uptake in booster shots.
Hospitals were treating 586 severe Covid-19 patients as of midnight, rapidly filling up limited hospital beds for serious and critical cases. More than 85% of them were aged 60 or above, KDCA data showed.
Despite the increase in hospitalisation rate, the country's mortality rate remains relatively low at 0.79%.
South Korea was one of the first countries to record novel coronavirus cases after it emerged in China in late 2019. It has since had 425,065 infections, with 3,363 deaths.
The country has fully vaccinated 79.1% of its 52 million people, while just 4.1% have been given a booster dose.
Fall in Covid-19 testing worries Indian authorities
An alarming fall in testing for Covid-19 threatens to undermine India's efforts to contain the pandemic, the federal health ministry said in a letter to state governments, as worries grew over fresh waves of infection abroad.
India today reported 9,283 new Covid-19 cases, a day after recording 7,579 infections - the lowest in 543 days. But testing has hovered around 1 million per day for the past few weeks, less than half the capacity.
"In the absence of sustained levels of sufficient testing, it is very difficult to determine the true level of infection spread in a geography," Health Secretary Rajesh Bhushan said in a letter sent to the northeastern state of Nagaland, which has reduced testing by more than a third in two months.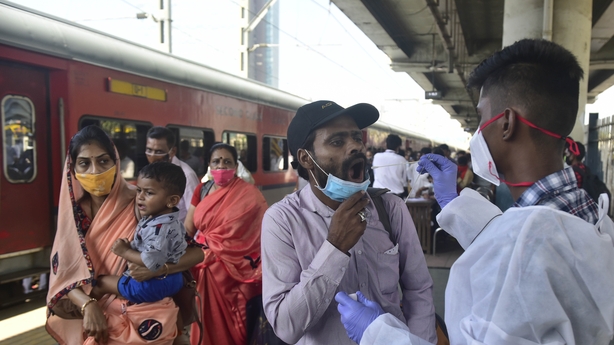 "With a majority of countries seeing multiple surges in Covid cases in recent times and a few developed countries facing even fourth and fifth waves despite high levels of Covid vaccination, there is a need for continued vigil given the unpredictable and contagious nature of the disease."
The ministry delivered the same warning to other states, though each letter contained observations specific to the various states' circumstances.
India has so far reported 34.5 million infections. The United States has the only higher total number of cases. Deaths in India rose by 437 today to 466,584.
Health workers have started a door-to-door vaccination campaign in India as tens of millions of Indians have not taken their second dose by the due date.
India has so far administered 1.18 billion vaccine doses - at least one dose in 82% of its 944 million adults and two in 44%.
Gunshots fired again at police in France's Martinique - media

Gunshots were fired overnight at police in the French Caribbean island of Martinique for the second night running, French media reported, in a sign that unrest triggered by Covid-19 curbs that has rocked the nearby island of Guadeloupe seems to be spreading there.
BFM TV, quoting police forces, reported that shootings lasted for several hours and noted the situation was still "very tense" even though trade unions had ordered the removal of barricades protesters had set up.
Gunfire has also targeted police over the past few days in Guadeloupe, where a general strike entered a second week on Monday, and many stores remained shuttered after night-time looting amid protests over the Covid-19 restrictions.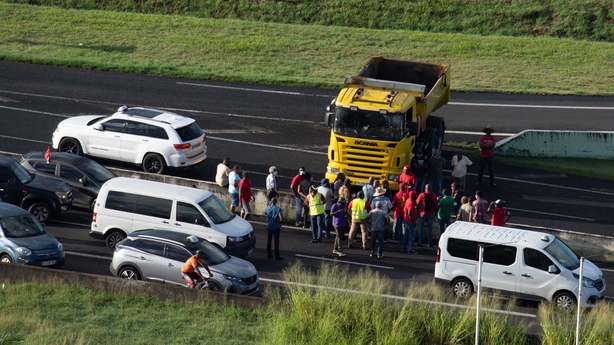 People in Guadeloupe and Martinique have been especially incensed by a requirement, also in force in mainland France, for all healthcare workers to be vaccinated against Covid-19.
Compulsory vaccination has touched a nerve in a population that is descended from slaves who worked on French sugar plantations. During the 20th century, many people on Guadeloupe were also systematically exposed to toxic pesticides used in banana plantations.
A general strike had also begun in Martinique on Monday to demand an end to the mandatory vaccination of health workers and for action to tackle high fuel prices.
The Caribbean has been hit in recent weeks by a new wave of coronavirus infections that is causing lockdowns and flight cancellations and overwhelming hospitals, just as tourism was beginning to show signs of recovery.