Israel has begun rolling out Covid-19 vaccines for children aged five to 11, becoming one of a handful of countries to inoculate children so young as it seeks to ward off another pandemic wave.
Over the summer, Israel experienced an upsurge in coronavirus infections, fuelled by the Delta variant, and launched one of the earliest campaigns for booster shots.
As infections start to creep up again, Prime Minister Naftali Bennett has said the country is experiencing a "children's wave" with about half of the recently confirmed cases among children below the age of 11, he wrote on Facebook.
Authorities had already begun immunising those aged 12 to 17 but decided to lower the age threshold in the wake of trials by Pfizer and recommendations from a panel of Israeli scientists.
While the campaign for younger minors was set to officially start today, doses were already being administered by last night.
"Right now during the epidemic, the best tool to protect our children is vaccination," said Heli Nave from outside a clinic giving the Pfizer-BioNTech jabs to children.
She said "it is not an easy decision at all" but the availability of data from the United States - which started immunising five-to-11-year-olds earlier this month - had convinced her.
The prime minister is scheduled to have his own youngest son vaccinated this morning, his office announced.
---
---
Israel was one of the first countries to launch vaccines against the coronavirus last year thanks to a deal with Pfizer that gave it access to millions of doses in exchange for data on the vaccine's efficacy.
More than 5.7 million of the country's nine million people are now fully vaccinated.
India logs smallest rise in Covid-19 cases in 543 days despite festivals

India reported 7,579 new coronavirus infections today, the smallest rise in one-and-a-half-years despite huge festival gatherings in recent weeks, thanks to rising vaccinations and antibodies from prior infections.
The country of 1.35 billion celebrated Durga Puja in October and Diwali this month, during which millions of people shopped, travelled and met family, mostly without masks. Mask-wearing is nearly non-existent outside the big cities.
"Even after Diwali, we are not seeing a surge," said M D Gupte, a former director of the state-run National Institute of Epidemiology, attributing it mainly to the presence of antibodies in a huge majority of Indians through natural infection.
"I think we are much safer now."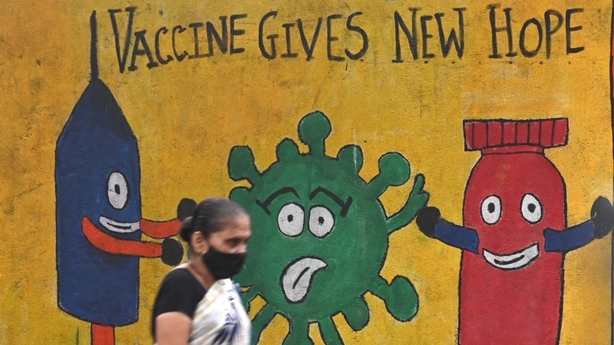 Government surveys have estimated that nearly 70% of Indians had been naturally infected by July, following a record rise in infections and deaths in April and May.
So far, 81% of India's 944 million adults have received at least one dose of vaccine and 43% have had two doses. Vaccination for people under 18 has not yet begun.
India has reported a total of 34.5 million Covid-19 cases, second only to the tally in the United States. India's Covid deaths rose by 236 in the past 24 hours to 466,147.
Daily testing has also fallen, dipping below 1 million yesterday compared with a capacity of more than 2 million.
French Interior Minister: security situation on Guadeloupe still very difficult

The situation remains "very difficult" in Guadeloupe, where unrest erupted last week over Covid-19 curbs imposed by Paris, despite Prime Minister Jean Castex's call for calm in France's overseas territory, said the French interior minister.
"There are still scenes of extreme violence with police forces being shot at with real ammunition," Interior Minister Gerald Darmanin told France Inter radio.
A general strike entered into a second week yesterday and many stores remained shuttered after night-time looting, even though Mr Darmanin said the 200 extra police officers deployed since Sunday have helped quell some of the unrest.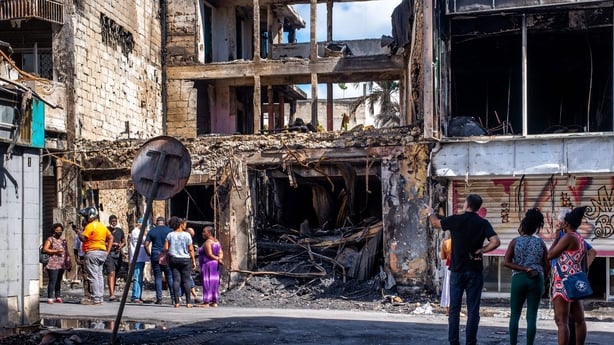 French Overseas Minister Sebastien Lecornu also said on France 2 television that he and some other members of the government would go to Guadeloupe to examine the situation.
Compulsory vaccination has touched a nerve in a population that is descended from slaves who worked on French sugar plantations. During the 20th century, many people on Guadeloupe were also systematically exposed to toxic pesticides used in banana plantations.
Trade unions started strike actions on the neighbouring French Caribbean island of Martinique this week.
The Caribbean has been hit by a new wave of coronavirus infections that is causing lockdowns and flight cancellations and overwhelming hospitals, just as tourism was beginning to show signs of recovery.