Germany will introduce tough new curbs that will exclude people not vaccinated against Covid-19 from certain public events to contain a big rise in infections, Chancellor Angela Merkel has announced after crisis talks with regional leaders.
The so-called "2G" rule - allowing in only the vaccinated and the recovered - will be introduced in areas with a hospitalisation rate of more than three Covid-19 patients per 100,000 people, she said, and will apply to large events as well as culture and sports facilities.
"We need to quickly put a brake on the exponential rise" in cases and intensive care bed occupancy, Mrs Merkel added.
The leaders also agreed to require healthcare workers and employees in care homes to be vaccinated against the virus.
"We must protect the most vulnerable groups," they said in a statement, adding that "it is necessary for employees" in institutions such as hospitals or elderly and care homes, and those going door-to-door to provide care "be required to be vaccinated against the coronavirus".
Earlier, Germany's vaccine advisory committee recommended booster shots for all people aged over 18.
An additional 65,371 cases were reported yesterday, bringing the total number of people in the country who have been infected with the virus to 5,195,321.
The vaccine advisory committee, known as STIKO, also recommends booster shots to be administered with an mRNA vaccine and that a booster should be given six months after the last vaccine dose.
A shortening of the vaccination interval to five months can be considered in individual cases or if there is enough capacity, it added.
It comes as a fourth wave of the virus has put hospitals in parts of the country under immense strain and forcing some to look elsewhere in the European Union for help.
While the absolute number of patients in intensive care still lies below the peak a year ago, this time around, hospitals are also ailing from the double hit of a shortfall in personnel, that has seriously hampered their ability to cope.
"Last week, on Wednesday or Thursday, we had to transfer a patient by helicopter to Merano," said Thomas Marx, medical director at the hospital in Freising, a town with 50,000 inhabitants that is about 350km away by road.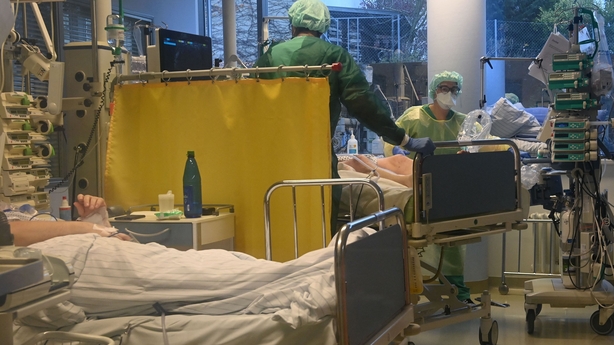 "We had no more capacity to receive them, and the surrounding Bavarian hospitals were also full," the 43-year-old said.
The hospital also had to send another patient to another Bavarian town Regensburg over the weekend.
His service is handling 13 intensive care cases at the moment, three more than it has capacity for.
Five of them are coronavirus patients, all of whom are unvaccinated.
Austrian provinces prepare for full lockdown
Austria's daily coronavirus infections hit a new record as the hardest-hit provinces started planning a full lockdown and pressure on the government grew to do the same nationally instead of the current lockdown for unvaccinated people.
Roughly 66% of Austria's population is fully vaccinated, one of the lowest rates in western Europe.
Its infections are among the highest on the continent, with a seven-day incidence of 971 per 100,000 people.
With colder weather setting in as winter approaches, cases have surged across Europe, prompting governments to consider reimposing unpopular lockdowns.
While the Netherlands has imposed a partial lockdown that applies to all, Austria has sought not to impose extra restrictions on the vaccinated.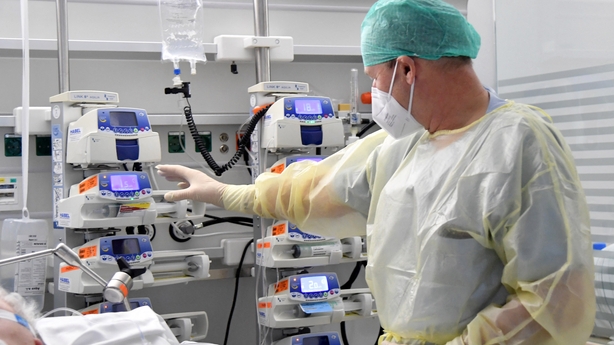 Daily infections today rose above 15,000 for the first time, reaching 15,145. The peak of the biggest wave of infections before this was 9,586 about a year ago, when the country went into full lockdown.
The hardest-hit of Austria's nine provinces are Upper Austria, a stronghold of the far-right and vaccine-criticising Freedom Party, which has the country's highest infection rate and its lowest vaccination rate, and neighbouring Salzburg.
The conservative governor of Upper Austria, Thomas Stelzer, said today that if Austria did not lock down nationally,his province would, Austrian media reported.
---
---
"If no national lockdown is ordered tomorrow, there will definitely be a lockdown of several weeks in Upper Austria together with Salzburg. We will coordinate with our neighbouring province (Salzburg) and with the federal government," newspaper Kurier quoted Mr Stelzer as telling Upper Austria's parliament.
The conservative governor of Salzburg, Wilfried Haslauer, told news agency APA his province is indeed preparing a lockdown.
Austria's nine governors are holding a meeting tomorrow and have invited Chancellor Alexander Schallenberg and Health Minister Wolfgang Mueckstein.
Dutch weigh options to slow rising Covid-19 infections among children
Virologists in the Netherlands have proposed extending holidays over Christmas to slow a surge in Covid-19 cases among children that has forced half of schools nationwide to send classes home.
The National Institute for Health (RIVM) this week reported a record of over 110,000 cases through 16 November, an increase of 44% from the week before.
The strongest rise was among children aged 4-12.
Infections among children of primary school age, five to nine, jumped almost 85% and rose 76% among children aged 10-14.
"Keeping primary schools closed for longer is an effective way to keep the virus under control," immunologist Ger Rijkers told the Algemeen Dagblad newspaper. "Children are virus factories and infect adults as well as each other."
Not all experts say closing schools is the best option but Marion Koopmans, a virologist and member of the country's leading Covid-19 advisory board, told the paper "we need to consider other measures" if rates don't fall.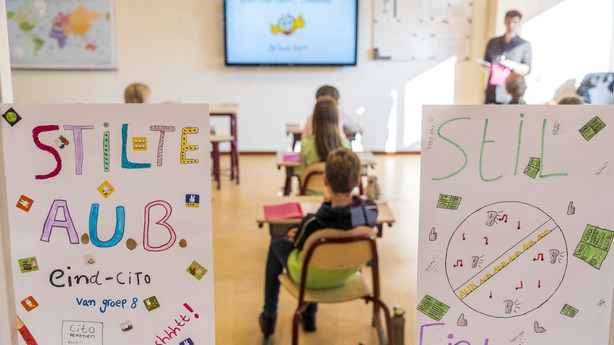 All 12 Dutch provinces were expected to be dark red - the highest alert level - for the first time on a weekly chart published by the European Centre for Disease Prevention and Control (ECDC) today.
With nearly 85% of adults fully vaccinated, over 20,000 new coronavirus cases were registered for two successive days this week, the highest so far, leading to a shortage of Covid-19 tests at health centres.
The latest wave began after the government ended social distancing and other measures in September, a decision that has since been reversed.
Caretaker Prime Minister Mark Rutte's proposal to exclude the non-vaccinated from a pass for indoor events has faced opposition in parliament.
His government has reintroduced mask-wearing in shops and reimposed a partial lockdown, closing bars and restaurants after 8pm. The government will discuss new measures tomorrow.
Czech Republic reports 14,119 new Covid-19 cases

The Czech Republic reported14,119 new coronavirus cases for yesterday, the fourth highest count in the past two weeks and coming one day after a record daily tally, Health Ministry data showed today.
The country has seen a spike in infections like many European neighbours and is looking at tightening curbs.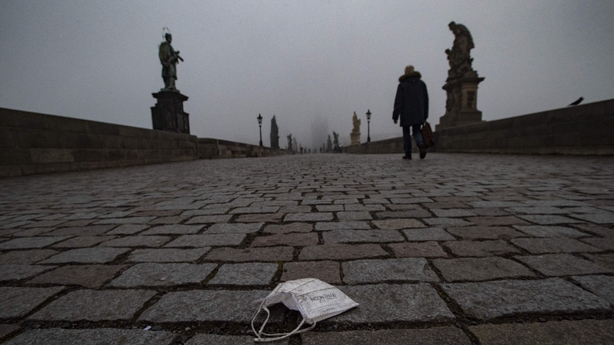 The ministry recorded a new high of 22,511 cases on Tuesday.
The government is due to meet today to approve plans to ban people who have not been vaccinated against Covid-19 from access to public events and services from next week, Prime Minister Andrej Babis said.
Novavax files for EU Covid vaccine approval

Pharmaceutical giant Novavax has applied for authorisation for their coronavirus vaccine in the EU with a decision possible "within weeks", Europe's drugs regulator said.
The jab, if approved, would be the fifth authorised for use within the EU - the other four are made by Pfizer/BioNTech, AstraZeneca/Oxford, Moderna and Johnson & Johnson (Janssen).
The assessment of the vaccine, which goes under the brand name Nuvaxovid, would be carried out "under an accelerated timeline", the European Medicines Agency said.
An opinion on the marketing authorisation could be issued within weeks "if the data submitted are sufficiently robust and complete to show the efficacy, safety and quality of the vaccine", the medicines watchdog said.
"If EMA concludes that the benefits of Nuvaxovid outweigh its risks in protecting against Covid-19, it will recommend granting a conditional marketing authorisation," it said.
Working differently to other vaccines, Nuvaxovid contains tiny particles made from a version of a protein found on the surface of the coronavirus spike protein, made in a laboratory.
It also contains a substance to help strengthen the immune responses to the vaccine.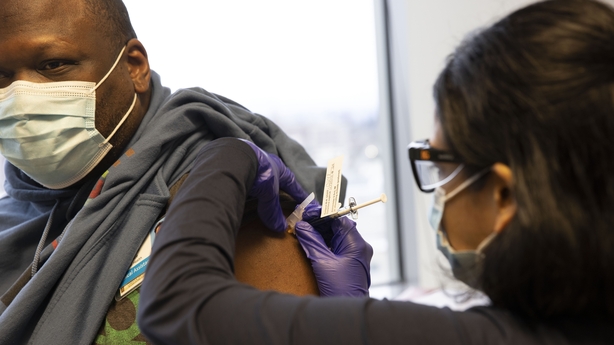 "When a person is given the vaccine, their immune system will identify the protein particles as foreign and produce natural defences - antibodies and T cells - against them," the EMA said.
If a vaccinated person later came into contact with the coronavirus, "the immune system will recognise the spike protein on the virus and be prepared to attack it".
"The antibodies and immune cells can protect against Covid-19 by working together to kill the virus, prevent its entry into the body's cells and destroy infected cells," the EMA said.
The vaccination regimen calls for two 0.5 millilitre jabs, given intramuscularly 21 days apart, Novavax said in a statement.
Nuvaxovid is stored between 2 - 8 degrees Celsius "enabling the use of existing vaccine supply and cold chain channels," it added.
Novavax, a company based in the US state of Maryland, says its vaccine has 90% efficacy against Covid-19, based on a North American study.
The European Commission said in August it has signed a preliminary deal to buy up to 200 million doses of the Novavax vaccine.
Hard-hit by the pandemic, Indonesia became the first country to approve the Novavax vaccine in the beginning of November, the company said.
Novavax said yesterday it also received approval from the Philippines to use the vaccine under the brand name COVOVAX.